By stylist and blog writer Annette K.
It's homecoming season, a time when adults reconnect with old friends and share collective memories and when kids connect and begin creating their own.
Whether you're a woman going to a high school or college reunion or a girl primping for the homecoming dance, Goodwill Keystone Area stores have everything you need to look and feel like a Queen.
Ladies – When deciding what to wear for your outdoor reunion, leave the lined windbreaker and mittens behind. Instead, create an image of sophistication by layering with blazers, scarves and sweater dresses. Paired with leather riding boots or booties your classic style will leave a lasting impression.
Girls – When choosing your dress for the homecoming dance, remember to consider fit first, then accessorize. Your dress should be a reflection of who you are and should move with you instead of vice versa. Accessorize with statement pieces like chunky bracelets, silver shoes, or a brilliant signature necklace to add that exclamation point to your look.
Whether dressing for a dance or a reunion, visit your Goodwill store where racks of endless possibilities await. Homecoming offers the girl a chance to look older, and the woman a chance to look younger. What Queen could pass that up?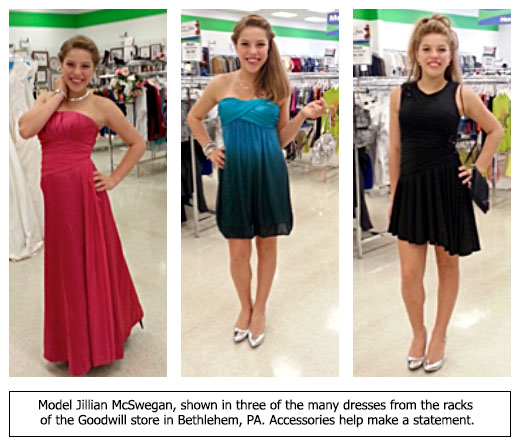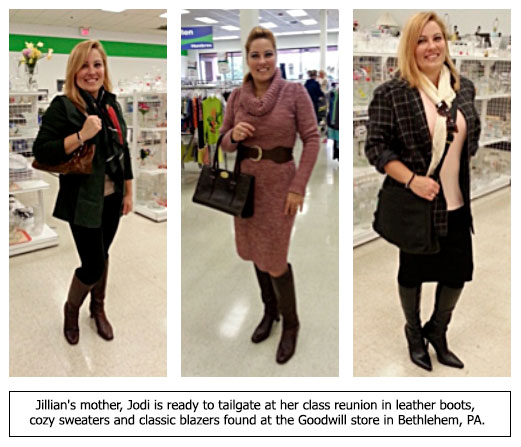 For comments or fashion blog suggestions, please email Annette Kaiser at akaiser@yourgoodwill.org.
Thanks to the staff at the Bethlehem Goodwill Store and to models Jodi and Jillian McSwegan.