Most likely you have thrown out one item in the past week that a thief could use to steal your identity. It could have been a pre-approved credit application or an old bank statement. With the high volume of junk mail, most people do not securely discard it.
How should you properly discard papers with sensitive information? Some people rip up that paper into little pieces, and others take a chance and just throw it in the trash or recycle bin.
The only way to protect yourself is to shred your paper. But who do you trust with your sensitive documents? When looking for a shred company, it is important to look at their accreditation. Goodwill Shredding Service is certified by the National Association of Information Destruction (NAID) and by the Secure Document Alliance. All confidential materials are shredded at their secure facility in Harrisburg, PA.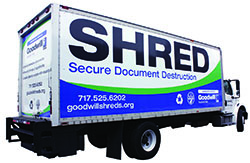 Goodwill Shredding Service shreds for individuals and businesses. Individuals can go to any participating Goodwill store & donation center, and place their sensitive documents in the locked console. It's only $6 per bag and box. Goodwill Shredding Service picks up the materials and takes them back to their secure facility where they are shredded. For a list of participating stores, go to goodwillshreds.org.
If you have any questions, contact Goodwill Shredding Service at 717.525.6202 or visit goodwillshreds.org.