There are several fashion items that as a younger person I declared I would never wear. They included cowboy boots, large handbags and rompers. I have worn and embraced all of those things – even all at the same time in the past few years. One thing I was holding out on was mixing jeans and a denim jacket or shirt also known as a Canadian Tuxedo. What brought it all together was a trip to the Reading Goodwill Keystone Area outlet. And spoiler alert: this outfit (minus the shoes and necklace) was around $4.00 and all the pieces are fabulous brand names.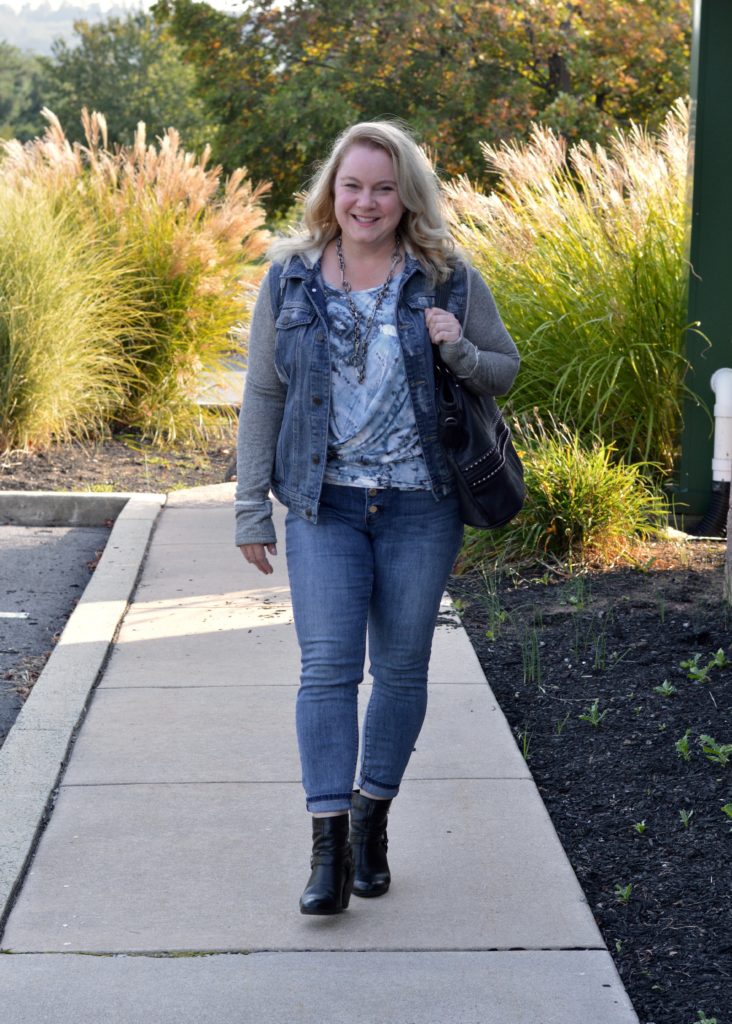 According to an online dictionary, Canadian Tuxedo refers to any outfit consisting of a denim jacket, with denim jeans. Originating in the 1950s, crooner Bing Crosby was nearly rejected from an upscale hotel in Vancouver, BC (Canada) because he had been wearing an all-denim outfit. Levis heard of this and sent him a special-made all denim tuxedo.
I was not sent a custom made outfit, but I did discover this look in one trip to my local Goodwill outlet. What created my look were individual pieces unearthed in the bins. My t-shirt from Cabi has a blue, grey and white batik print and a gathered front to give it some interest and elevate it above a simple tee.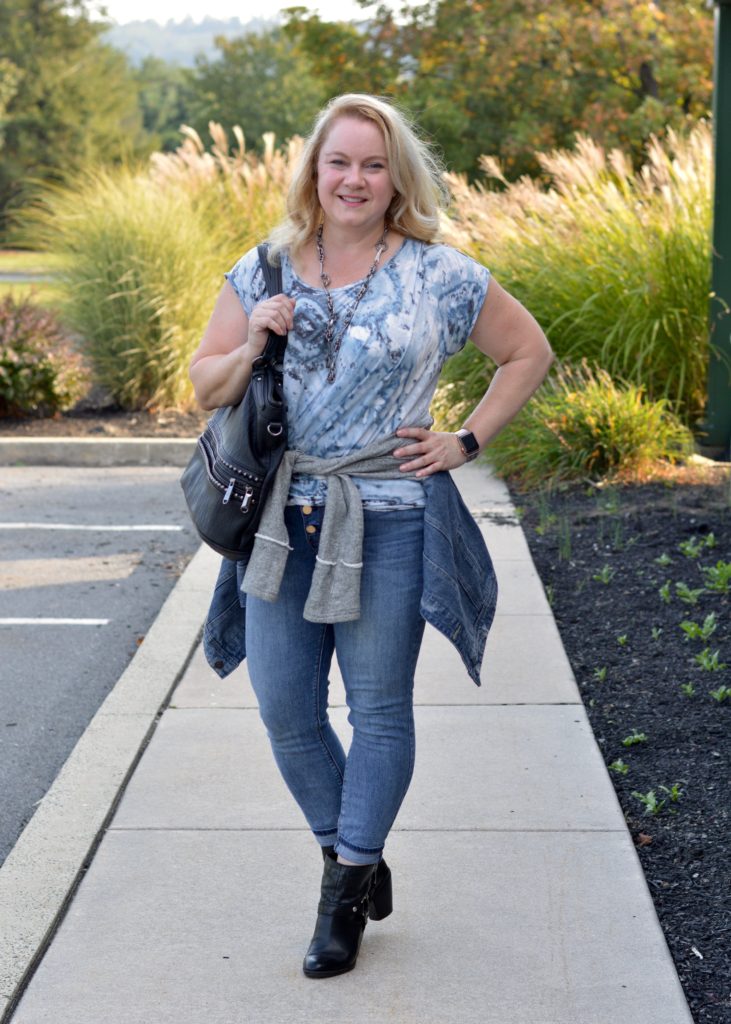 Cabi is a popular online only retailer where you receive a personal stylist who helps you choose what's best for you. I love finding Cabi at Goodwill because I know they are popular and well-crafted. This shirt would have sold for around $79, buy my cost was under $1.00 (clothing prices at the outfit are estimated for this article; clothing is sold by the pound).
The jeans were another great find.
I love White House Black Market and these were practically brand new. They were unique because they have a button fly which I don't see much anymore. Since there are no fitting rooms at the outlets, I took a chance on them and they fit me like a glove! Again, my cost was less than a $1.00, but retailed for $89.
The bag is another perfect designer find!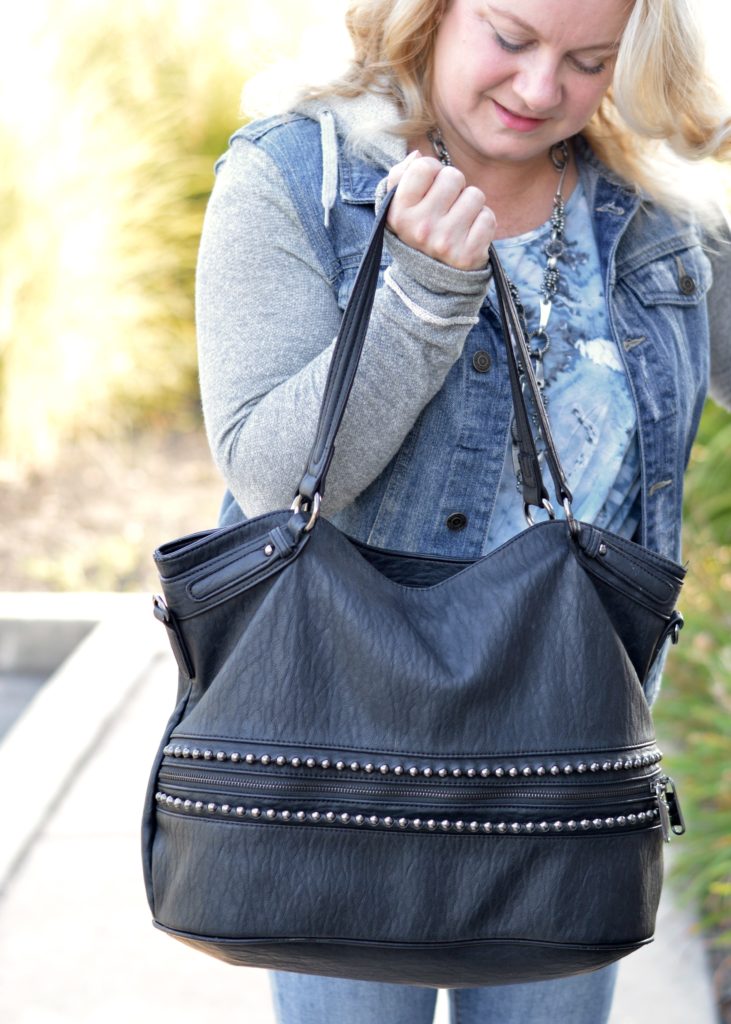 The large black vegan leather tote with metal studs is from Jessica Simpson. It has a fabric lining and several pockets. It is perfect for carrying whatever I need to work and it has been used in heavy rotation on weekend getaways as well. At online stores such as Nordstrom and Dillards, her totes sell for up to $118. My cost: less than $1.00!
The last piece from the outlet trip was a new-with-tags denim jacket with gray sweater knit sleeves and hood.
It was a new-to-me brand called Thread & Supply. According to their website they were started in 2012 and "Founded on warm, comfy, outerwear staples, our team continues to release effortless wardrobe essentials. With the softest high quality fabrics, designed to last beyond the season, the Thread & Supply brand is cozy forever." I can attest that the jacket is very soft and comfortable to wear. Similar denim jackets on their website are selling for over $100, so I saved 99% and snagged it for around $1.00!
The booties I have had forever and are also from Goodwill. You can see them in a past blog or two and the necklace was from a friend's clothing swap, which is a great way to change up your wardrobe for free.
The four pieces from the outlet cost me around $4.00, but their retail value was almost $400! Overall I saved 99% and experimented with a trend that never seems to go away, but one I avoided from now. Would you wear denim on denim? Let me know!
From my closet to yours,
Kirsten
T-shirt: $1.00
Jeans: $1.00
Bag: $1.00
Jacket: $1.00
Total: $4.00
Retail: $386+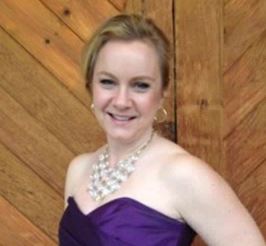 About The Blogger
Kirsten is a 40-something mom, wife and marketing professional. She loves all things crafty, tasty and fashionable, especially while being frugal. She enjoys hunting for treasures at her local Goodwill Keystone Area stores to decorate her home and wardrobe.