Recently, and quite unexpectedly, I came across one of my holy grail/wish list items – a pair of navy boots.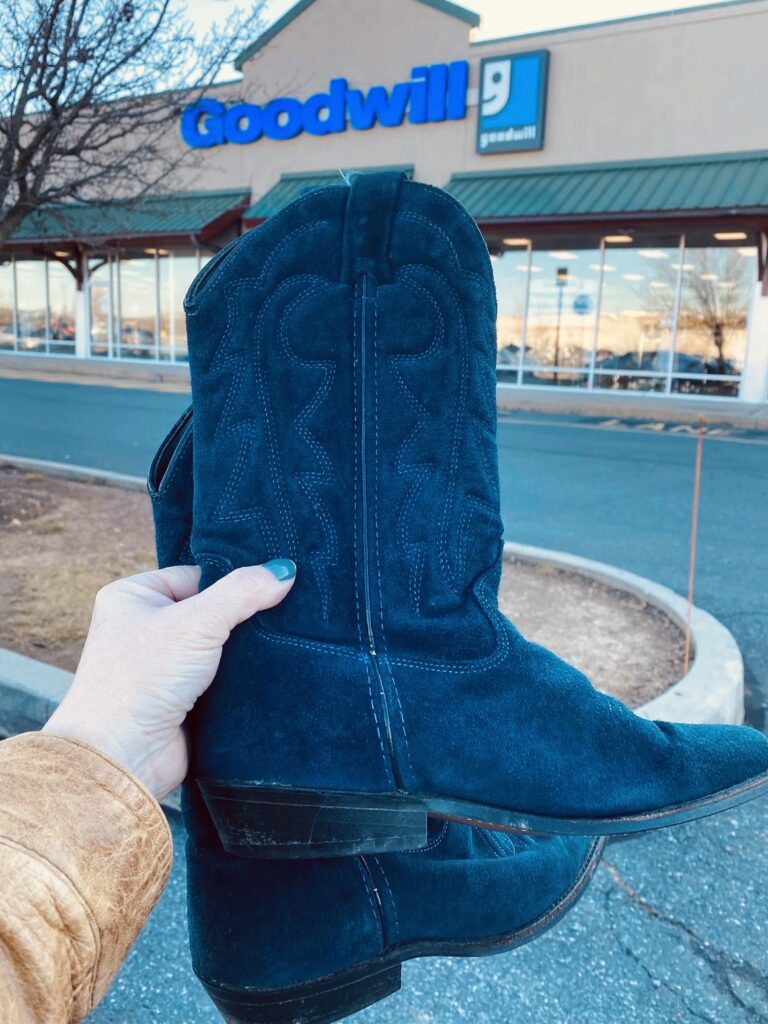 Not only were they navy, but they were also suede cowboy boots that were already broken in! This is a big deal if you are familiar with cowboy boots.
I had a few moments to myself and dashed into the Morgantown Goodwill Keystone Area store. Limited on time, I chose just two departments to focus on – home goods and shoes. I might have found something in the home goods aisles, but I honestly don't remember since the delight of finding the boots was overwhelming.
Since my purchase, I have found that despite their specific shade, they are surprisingly versatile. The boots go well with dark wash jeans, browns, and gray.
For this look, I styled them with a fantastic print blouse from Matthew Williamson for Macy's from 2011. (Goodwill: $6.99; Retail: $69)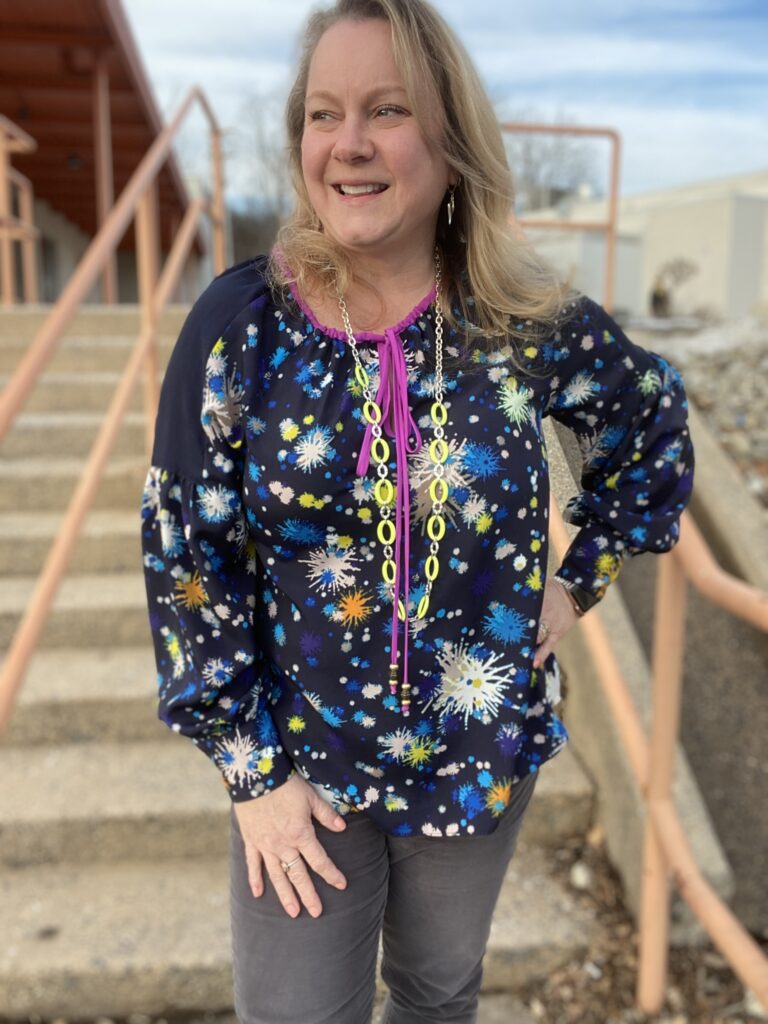 This was a capsule collection he created exclusively for the retailer. An article at the time stated: "Each piece perfectly captures the bold, easy glamour and haute hippie aesthetic that Williamson is known for. Floaty Spring scarves, ruffled blouses, and drool-worthy dresses are punctuated by '70s-inspired prints and bold pops of color." I do enjoy this blouse for its uniqueness, and would love to find some other pieces from the original collection.
To tone down the blouse, simple skinny gray cords from Democracy were a perfect choice.
(Goodwill: $6.99; Retail: $78). This style "Ab"solution® Corduroy Straight Leg Pant is still available on their website in a variety of colors.
Finally, the boots! A little research on my blue suede boots turned up that they are Vittori Ricci, a luxury brand that was founded in 1975. Their original boutique opened up across from Bloomingdale's flagship store in NYC. Their billion-dollar brand has been featured in runway shows, publications, and on many well-heeled New Yorkers! Boots on their website sold for up to $1,200. My Goodwill price was $11.47. Not a bad find!
Always keep your eyes open with shopping at Goodwill Keystone Area stores. Even a quick trip can uncover a beloved treasure. These boots will be a wonderful addition to my wardrobe for years to come!
From my closet to yours,
Kirsten
Pants: $6.99
Sweater: $6.99
Boots: $11.47
Total: $25.45
Retail: $750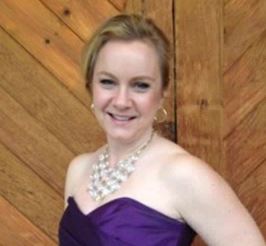 About The Blogger
Kirsten is a 40-something mom, wife and marketing professional. She loves all things crafty, tasty and fashionable, especially while being frugal. She enjoys hunting for treasures at her local Goodwill Keystone Area stores to decorate her home and wardrobe.