When I think of fall, I think of the rich color of the leaves – green, gold, orange and red. I love to reflect that vibrancy in my own outfits this time of year.
For a recent night out, I paired my own Autumn splendor of a silk blouse from Cabi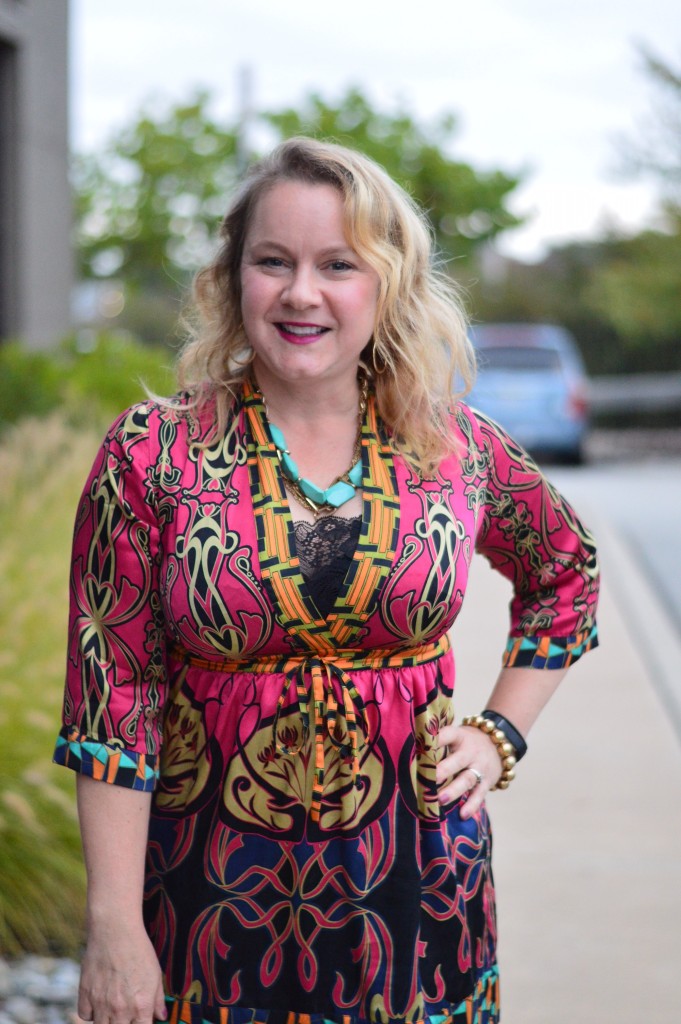 (one of the brands I now regularly search for on my thrifting trips) with a simple pair of Ponte knit skinny trousers from Loft. The beautiful orange, fuchsia, black and turquoise colors create an art deco-inspired pattern that is perfect for this time of year. This blouse would have sold for around $99 when new. My cost was just $3.95!
For a jolt of bright color, I added turquoise heels and a statement necklace.
The suede pumps from Seychelles, which were accented with contrasting stitching and bow detail, retailed for $149. I found these beauties for $8.97 at the Robesonia store.
Since it was a cool evening, I added a faux leather moto jacket by Vero Moda.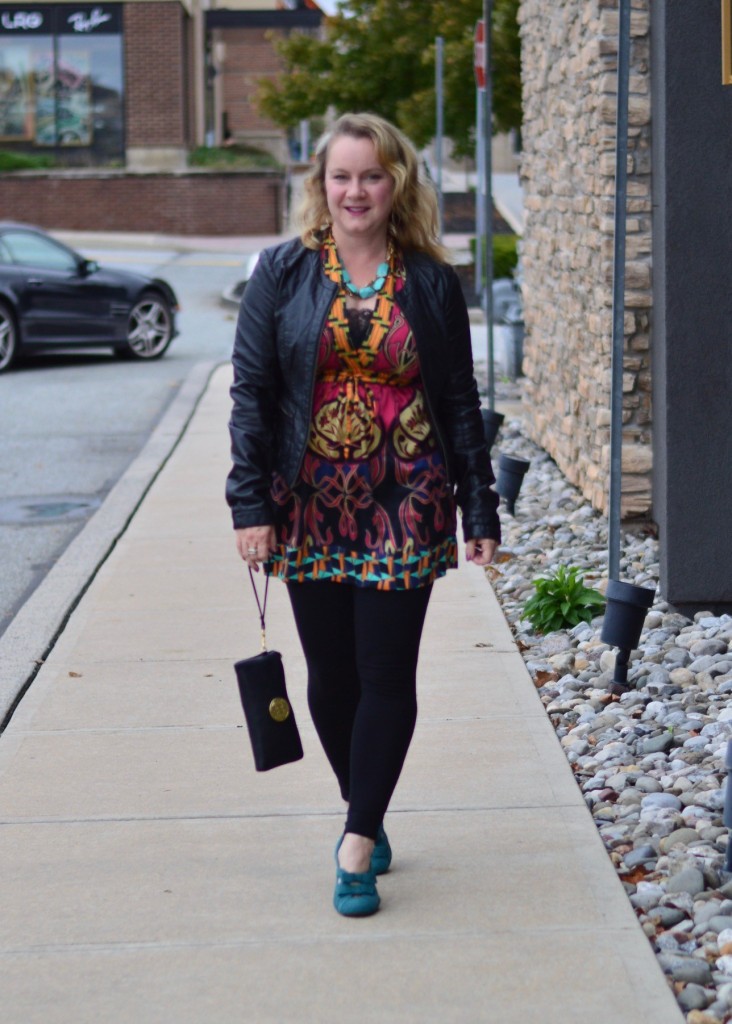 Moto jackets are a perennial favorite of mine and they are easy to find at Goodwill Keystone Area stores in a variety of styles. This brand can be found online and at stores such as Bloomingdales. It sold for approximately $75.
Lastly I added a black and gold clutch.
The gold medallion gives it a high quality look and feel and the strap makes it easy to carry my essentials.
Look around the world outside and take inspiration in the colors of the trees, land and sky. When you're shopping at Goodwill Keystone Area stores look for those hues and add them into your wardrobe this fall.
Blouse: $3.95
Pants: $5.50
Shoes: $8.97
Clutch: $4.97
Jacket: $6.50
Necklace: $4.97
Total: $34.86
Retail estimate: $375
From my closet to yours,
Kirsten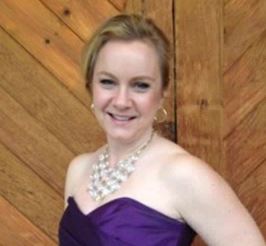 About The Blogger
Kirsten is a 40-something mom, wife and marketing professional. She loves all things crafty, tasty and fashionable, especially while being frugal. She enjoys hunting for treasures at her local Goodwill Keystone Area stores to decorate her home and wardrobe. Meet up with her at one of Goodwill's shopping events! Check the event pages for details.