The pandemic doesn't have to cancel date nights or holidays such as Valentine's Day. In 2020 the average consumer spent almost $200 on Valentine items such as candy, flowers, jewelry, and experiences (dinner out, a spa visit, movies, or a trip). This year, with COVID, gift-givers will be steering away from outside events and planning more get-togethers and meals at home.
I enjoy cooking, so planning a romantic and tasty meal at home is not an inconvenience for me. However, this year, I'll make sure to use the fancy crystal, open a good bottle of wine, and dress for the occasion. According to Town and Country magazine article, "10 Ideas to Celebrate Valentine's Day at Home This Year", with a little advanced planning it is easy to have a romantic holiday without leaving the sofa. Here are a few of their suggestions to make the day special:
Have an Indoor Picnic
Dip Everything in Chocolate
Bundle Up in the Backyard
Take a Virtual Cooking Class
Indulge in a Move Marathon
This year it will be my daughter, my husband, and me, so I'll prepare a tasty brunch (in comfy clothes or pajamas) in the morning and a fancier meal in the evening. For dinner, I'll make an effort to dress up in something special and festive. Goodwill Keystone Area makes it easy to find either those cozy clothes for breakfast or a fancier outfit for the evening. Obviously, with the store being organized by color, choosing something red or pink is simple!
Recently, I happened to pull together an outfit that gives me Mad Men vibes. The bold red and black floral dress from Dress Barn is the star of the outfit.
The faux-wrap fit is extremely flattering, and the knit fabric makes it comfortable. (Goodwill $6.95; Retail $60).
I won't be going out to dinner, but for the photoshoot, I added this tiered, fur-trimmed knit cape.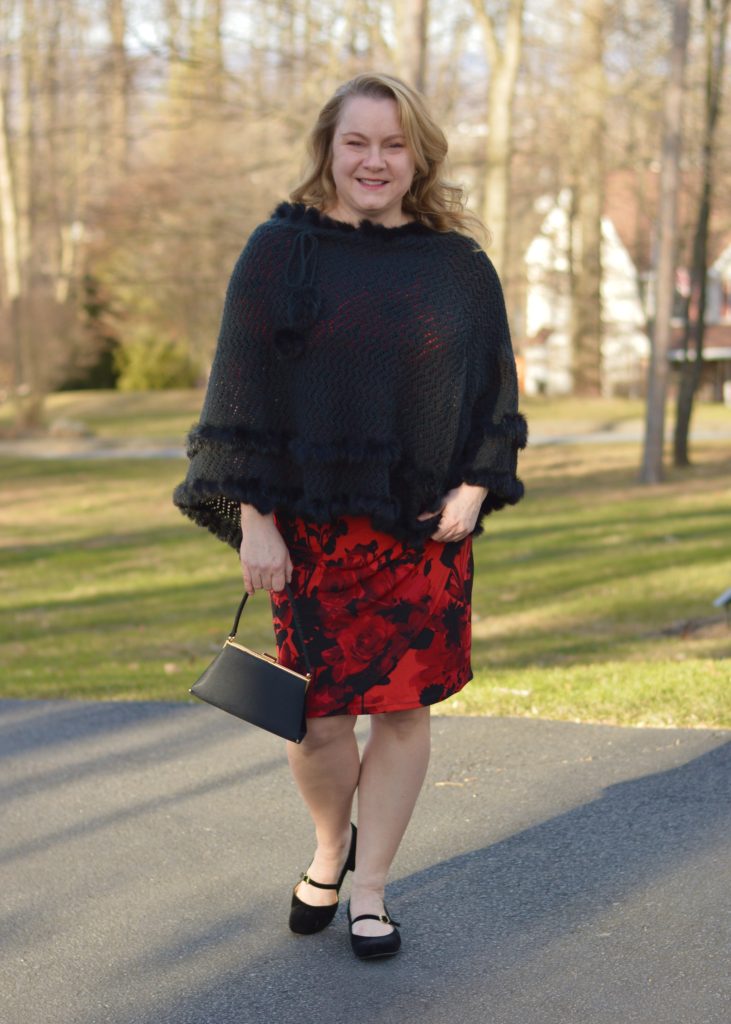 I picked it up a long time ago and never knew how to wear it. The pom-pom trim gives it major vintage vibes and I felt like a mid-1960s lady headed to brunch. (Goodwill $4.95; Retail $50) The cape would also be fun over a blouse and jeans – it has possibilities now that it has come back into the forefront of my closet.
Since I'm not going out, I slipped on comfortable velvet Mary Jane heels, but in actuality, I'll probably be wearing slippers.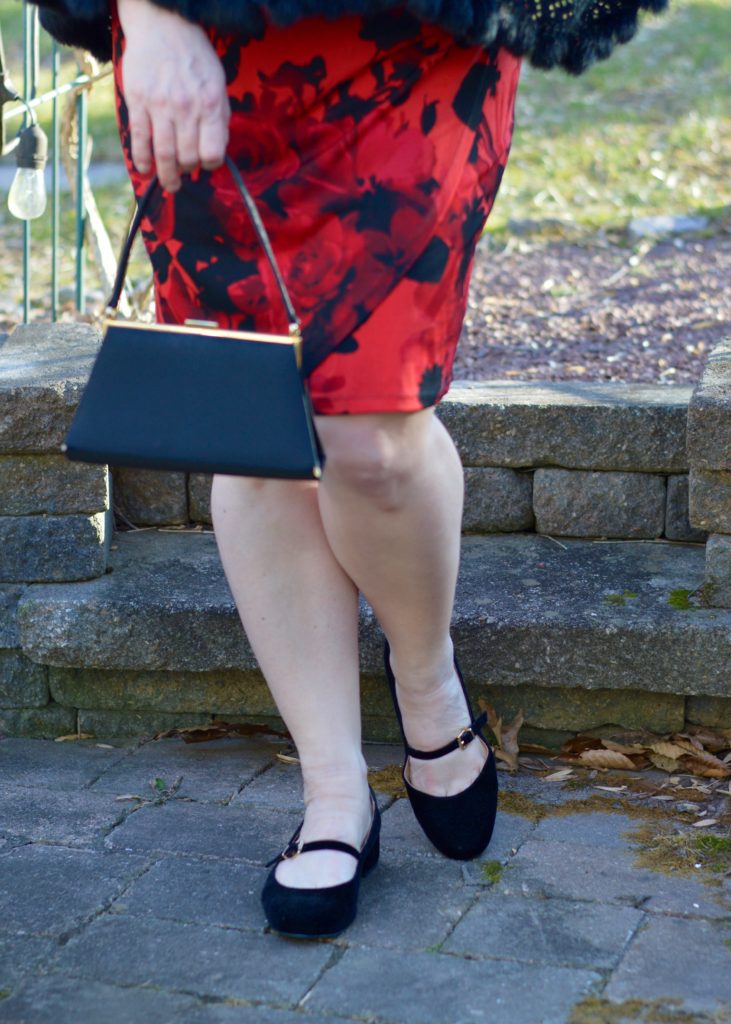 These beauties were discovered "new with tags" at the new Morgantown location for $7.47 (Retail $54). Just for fun, I added a vintage black satin handbag (Goodwill $3.97; Retail $30).
After almost a year in yoga or sweat pants (besides my workday looks), I look forward to any little reason to go the extra fashion mile. Why not dress up for a nice meal at home? It may not even be homemade – take out or frozen pizza count as well. And while you're planning for Valentine's Day, you can visit your local Goodwill to pick up some Valentine décor. Add a few punches of color with some red or pink dishes or maybe a new vase for flowers you may give or get. You might also find a few gifts for your friends or family while looking for a new-to-you Valentine outfit for yourself. Spice up your home and wardrobe and show a little thrift love from Goodwill Keystone Area.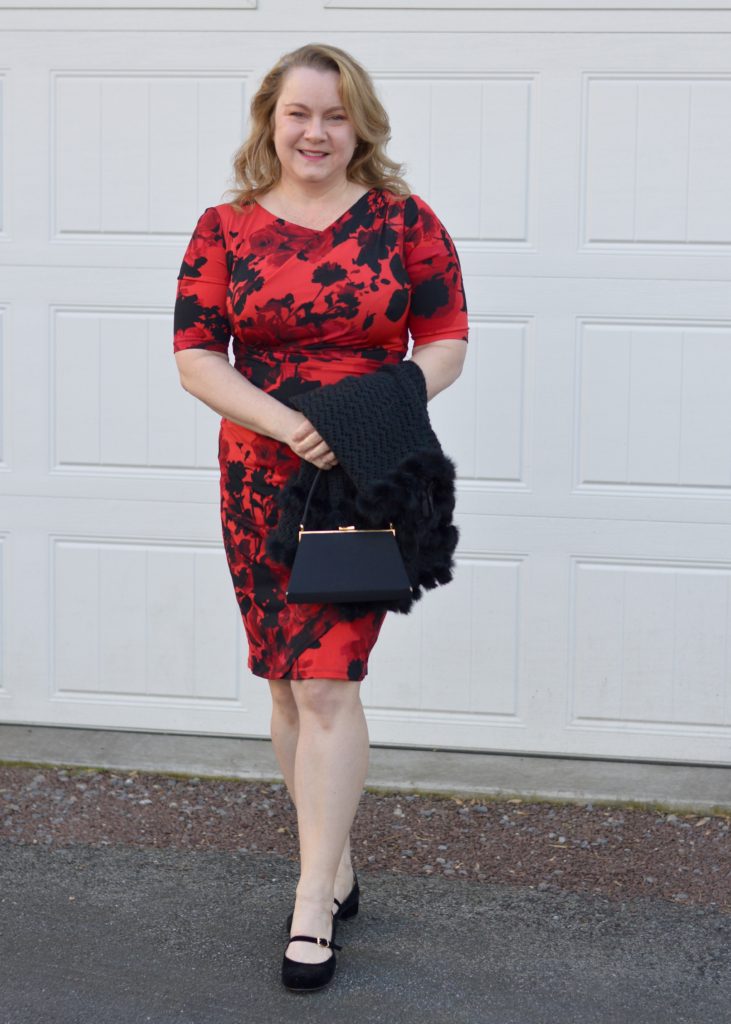 From my closet to yours,
Kirsten
Dress: $6.95
Cape: $4.95
Shoes: $7.47
Bag: $3.97
Total: $23.34
Retail: $200+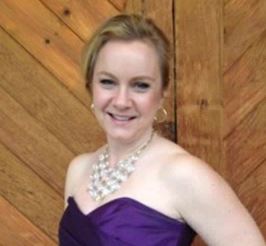 About The Blogger
Kirsten is a 40-something mom, wife and marketing professional. She loves all things crafty, tasty and fashionable, especially while being frugal. She enjoys hunting for treasures at her local Goodwill Keystone Area stores to decorate her home and wardrobe.