On one of my recent blog posts, a reader asked if I ever created a complete outfit from Goodwill Keystone Area Outlet finds. I have several times in the past, but not lately, so Maria D., this one is for you! (NOTE: learn about the unique Goodwill Outlet Center shopping experience and find Goodwill Outlet Center locations, click here!)
The outlet that is closet to my home is in Reading, and to me, it seems huge! Outlets work differently than a typical Goodwill Keystone Area store, so you have to go shopping there with a different mindset. Everything is sorted in bins – clothing, shoes and bags, home accessories, etc… and you pay by the pound (except for shoes, those are $2.99) In the back area there you can find glassware, decorative artwork, and furniture. I've bought all of those different things there at various times.
I bought this outfit over two different visits.
The first visit yielded the soft wool J. Crew two-toned sweater.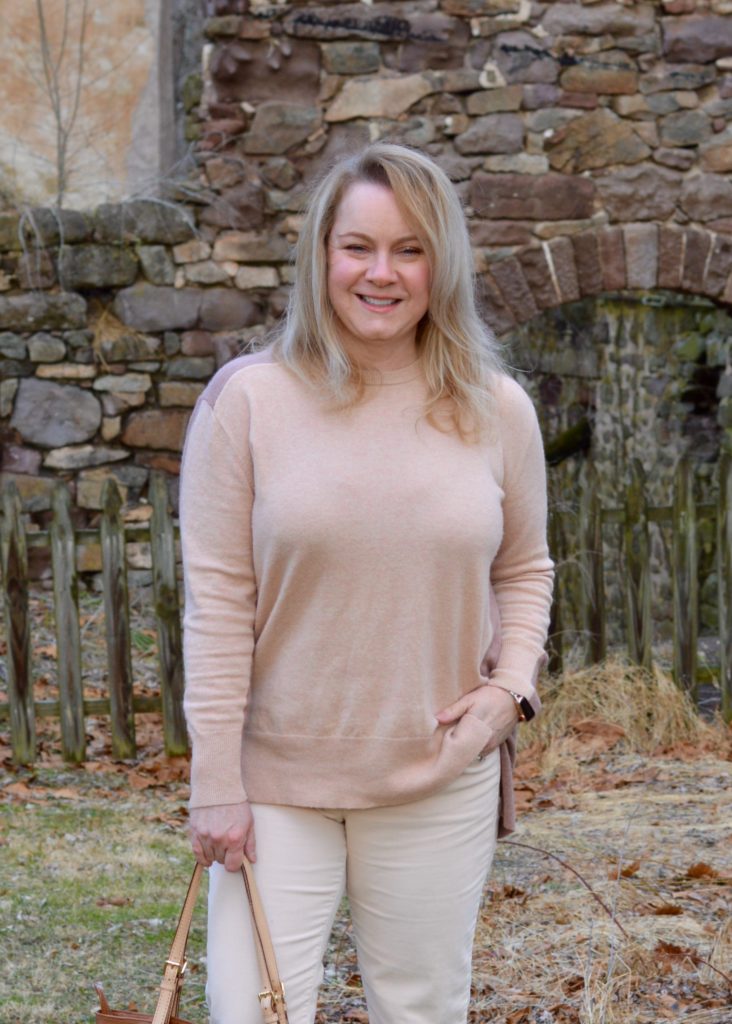 There are no dressing rooms at the outlets, so I just take my best guess as on fit and because items are so inexpensive, I don't mind donating them back right away if they don't work for me. Similar J. Crew sweater sells for around $79 on their website.
The Gap blush cords (Retail: $69.95) also turned up on this trip as well.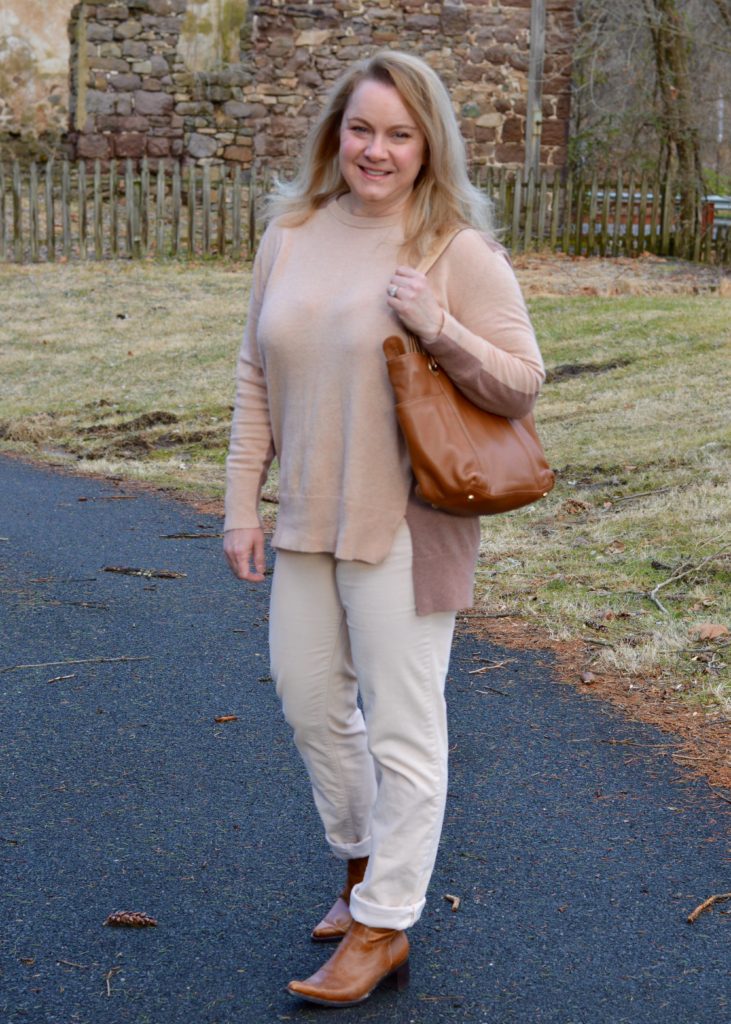 The colors are in the same blush family and I thought they suited each other well. Corduroys have been popping up again since the fall and I'm a fan. The width of the cord is commonly referred to as the size of the "wale," or number of cords per inch. These would be considered a small wale and were very soft and flattering.
I will probably get these pants hemmed to a better length for me, but for the time being, I gave them a jaunty little cuff so I could high light these brown leather booties from Steve Madden. I purchased the shoes and bag on a trip where I was specifically looking for something to match the previous purchases.
Shoes at the outlet are all $2.99, so they were the most expensive part of the outfit, but well worth it. Steve Madden's shoes are still very popular and these fit well and were comfortable. A little polish and they were good as new. I estimate they were about $79 when new.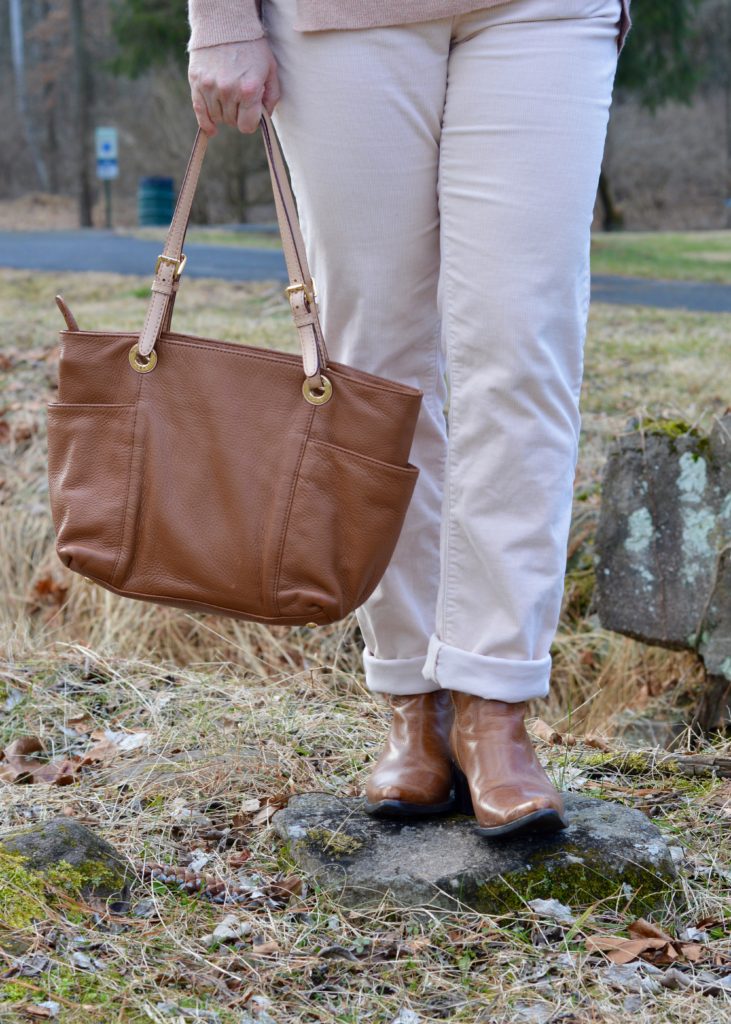 Lastly, this brown Michael Kors bag with blush leather handles turned up as I was sorting through a bin. Voila – The perfect ending for my $5 style challenge. While the outside just needed a little polish, the inside is a little worn, but for my use, it'll be just fine. The style is similar to the current "Voyager" style which still sells for $278! Outlet wares may not be perfect, but have potential if you can give them a little bit of TLC.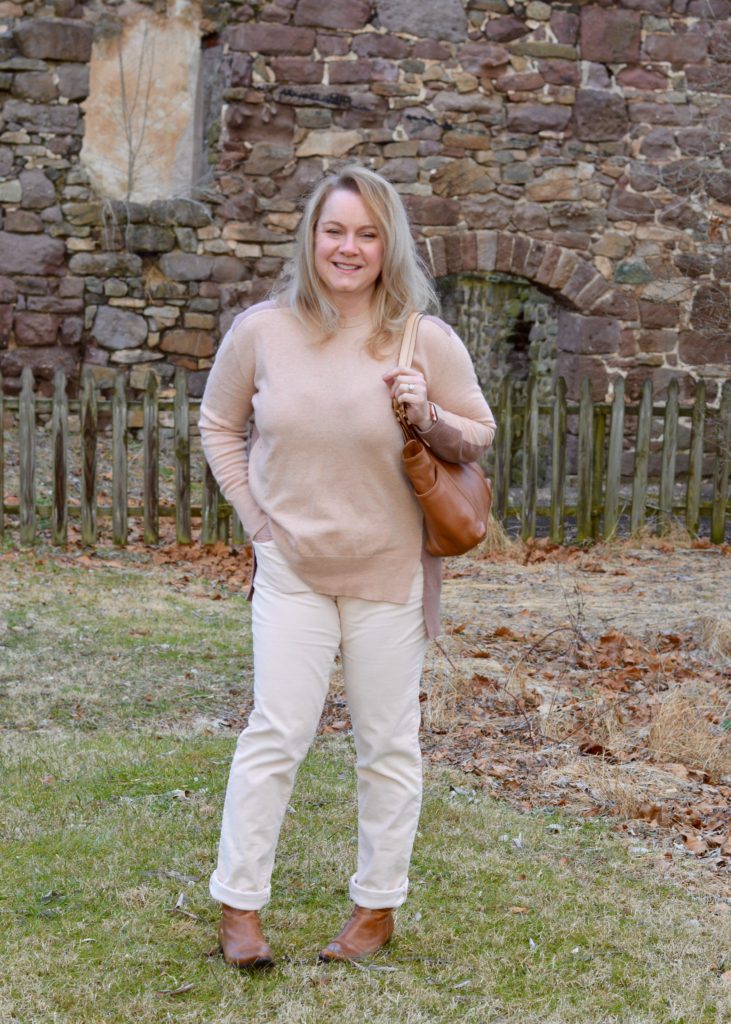 Thank you to Maria for the challenge! My shoes were $2.99 and the rest of the items came in around $2.00 for a grand total of $4.99! I save 99% off retail for this casual winter look! If you have the patience, outlet shopping at Goodwill Keystone Area is definitely worth it. It's a true treasure hunt!
From my closet to yours,
Kirsten
About The Blogger
Kirsten is a 40-something mom, wife and marketing professional. She loves all things crafty, tasty and fashionable, especially while being frugal. She enjoys hunting for treasures at her local Goodwill Keystone Area stores to decorate her home and wardrobe.