Pennsylvania Department of Labor & Industry Highlights New Apprenticeship Program to Prepare Central Pennsylvania Workers for In-Demand Warehouse and Logistics Jobs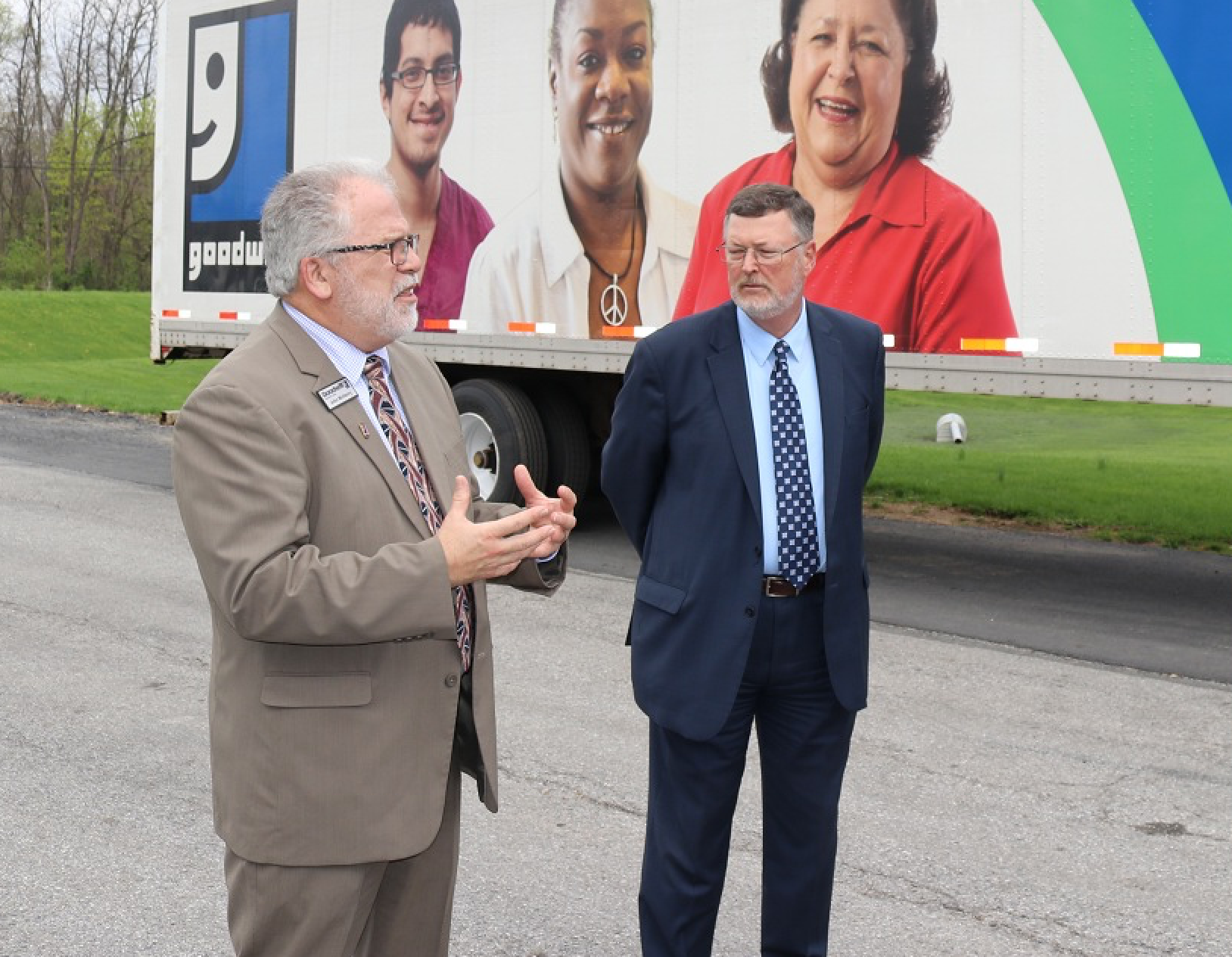 Camp Hill, PA – Department of Labor & Industry (L&I) Secretary Jerry Oleksiak today announced a new registered apprenticeship program for logistic technicians in central Pennsylvania during a tour of the Goodwill Warehouse and Outlet Center in Camp Hill. The apprenticeship will prepare workers for new jobs in the growing warehouse and logistics industry in the region, earning nationally-recognized credentials as a Logistics Technician Journeyperson. 
"This new program will provide apprentices with skills training for the fast-growing logistics industry, including forklift certification, truck driving, fleet maintenance, warehouse safety, and electronic warehouse management systems," said Governor Wolf. "The program will address the shortage of skilled workers in the logistics industry, allowing businesses to develop a talent pool of highly skilled employees."
Apprenticeships are part of the governor's PAsmart initiative, which invests in job training and science and technology education. The governor's budget builds on the success of PAsmart to create opportunities for Pennsylvanians from birth to retirement. Governor Wolf's Statewide Workforce, Education, and Accountability Program (SWEAP) expands access to early childhood education, increases investments in schools, and partners with the private sector to expand on the PAsmart initiative.
This year, the governor is proposing an additional $10 million for PAsmart to bolster career and technical education for adults as well as job training programs at companies to enhance the skills of Pennsylvania workers.
The governor also recently created the Keystone Economic Development and Workforce Command Center. The partnership between state government and private sector leaders will identify and address the barriers, skills gaps, and worker shortages that exist across the commonwealth. 
In Cumberland County, the 18-month apprenticeship program for logistics technicians was approved by the Department of Labor & Industry's (L&I) Apprenticeship and Training Office (ATO). Sponsored by Goodwill Keystone Area, the program will provide on-the-job training and hands-on opportunities for apprentices to develop their skills. Apprentices will also receive related technical instruction from classroom and e-learning through HACC, Central Pennsylvania's Community College, including first aid and CPR certification, OSHA 10, and career readiness training.
"The shortage of skilled workers is having a profound impact on the logistics industry," said John McHenry, CEO, Goodwill Keystone Area. "In addition to 70 years of experience helping individuals with barriers to employment get and keep jobs in the community, Goodwill Keystone Area has subject matter expertise in logistics. It was a natural fit to blend these two skillsets together to create a first-of-its-kind Logistics Technician Apprenticeship."
"Governor Wolf is committed to creating the strongest workforce in the nation through his SWEAP proposal and PAsmart initiative," said L&I Secretary Jerry Oleksiak. "Apprenticeships are a vital tool in training our future and current workforce, and that is why the governor is proposing additional PAsmart funding to further improve access to apprenticeships and training programs for our students and workers."
The Wolf Administration created the ATO in 2016. Since then, the office has registered 141 new program sponsors and 201 new apprenticeship programs or occupations, bringing the total number of registered apprentices to 16,892 statewide.
Apprenticeship programs approved by the ATO provide employer-driven training to create a more productive, highly-skilled workforce for employers and help reduce employee turnover. The program provides job seekers with increased skills, and a nationally recognized credential to support future career advancement and increased wages. 
For more information about pursuing an education and career in Pennsylvania at any stage of life, visit PAsmart. 
Visit ATO for more information about apprenticeship programs and the Apprenticeship and Training Office.
Learn more about Goodwill Keystone Area's Logistics Apprenticeship program here.
ABC27 News Featured Story: