Every Day Is Earth Day at Goodwill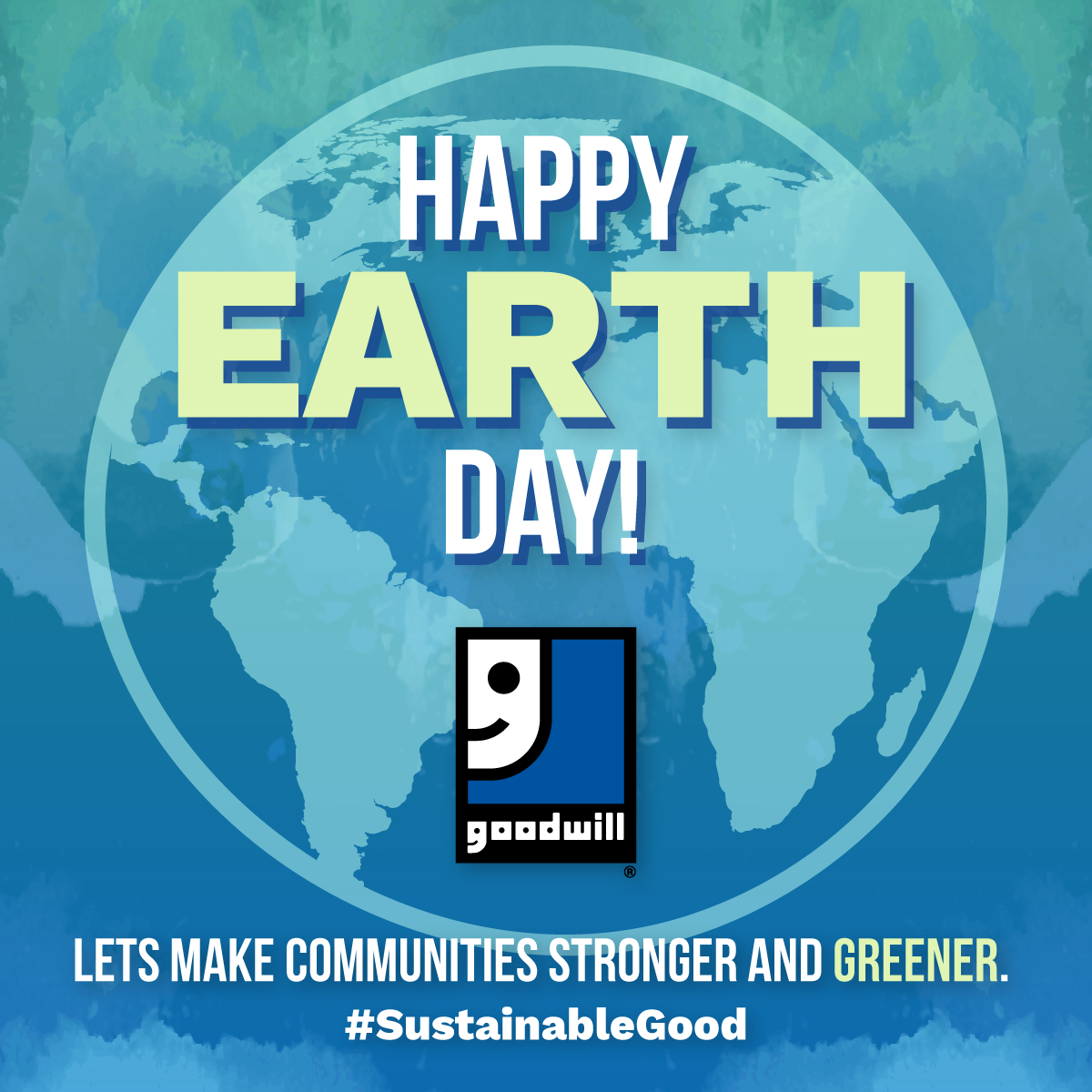 Earth Day is Friday, April 22. At Goodwill – America's original recycler – environmental sustainability has been central to the organization's mission since its founding in 1902.
Each day, Goodwill Keystone Area extends the life of gently used items and reduces the amount of materials sent to landfills or incinerators. Purchases at our retail stores give each donated item a new life, with proceeds supporting programs and services that help people with barriers to employment have a renewed opportunity to thrive and flourish.
To celebrate Earth Day, Goodwill Keystone Area offers tips to sustain the environment and support its unique business model:
Reduce textile waste. Up to 85 percent of textiles end up in landfills each year. Donating to Goodwill gives them a second chance through our retail stores. Textiles not sold are responsibly recycled. In its current fiscal year, Goodwill Keystone Area recycled 3,564 tons of textiles.
Give from the sole. Don't pitch your pre-loved pairs of shoes. From your trusty trainers to your daily flats to your sparkly stilettos, your used shoes can keep moving at Goodwill. We have recycled 64 tons of footwear this fiscal year.
Spread the word. Instead of tossing old or unwanted books, allow them to get a second (or third, or fourth) read by donating them to Goodwill. We will take books in good condition – and the bookshelf they're on. This fiscal year, the organization recycled 620 tons of books.
Pass the plush. Do you have a basement or garage full of forgotten toys? Goodwill is happy to accept donations of clean plush toys in good condition. There have been 23 tons of plush toys recycled this fiscal year, helping to make a child's day a little bit brighter.
Goodwill Keystone Area has also teamed up with the Dell Reconnect computer recycling program. Computers are collected at Goodwill donation centers, securely packaged and prepared for Dell's designated recyclers to pick up and remanufacture.
And did you know that Goodwill accepts donated vehicles – cars, SUVs, trucks, RVs, boats, motorcycles and more? Anyone wishing to donate their vehicle can call 866.492.2770 for details.
Along with donations, shopping at our retail stores and outlet centers is an opportunity save big on a variety of donated items while doing your part to save the planet. Great finds at affordable prices include gently-used clothing, footwear, outerwear, jewelry and accessories, antiques and collectibles, housewares, books, games and other items.
Customers should bring their reusable shopping bag – or purchase one at any Goodwill Keystone Area store.
One more way to feel great about donating and shopping at Goodwill – supporting our mission to help those in need benefit from the power of work. Revenue from the sale of donated items supports our mission to help people with barriers to employment build skills, find jobs and grow careers.
About Goodwill Keystone Area
Goodwill Keystone Area operates more than 40 stores in 22 central and southeast Pennsylvania counties. As an organization, we are committed to embracing a business model that creates value consistent with the long-term preservation and enhancement of our social, environmental and financial capital. We do this for the continued stewardship of our planet as well as the people and communities we serve.