Mission
A community where the talents and value of all people are celebrated.
To support persons with disabilities and other barriers to independence in achieving their fullest potential as workers and as members of the broader community.
Goodwill helps persons with disabilities as well as people who are at an economic disadvantage, or may lack education or work experience.
Goodwill Success Story: Cassie "One of the hardest workers we have."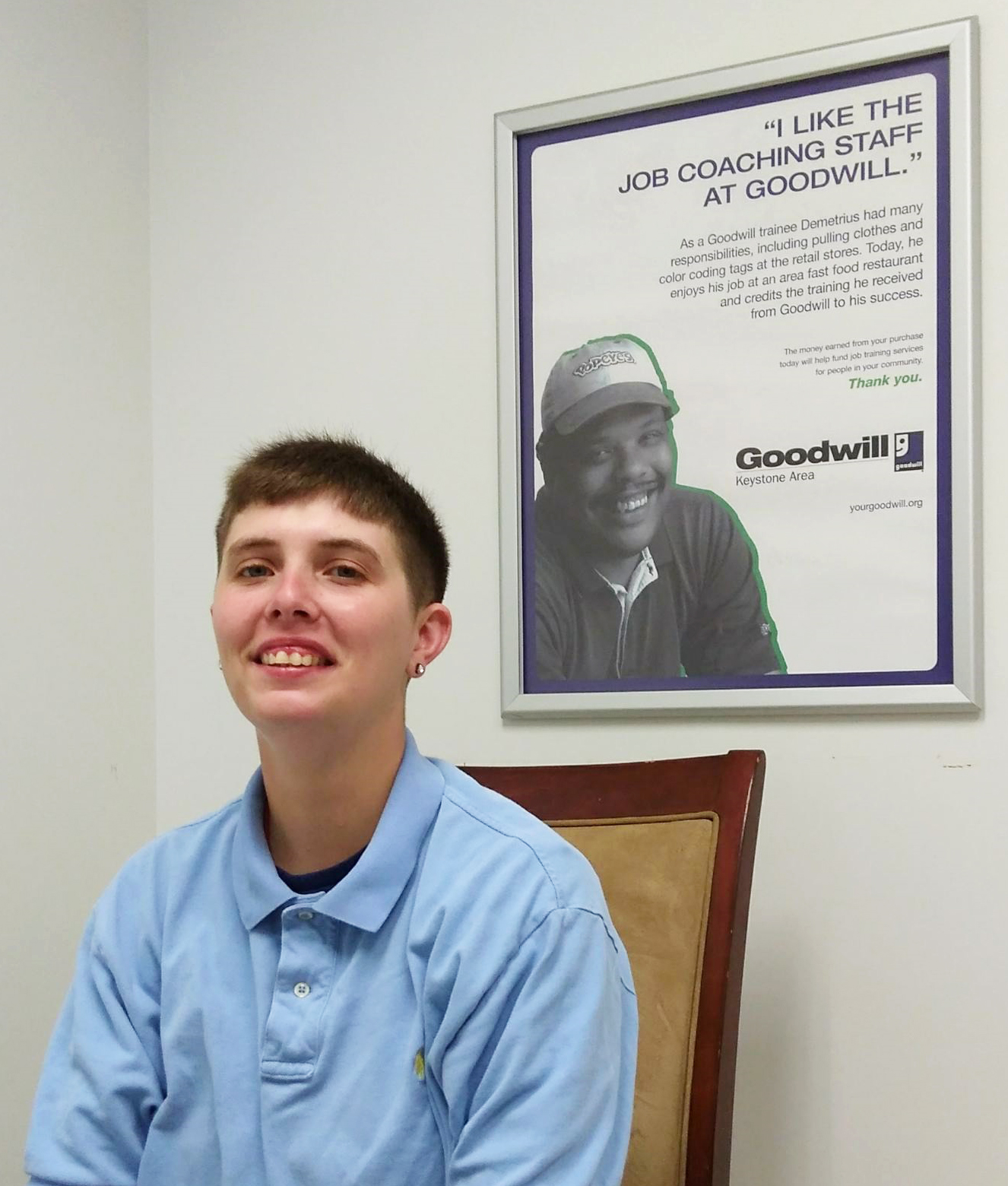 For the past two years, the Rite Aid warehouse in Langhorne has been lucky to have Cassie on the job. Described as "dependable" and "one of the hardest workers we have", she regularly exceeds her quotas unloading and reloading trucks to keep the chain of drug stores stocked.
Before working at the warehouse, Cassie was doing some part time assembly and shipping work but was not happy. She wanted a full time position with benefits, plus her workplace was less than welcoming. After a referral from the Office of Vocational Rehabilitation, Cassie began services with a Goodwill Keystone Area Employment Specialist.
The first step was to perform some work assessments, which were helpful in identifying Cassie's skills and vocational interests. She gets bored when she's not active and likes to stay busy, so warehouse work was a natural fit for her.
Outside of work, Cassie enjoys visiting her grandfather, spending time at the mall with her girlfriend, playing card games, eating at buffets, and going to waterparks. She likes sports and follows the Phillies, Sixers, and Flyers, and has the courage to admit to liking the Giants over the Eagles.
Cassie continues to find success through work and being a productive member of her community. Her warm smile and unflinching self-advocacy serve as an inspiration and a great example to her family, friends, and co-workers.
For more information about Goodwill's programs and services, contact Sue Soderberg
EMAIL 
or call 717.394.0647
---
Your financial contributions make a difference!
Your generous support enables us to develop innovative, nationally recognized programs and it gives us the flexibility to address emerging needs long before government programs can respond.
Click the "Donate" button to make a secure online donation through your PayPal account or with any debit or credit card. Your donation will make a difference in the lives of those we serve.
Goodwill Keystone Area earns over 75% of its operating income through its social enterprise of stores and business services. These entrepreneurial activities also provide paid training for those receiving services. This income covers a large part – but not all – of our operating expenses. One hundred percent of your gift is applied directly to services for people.
Thank you.