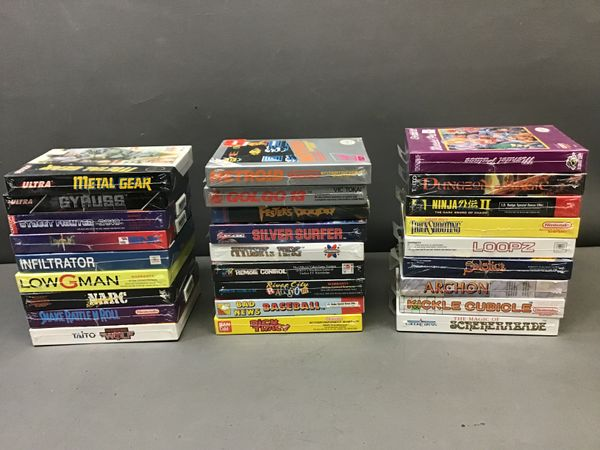 HARRISBURG, Pa. (July 21, 2021) – At Goodwill, you never know what you will find. For Nichole Garcia, a donated services representative at Goodwill Keystone Area's Hanover store, this was certainly the case when she came across unique gaming items in mint condition.

Garcia is trained to look for donated items that may sell at a higher value on Goodwill's auction website, shopgoodwill.com. She recently found a brand-new Nintendo system as well as 27 vintage Nintendo cartridges still in their original packaging. The gaming system was first to be auctioned off and, after the final bid surpassed $650, Garcia was confident the packaged games would have a good chance of returning value.

"My brother-in-law sells collectible items and knows about Nintendo systems and games," Garcia said. "I've picked up a thing or two from him and thought these cartridges would be of interest. When they were posted to our shopgoodwill.com site, I sent him a link. He thought they would sell for well over $10,000. I had no idea the final bid would land where it did but was thrilled."

Thanks to Garcia's eagle eye, the 27 cartridges gained interest from 143 bidders. Over the course of eight days, the initial bid of $9.99 not only surpassed $10,000 but ballooned to a record-breaking final amount of $30,002. This cartridge package is the highest selling item of any merchandise that Goodwill Keystone Area has placed for auction.

The proceeds from the cartridges and all items sold on shopgoodwill.com support Goodwill's mission programs that help people with disabilities and other barriers to employment build skills, find jobs and grow careers. In the latest fiscal year ending June 30, revenue from Goodwill's e-commerce site reached $3.2 million.

These dollars, along with revenue from the sale and recycling of donated items at the organization's 44 retail stores and outlet centers across 22 counties in central and southeastern Pennsylvania, fund Goodwill's job training, career development and education services for those in need. Each year, thousands of people in our communities receive these life-changing services.

About shopgoodwill.com
The shopgoodwill.com site is the first e-commerce auction platform created, owned and operated by a nonprofit organization. Today, more than 120 Goodwill organizations from around the country and Canada list and auction unique items on the site, including art, antiques, collectibles, apparel, jewelry, electronics and more.

In fiscal year 2020-21, Goodwill Keystone Area generated $3.2 million in revenue through the online sale of items pulled from the organization's vast inventory of donated goods.

Revenue from these auction sales support Goodwill's mission to help people overcome challenges to build skills, find jobs and grow their careers through the power of work. The shopgoodwill.com site was created and continues to be operated by California's Goodwill of Orange County.

Go to www.yourgoodwill.org/shop/online-auction to learn more.