As I mentioned previously, "rock & roll" is another trend for Spring 2017. But, seriously when ISN'T rock & roll a trend? I think it started in the 1950s and has been popular ever since. Because it has been around for such a long time, you really can't go wrong and probably already have some pieces in your closet to make this look work.
To off set the edgy vibe of the outfit, I chose the gorgeous Longwood Gardens in Kennett Square, PA to be my backdrop. If you haven't ever visited the immense gardens and conservatory, it is well worth the time to explore the grounds, in any season.
My look started with this quilted, faux leather burgundy jacket by Who What Wear from Target.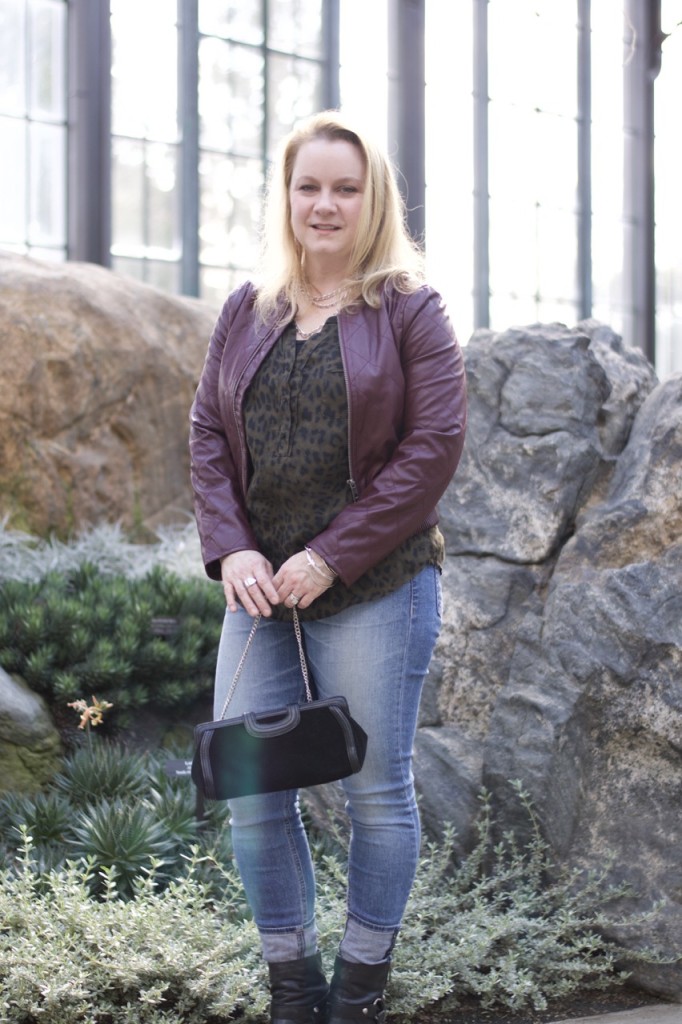 It is a light-weight and perfect for cool spring days. Layering it makes it appropriate for many seasons. Adding a scarf or a sweater underneath would make it work for fall or winter or throw it on over a tank top for summer nights.
I wanted the details in the look to stand out. The long, multi-strand silver chain necklace was layered several times.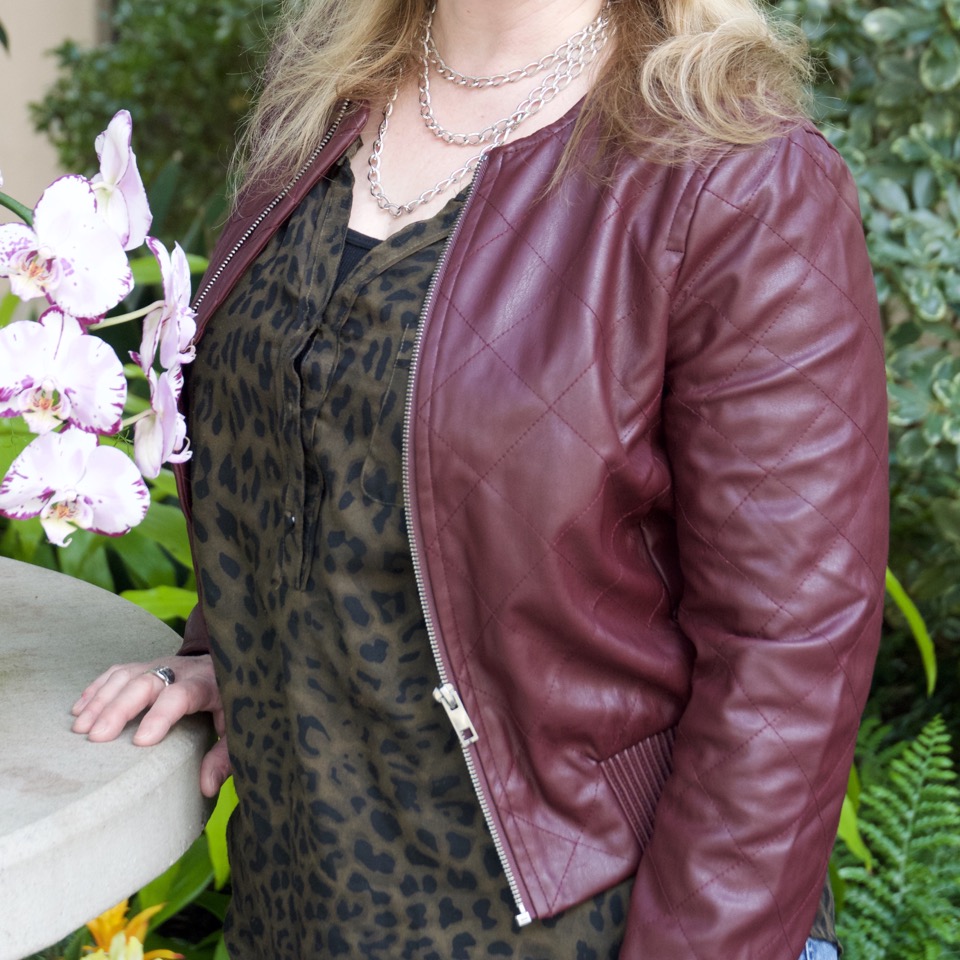 Chokers are also back in style, but I didn't want to specifically go for that look. Long chains are so versatile because you could wrap them several times for a variety of necklace looks or wrap them around your wrist for a bracelet.
A sheer dark leopard-print blouse from Loft is one of my new go-to pieces.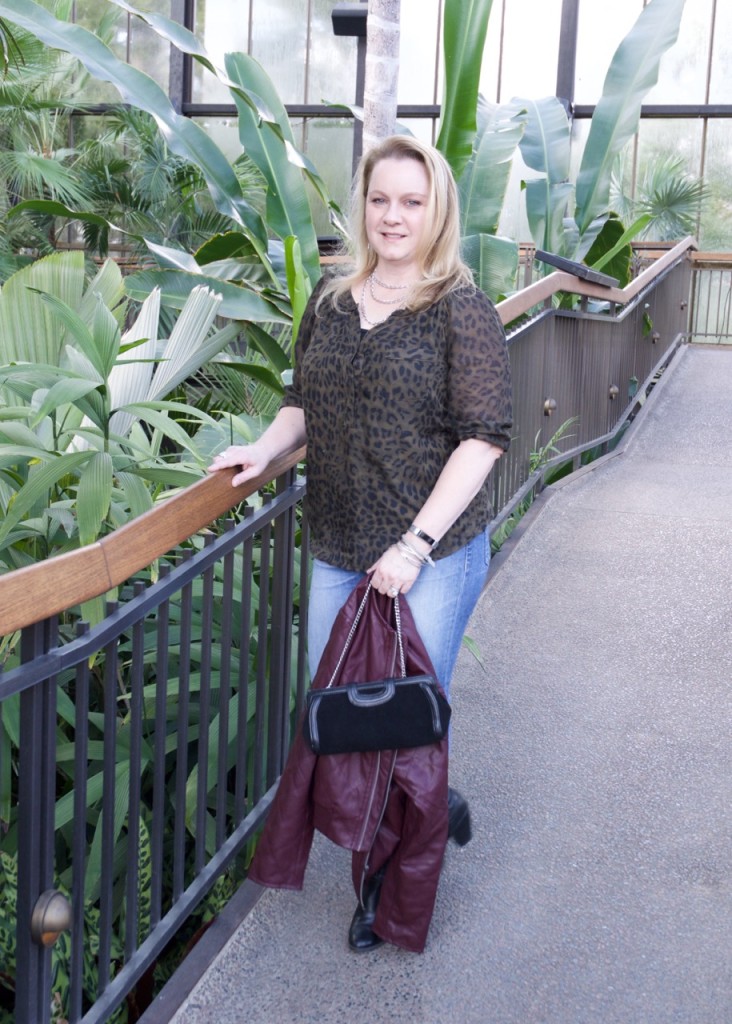 I've worn it to work with black trousers, but it looks equally as well with jeans and even shorts later in the season. A suede clutch, also from Loft, was the perfect bag for the day. The chain strap mirrored the detail of the necklace.
Lastly, skinny light wash jeans from Rag & Bone and moto-style boots from Bandolino (both my favorites and featured previously on the blog) rounded out my rock & roll style.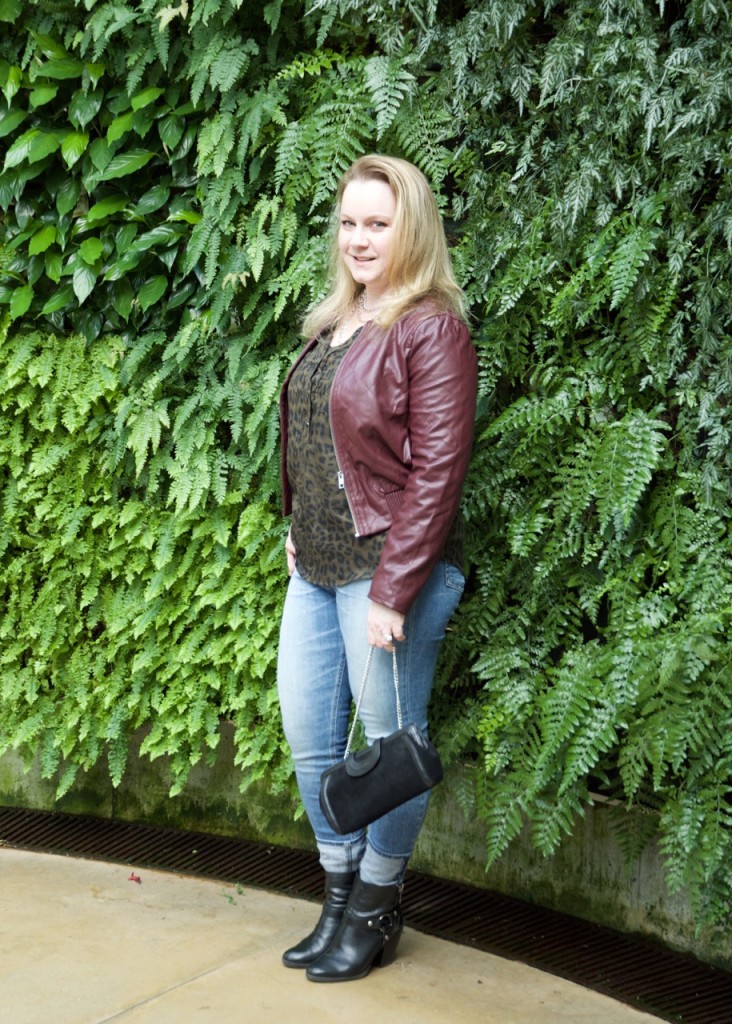 Recycling articles you already have in your closet and adding just a few edgy, detailed pieces can get you Spring 2017 ready. And you can find those items at Goodwill Keystone Area stores.
Blouse: $3.95
Jeans: $6.50
Bag: $4.97
Jacket: $7.99
Shoes: $6.97
Necklace: $1.97
Total: $32.35
From my closet, to yours…
Kirsten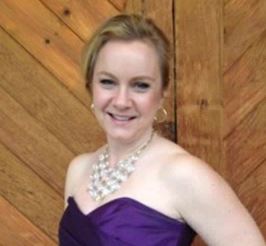 About The Blogger
Kirsten is a 40-something mom, wife and marketing professional. She loves all things crafty, tasty and fashionable, especially while being frugal. She enjoys hunting for treasures at her local Goodwill stores to decorate her home and wardrobe. She is a stylist and volunteer for the fundraiser the Goodwill Runway Show, which is held every spring in Reading, PA.