I'm always happy to hear that people read and enjoy my blog, but in this post I am excited to share that I was able to meet, style and have a photo shoot with one of my fans!
Through a friend, I met Melanie, a hairstylist with a unique look and sense of style. She is a huge fan of Goodwill and often posts about her own thrifted finds on social media. We both agreed a vintage retro look was the way to go for her.
We met for a morning of shopping at Goodwill in Shillington, PA. After several trips through the aisles, a cartful of finds, and multiple dressing room reveals, we had our winner.
Melanie's impeccable makeup, purple pinup hair, tattoos and curvy attributes perfectly highlighted this layered retro look. We started with the sheer floral print tunic by Black Rainn. The colors in the tunic set the stage for the rest of the outfit. The cropped pants by Briggs added some warmth and coverage for a chilly winter day.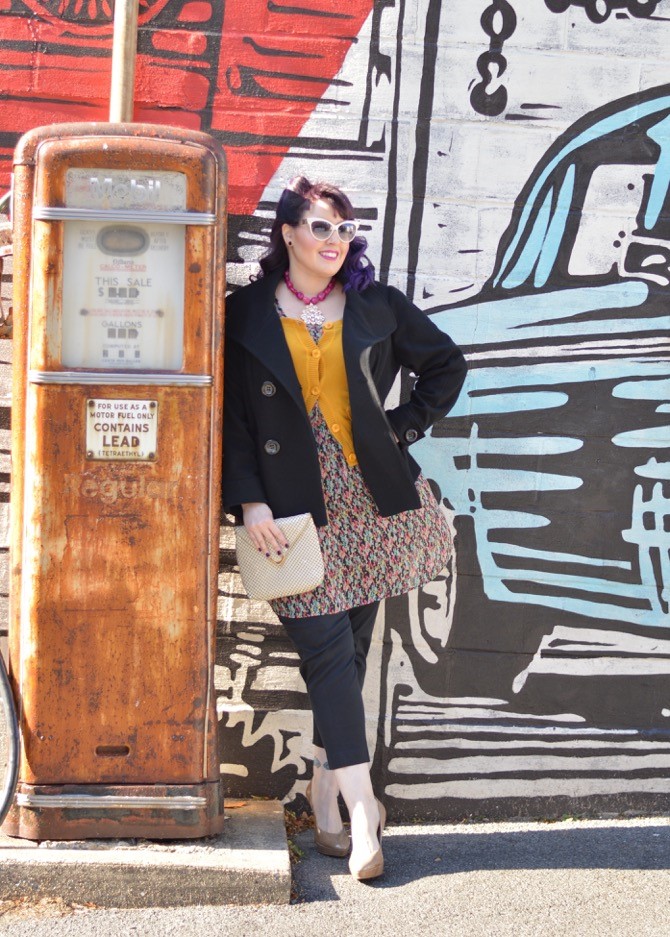 Adding pops of color were important so the mustard yellow cardigan by Mossimo, a Target brand, and the vibrant pink and rhinestone necklace brightened up the entire look.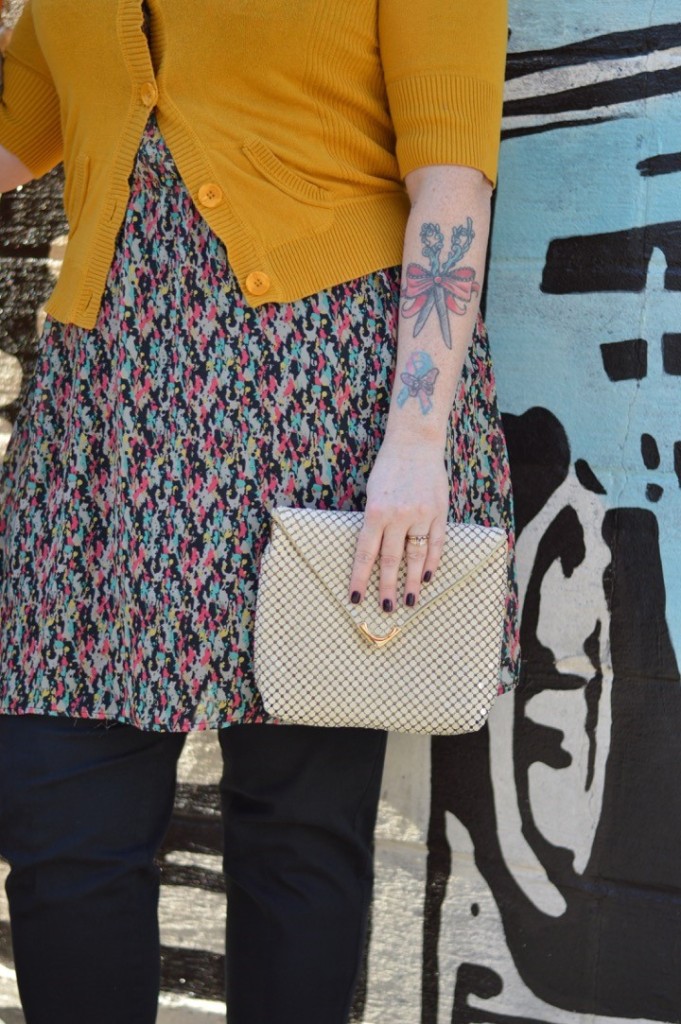 Melanie usually wears flats, so these nude heels, which will go with anything, were a fun change for her. She informed me later (after researching the heels online) that the brand L.K Bennett London sells for up to $345. So needless to say, the $6.97 that we spent was an incredible bargain! Go Goodwill!
The ivory vintage metal mesh clutch and the Style & Co. black winter coat finished off her look. Together these pieces are a beautiful outfit, but they each can be used separately to enhance the rest of her wardrobe. The total for the whole outfit was just $35!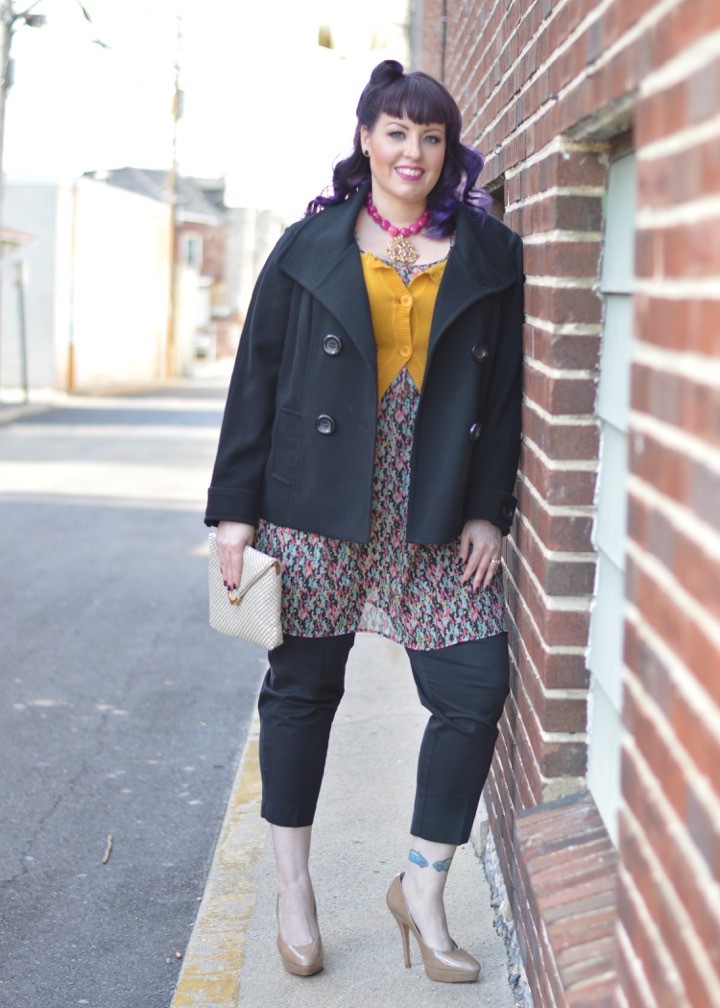 No matter what your style, budget or size, Goodwill Keystone Area stores are the perfect place to shop. Looking good does not have to cost a fortune and when you exude confidence and beauty, like Melanie, you feel good on the inside as well because you know you're supporting a valuable organization like Goodwill.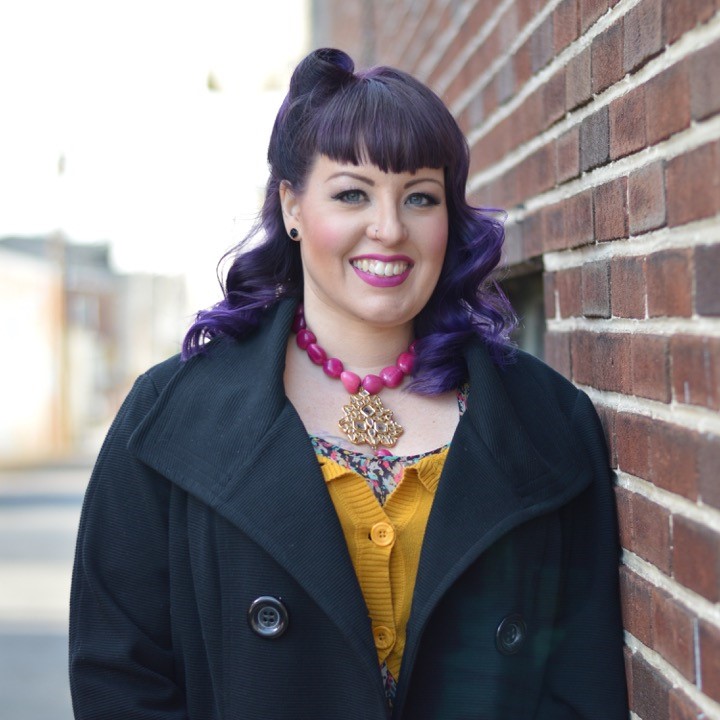 Pants: $4.25
Coat: $5.25 (half off special)
Shoes: $6.97
Clutch: $2.49 (half off special)
Tunic: $5.50
Cardigan: $3.95
Necklace: $6.97
Total: $35.38
Kirsten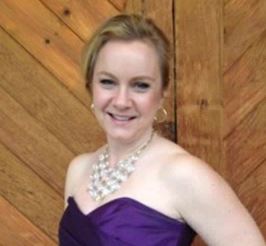 About The Blogger
Kirsten is a 40-something mom, wife and marketing professional. She loves all things crafty, tasty and fashionable, especially while being frugal. She enjoys hunting for treasures at her local Goodwill stores to decorate her home and wardrobe. She is a stylist and volunteer for the fundraiser the Goodwill Runway Show, which is held every spring in Reading, PA.