This year's fall temperatures has been up and down, but inevitably cooler weather will be here to stay and sweaters, scarves and boots will be staples in my wardrobe. Right now we are enjoying that in-between time where we have cool nights and warm days.
While I'm not ready for a winter coat and tall boots, I have been craving a change in my wardrobe. A long sleeved dress, sheer tights and short boots is the perfect starter autumn outfit.
This black and white striped dress by 12pm Mon Ami (which is actually a tunic, but well, I'm vertically challenged) is light enough for a recent outing to St. Peter's Village in Chester County.
If you go, make sure you stop by the Bakery. It's worth every carb!
The dress is accented with colorful plaid cuffs and a pocket so I added a red leather Tignanello purse to tie the outfit together. A frothy cream-colored scarf by Merona (a Target brand) and a silver and black necklace (that I've had for several years from Goodwill) were the perfect accessories. As it warmed up, I put aside the scarf and enjoyed the day.
These sturdy, black, ankle boots by Bandolino are my new favorite footwear! I'll be wearing them with jeans, dress pants or dresses and they look equally as stylish.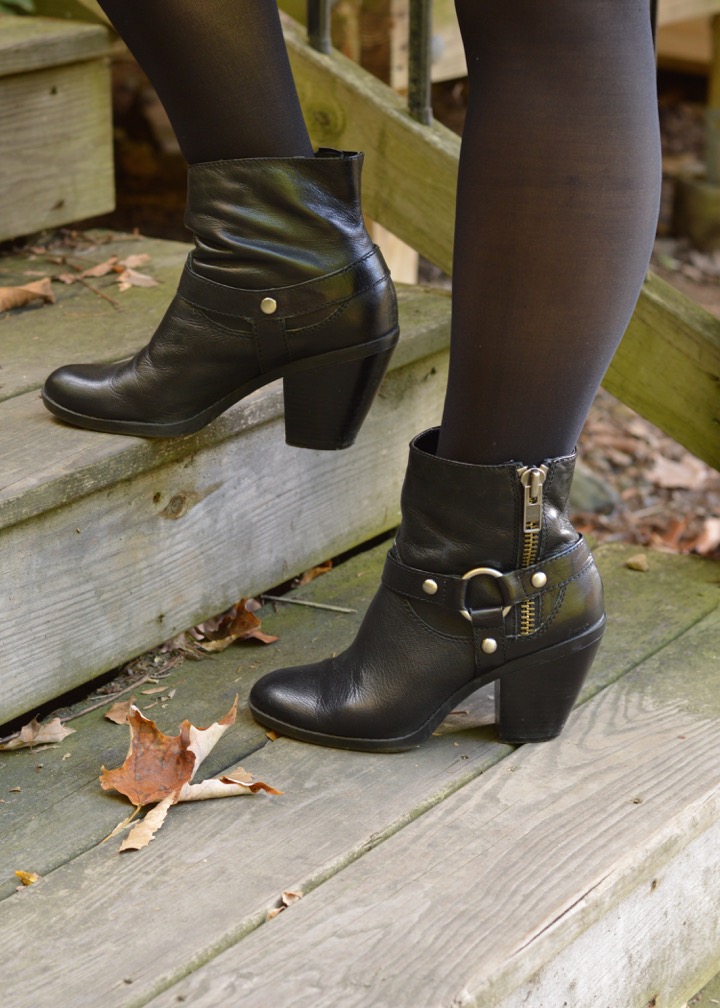 The zipper and leather straps give them a funky, biker vibe.
Easing into fall with transitional pieces is a great way to start to change up your wardrobe. I love that shopping at Goodwill gives me the ability to freshen up my closet each season while still having plenty of money for lunch out with my family.
Kirsten
Goodwill in Trappe, PA:
Dress: $5.50
Goodwill in Shillington, PA:
Shoes: $6.97
Goodwill in Morgantown, PA:
Scarf: $2.00
Purse: $9.97
About The Blogger
Kirsten is a 40-something mom, wife and marketing professional. She loves all things crafty, tasty and fashionable, especially while being frugal. She enjoys hunting for treasures at her local Goodwill stores to decorate her home and wardrobe. She is a stylist and volunteer for the fundraiser the Goodwill Runway Show, which is held every spring in Reading, PA.