When traveling for business or pleasure, it's convenient to have pieces that are versatile and packable. No one wants to dig out the iron in their hotel room to look presentable after their clothing has been smashed and wrinkled into a suitcase for hours.
My friend Kim is fortunate to travel internationally, so I chose this dress for her to wear after her professional day is done.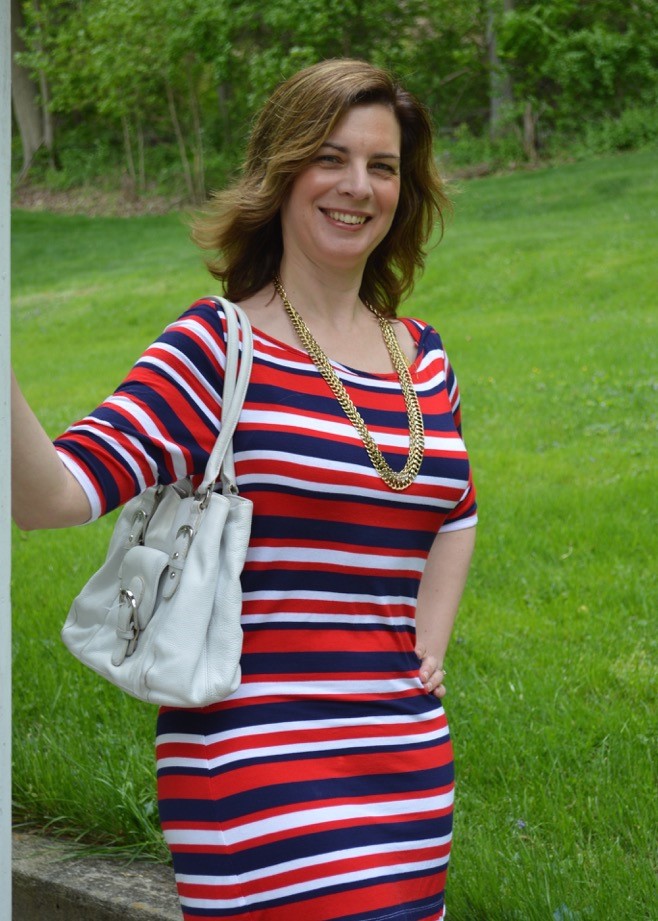 She can comfortably and stylishly enjoy a dinner or sight-seeing tour.
This soft knit dress was new with tags from Stitch Fix. It came with a small card demonstrating several ways to style it and I approved of their suggestions: sandals in the summer and boots and tights in the winter. You could easily add a casual navy blazer, a jean jacket or cardigan for chilly nights about town. Again, never be afraid of stripes! Here, the bold pattern is bright and dynamic and the colors would also be perfect for a Memorial Day picnic.
I paired it with chic navy Michael Kors sandals (only $6.97!!!) that feature the classic gold "MK" logo, a gold tassel necklace (also new with tags from Rampage) and a white Tignanello bag that is large enough to hold her essentials.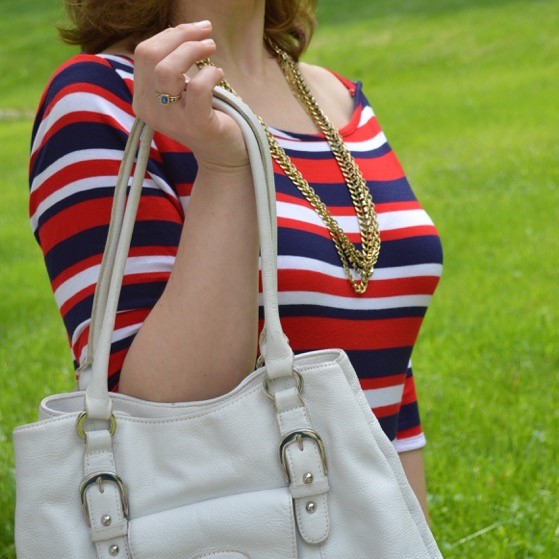 When planning a trip, consider your activities, the weather and how much time you are willing to invest in "sprucing up" your wardrobe when you arrive. Versatile pieces you can wear multiple ways will save space in your suitcase and you'll have more room for souvenirs! And by getting your clothes out of your suitcase and hanging them in the closet right away will save you time when you are running out the door to a meeting or to catch a tour bus!
Kirsten
Goodwill in Muhlenberg, PA:
Sandals: $6.97
Runway Launch Party:
Dress: $10.00
Goodwill in East Earl, PA:
Necklace: $8.97
Goodwill Outlet in Reading, PA:
Bag: $1.75
Total: $27.69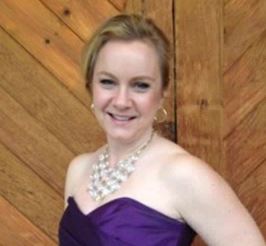 About The Blogger
Kirsten is a 40-something mom, wife and marketing professional. She loves all things crafty, tasty and fashionable, especially while being frugal. She enjoys hunting for treasures at her local Goodwill stores to decorate her home and wardrobe. She is a stylist and volunteer for the fundraiser the Goodwill Runway Show, which is held every spring in Reading, PA.