I'm happy that my children have grown up "thrifting" with me and enjoy searching for their favorite fashion brands at Goodwill. It's not hard to find the labels you or your family love. These dresses from Forever 21 are great looks for tweens, teens or anyone wanting a youthful vibe.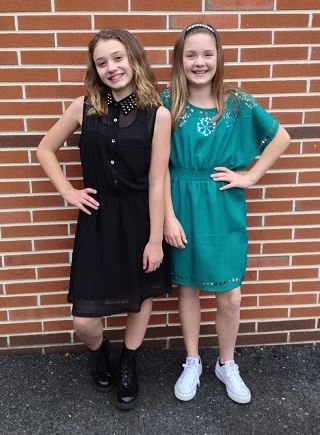 Chloe's black sleeveless dress, which was found new with the tags, has just the right amount of feminine touch with the delicate sheer fabric. The silver studded collar adds edginess, as do the black patent Mossimo (from Target) combat boots also from Goodwill.
Maddie goes with a bright pop of color with the teal short-sleeved dress with a smocked waist. The laser-cut detail on the shoulders, neckline and hem add a fun, modern touch. She finished her outfit with a rhinestone headband (also from Goodwill) and bright white Converse sneakers. Both girls are comfortable for an afternoon of shopping or dressy enough for attending a middle school dance.
Teaching your kids that they can get a whole outfit at Goodwill for the price of just one piece from their favorite mall store is rewarding. And knowing that by shopping at Goodwill you are helping to fund life and job training for those with challenges is rewarding!
Kirsten
Outfits are from Goodwill in Royersford, PA
Black dress: $8.50
Teal dress: $5.50
Boots: $9.97
Rhinestone headband: $1.97
Total: $25.94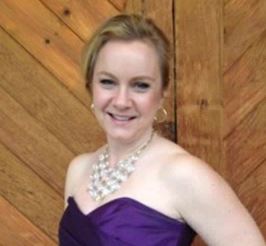 About The Blogger
Kirsten is a 40-something mom, wife and marketing professional. She loves all things crafty, tasty and fashionable, especially while being frugal. She enjoys hunting for treasures at her local Goodwill stores to decorate her home and wardrobe. She is a stylist and volunteer for the fundraiser the Goodwill Runway Show, which is held every spring in Reading, PA.