While nothing has been typical this year, summer is still here and we're hanging on to the last sun-soaked, lazy days with all our might. Maybe it's a day by the pool, a socially-distanced trip to the shore, getting ice cream, or enjoying a sunset. However, you are spending your summer days, be safe, be responsible, and don't forget to be fashionable.
I've been enjoying time with my small circle of family and friends and trying to keep things as normal as possible while still wearing my mask and keeping those around me safe when in public. If you're crafty, maybe make a mask (plenty of patterns are online) from the shirt that you love, but doesn't quite fit anymore or has a stain in a visible area?
Speaking of stains, I think that is how this colorful J. Crew dress ended up in the bins at the Goodwill Keystone Area store in Reading.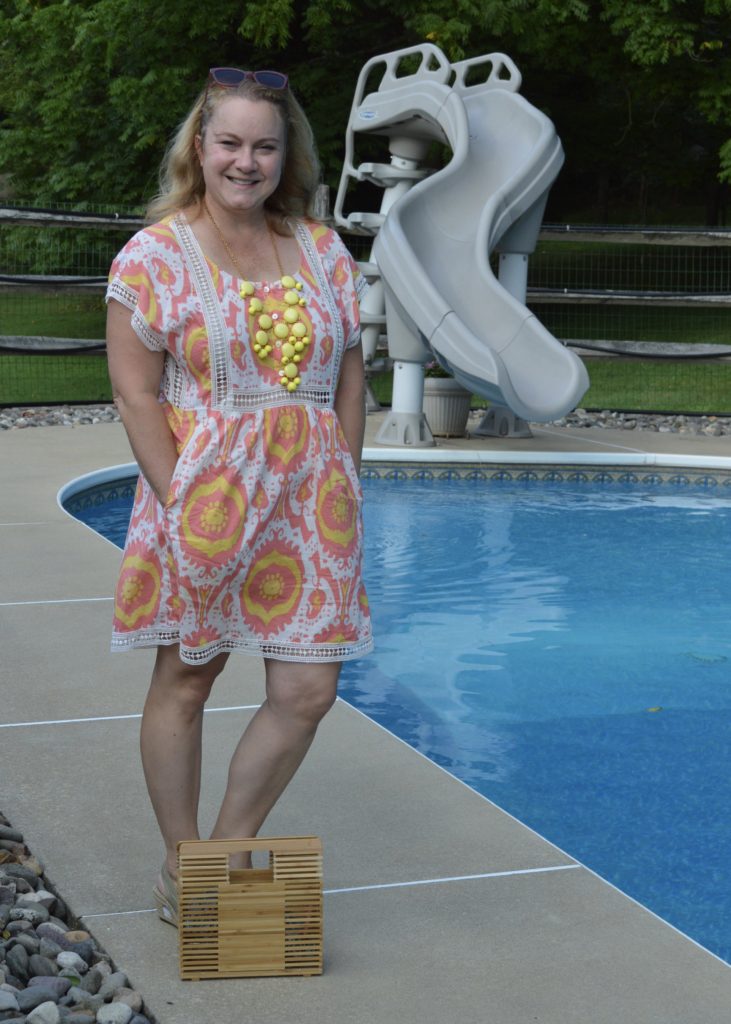 I purchased this on my last trip to the bins before quarantine. The fabric caught my eye and l quickly discovered it was my size and a favorite brand. On the front near the hem was a stain. Or what I like to call – a challenge. I have a small arsenal of laundry stain removers, but my favorite secret weapon is blue Dawn dish detergent. It's well known to clean a lot more things than just dishes! Fortunately, a few pre-treatments later and the stain disappeared from the dress!
Clothing is sold by the pound at the outlets so this lightweight dress cost less than a dollar. I loved the orange and yellow Ikat print and the lace trim. It was easy to pack on a vacation earlier this summer. And could double as a bathing suit cover-up. J. Crew dresses like this originally sold for around $79, so after a little effort, I had a great find. And a features all girls love – pockets!!!
I paired it with gold canvas espadrilles from Clarks.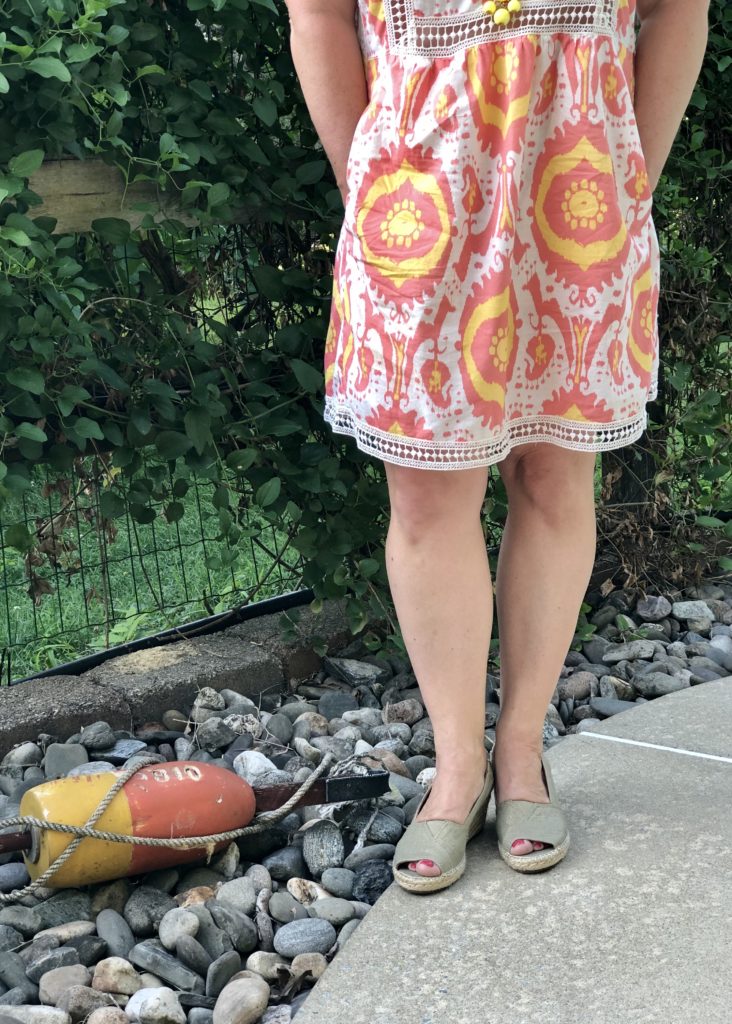 These are the most comfortable shoes I've worn in a long time and the neutral color works with everything from shorts to jeans to dressier outfits. The shoes were $7.47 but retailed for $84.
This bamboo, structured bag was labeled as one of the hot purse trends of 2019.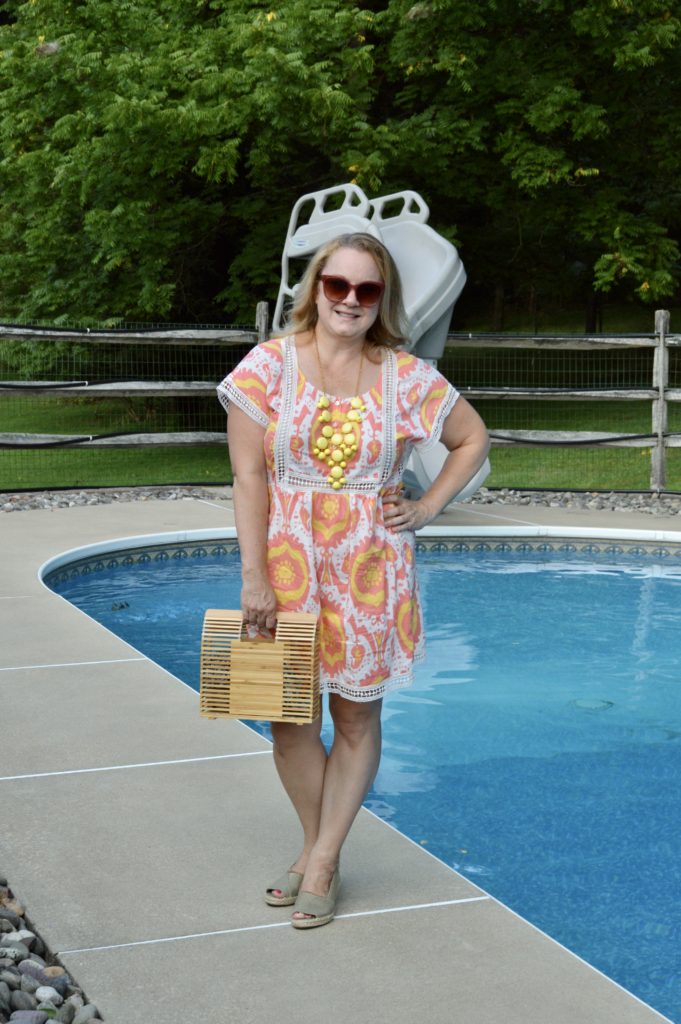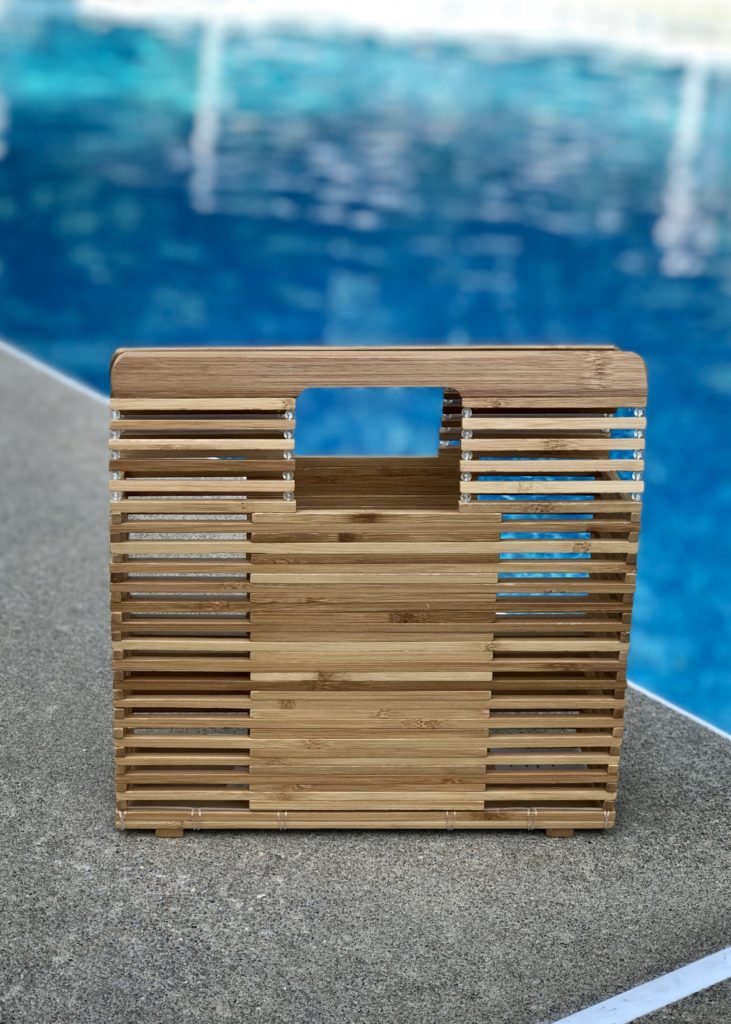 I always believe that every trend makes it's way to Goodwill and now this one has too! Similar bags like this sold at mass retailers and high-end stores in price points up to $4,000. See article here: https://www.thezoereport.com/p/this-2019-purse-trend-is-the-new-basket-bag-its-about-to-be-huge-15511487
My version (which was new with tags from C & C California) sold for $90 and is still selling well on Poshmark in the resale community. My cost at Goodwill Keystone Area was $4.97. Not a bad deal!
Lastly, I added an older trend – the bubble necklace.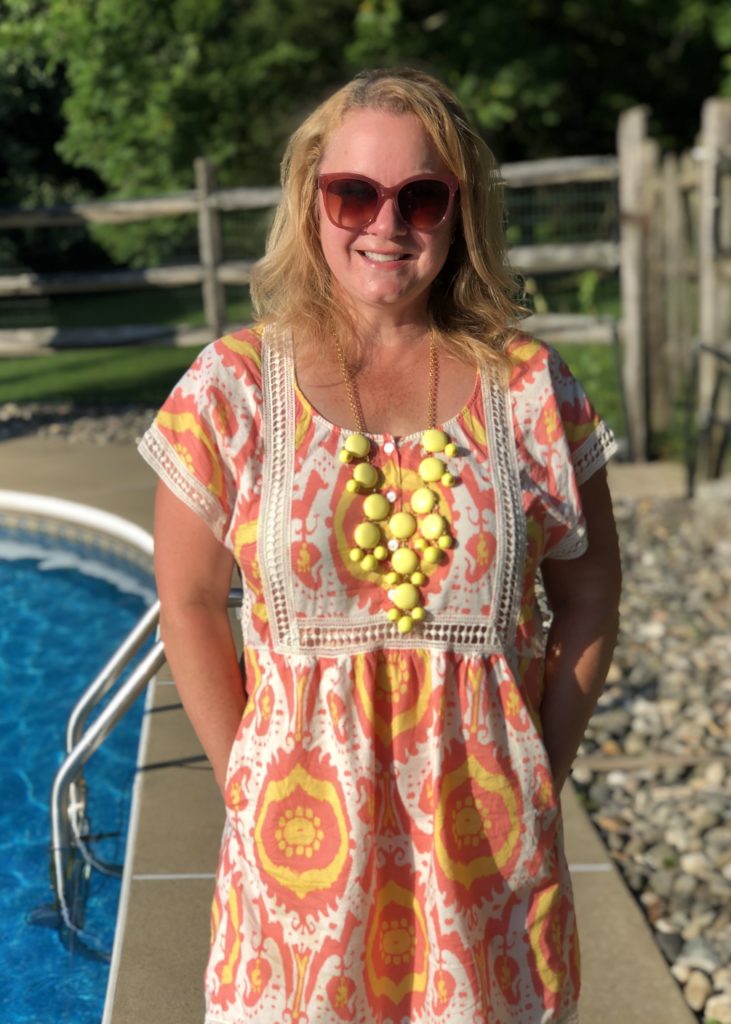 I tend to hang on to trends I like and even if they go out of style, I still enjoy wearing them. Eventually everyone old is new again, especially in the fashion world. And sometimes a little elbow grease will go a long way! If you're up for a little stain removal or some minor alterations, Goodwill can be even more of a fashion gold mine!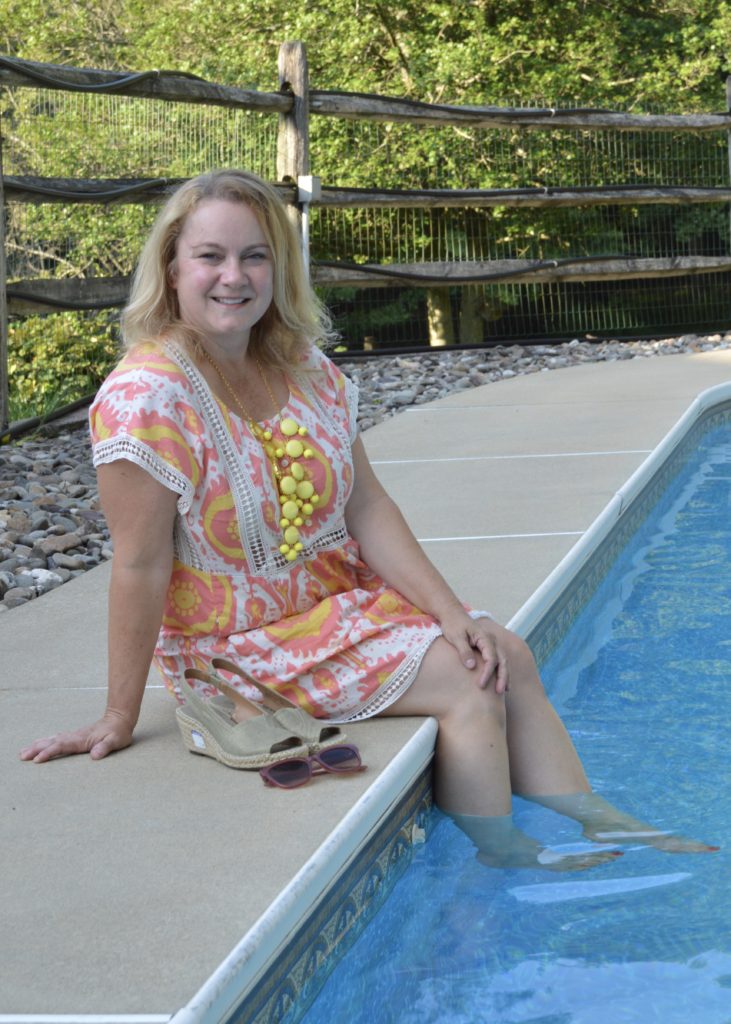 From my closet to yours,
Kirsten
Dress: $1.00
Shoes: $7.47
Bag: $4.97
Total: $13.44
Retail: $250+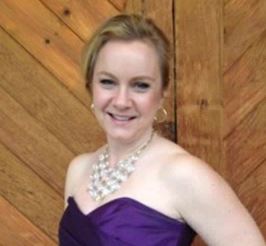 About The Blogger
Kirsten is a 40-something mom, wife and marketing professional. She loves all things crafty, tasty and fashionable, especially while being frugal. She enjoys hunting for treasures at her local Goodwill Keystone Area stores to decorate her home and wardrobe.