While you may think of Goodwill for clothing or housewares, many stores have a great selection of earrings, bracelets and necklaces to accent your existing wardrobe.
Jewelry can change the feel of a simple outfit such as jeans and a t-shirt and give it date-night worthy status. Or it can take last year's style and elevate it to this year's trend.
This colorful, Egyptian-inspired, bib necklace (all jewelry is new from Target, but found at Goodwill prices) is the perfect compliment for Vanessa's simple red, silk blouse. We paired it with black pants, but try it with jeans and a jacket for a casual brunch with friends.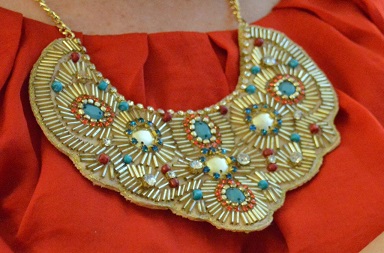 The glittering gold and rhinestone bracelets will sparkle and attract attention to your hands.
While hoops may be a classic choice, these textured, gold earrings are big enough to be noticed, but simple enough to be worn every day.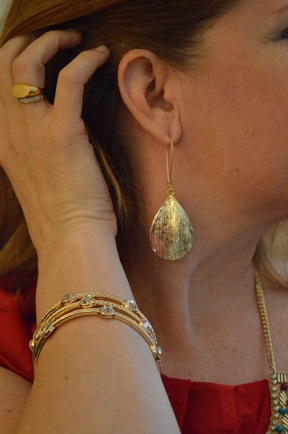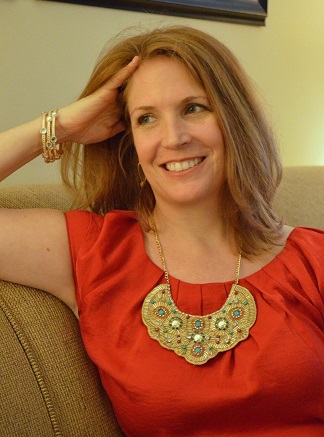 Besides new jewelry, Goodwill has vintage and costume pieces that will set you apart and make your style unique. Load up several pins on a blazer label; layer a few delicate necklaces together; pile on some bangles or try mismatched earrings. Have fun with your accessories, but remember that jewelry is meant to compliment, not overpower your look. Be sure and take advice from fashion designer Coco Chanel about accessories: "Before you leave the house, look in the mirror and take one thing off."
Ciao, Kirsten
From Goodwill in East Earl, PA:
Necklace – $9.99
Bracelets: $5.99
Earrings: $3.99
Total: $19.97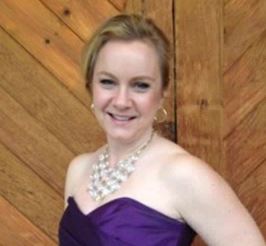 About The Blogger
Kirsten is a 40-something mom, wife and marketing professional. She loves all things crafty, tasty and fashionable, especially while being frugal. She enjoys hunting for treasures at her local Goodwill stores to decorate her home and wardrobe. She is a stylist and volunteer for the fundraiser the Goodwill Runway Show, which is held every spring in Reading, PA.