Last week the Thrifty Fashionista headed for the Big Apple and a broadway show, which was of course, about shoes!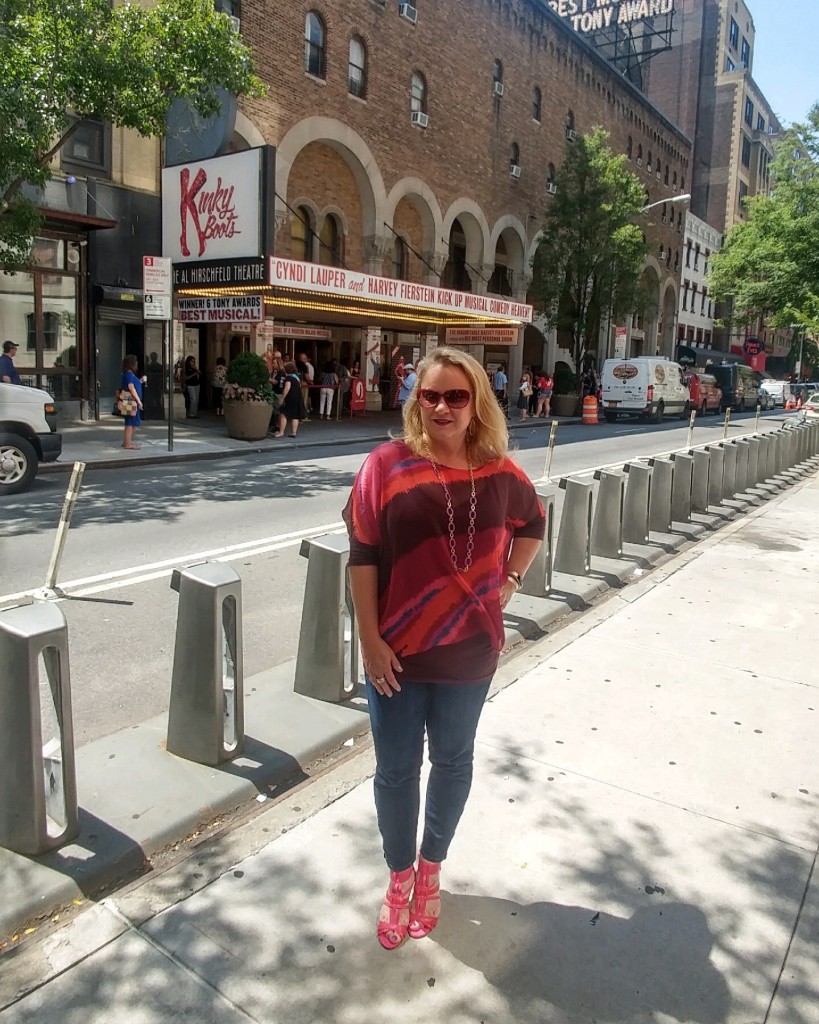 As any good fashion blogger would do, I planned an outfit for the trip and my friends indulged me by helping me stage and take the photos so they wouldn't be all selfies. Visiting such a cosmopolitan city gave me the chance to observe fashionistas in their natural habitat. It's always good to have a change of scenery and explore somewhere different for some new ideas for my blog and Goodwill.
Being NYC in August, I needed something that was lightweight and comfortable for traversing the city streets. I did wear flats for the trip and changed into the stunning pink and orange Nine West stiletto sandals only for the photos.
I didn't want a sprained ankle as a souvenir. I paired them with a sheer, flowing blouse from Express and a burgundy tank top from Loft.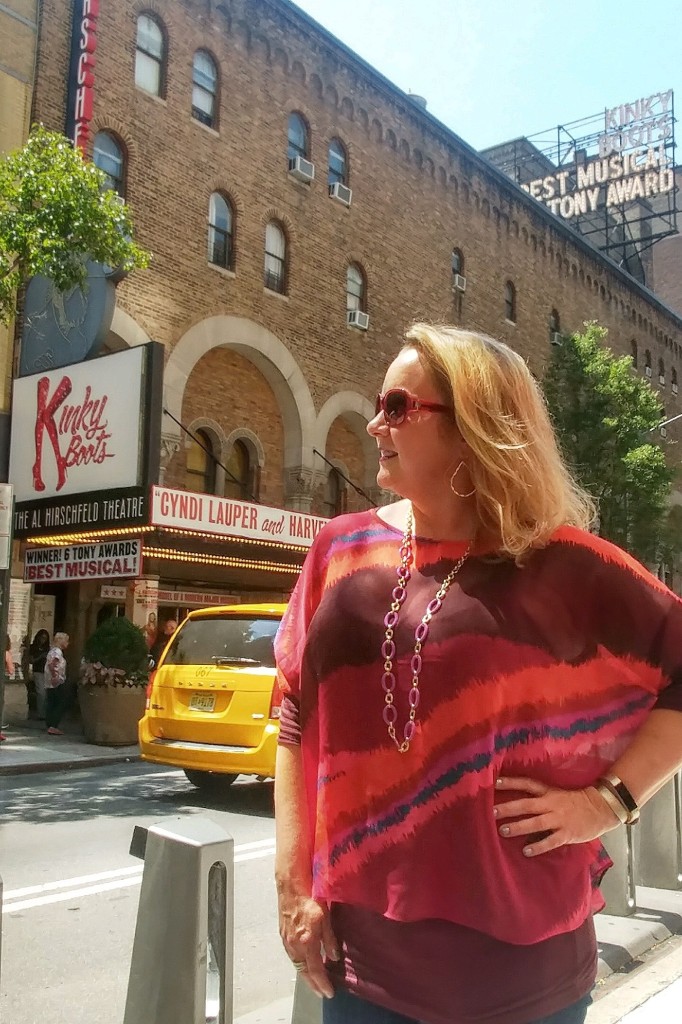 I loved the bright red and pink colors in the top and how they coordinated well with the shoes. For more pop I added a purple and gold chain necklace from Target. The jeans were classic ankle-length skinny jeans from Gap. Gap has remained a solid choice for jeans for many years. They have so many varieties and I'm always happy to find them at my local Goodwill.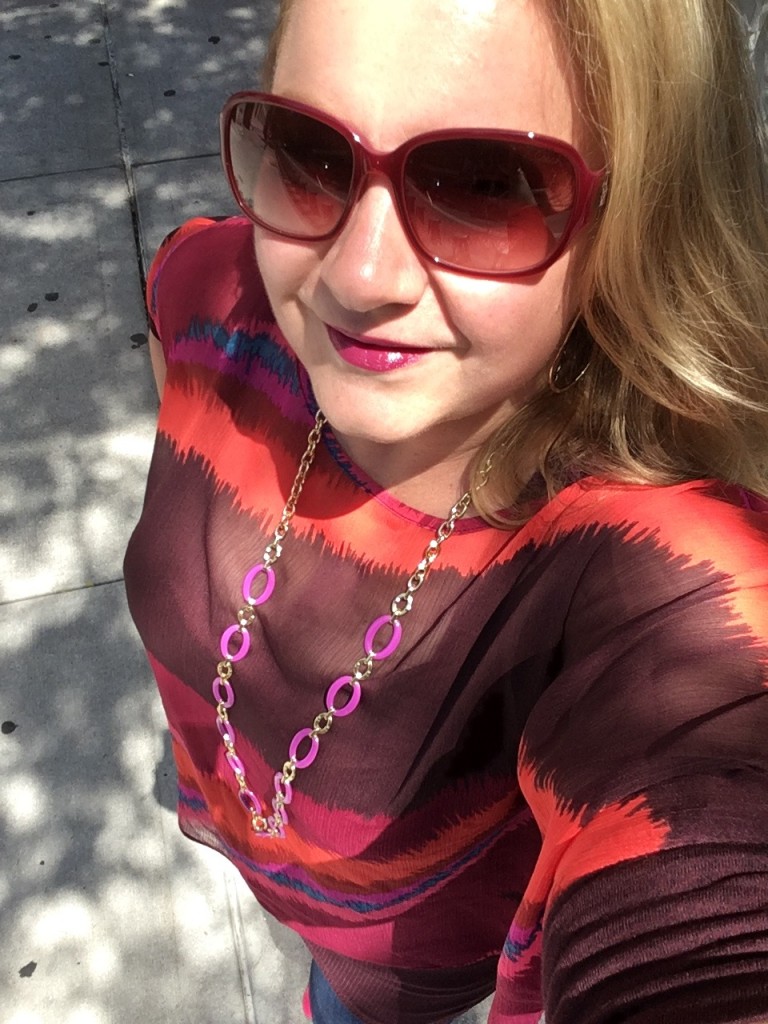 If you love thrifting at Goodwill as much as I do, you'll love these two upcoming Goodwill Keystone Area events!
· On Thursday, August 17th, Goodwill is celebrating National Thrift Day with $5 off a $30 purchase! Hit up your local Goodwill and enjoy the savings! I'll be out shopping! If you see me, stop and say hi and show me what you have found!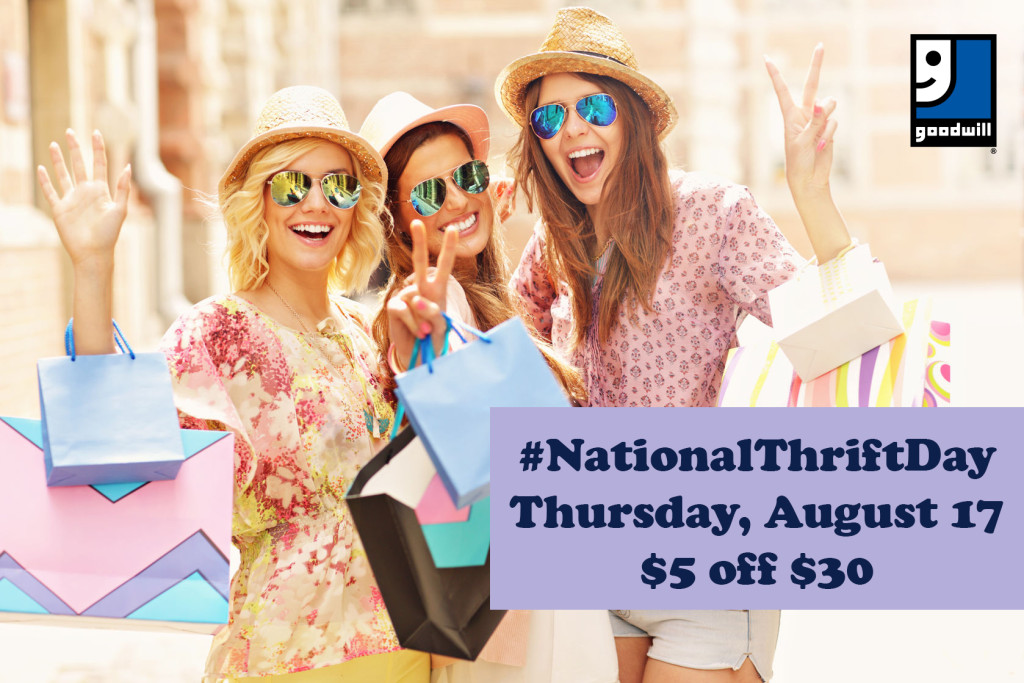 · And, on Saturday, September 9th, I'll be hosting "Take a Thrift Trip"! Get your tickets now and get on the bus with me and all my thrifty fashionista friends as we visit Berwyn, Phoenixville and Trappe! Sit back and let us do the driving as you enjoy goodie bags, raffle prizes and coupons! I'll be offering my best thrift tips AND helping you shop as we spend the day visiting three stores. Click here to get your tickets today!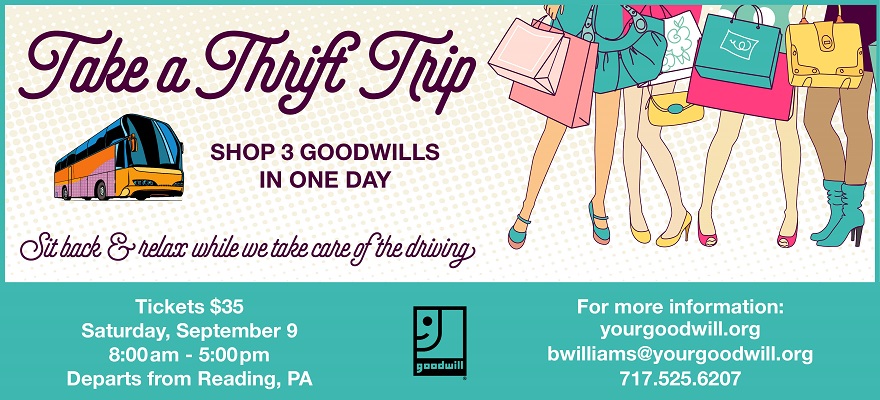 Whether you are shopping for National Thrift Day OR you get on the Thrift Bus with me, know that when you shop at Goodwill Keystone Area stores, you aren't just finding stylish treasures at great prices, you are supporting people in your local community on their pathway to a new job or career. That's something worth shopping for!
Blouse: $3.95
Tank: $3.95
Necklace: $6.97
Shoes: $6.97
Jeans: $6.50
Total: $28.34
From my closet to yours,
Kirsten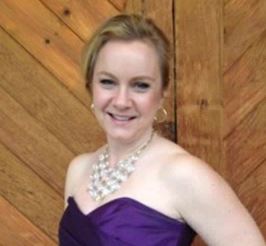 About The Blogger
Kirsten is a 40-something mom, wife and marketing professional. She loves all things crafty, tasty and fashionable, especially while being frugal. She enjoys hunting for treasures at her local Goodwill Keystone Area stores to decorate her home and wardrobe. Meet up with her at one of Goodwill's shopping events! Check the event pages for details.