It's hard to believe another year has come to a close and this December is my 2nd anniversary being Goodwill Keystone Area's Thrifty Fashionista! I have loved every minute of being a part of the fashion world while thrift shopping and promoting how Goodwill supports members of your community.
I have met so many wonderful people because of Goodwill. I've had fans of the blog that have become friends and models. I've met shoppers in the stores and this year we hosted a successful bus trip where I got to interact with like-minded thrifters while enjoying a girls' day out.
I have written over 160 blog posts in the last two years and with Goodwill Keystone Stores never-ending supply of new clothing and accessories, I'll always have a treasure trove of fashion at my fingertips.
Of course, I'm celebrating the New Year in something fabulous. This body-con style dress is from designer Alberto Makali.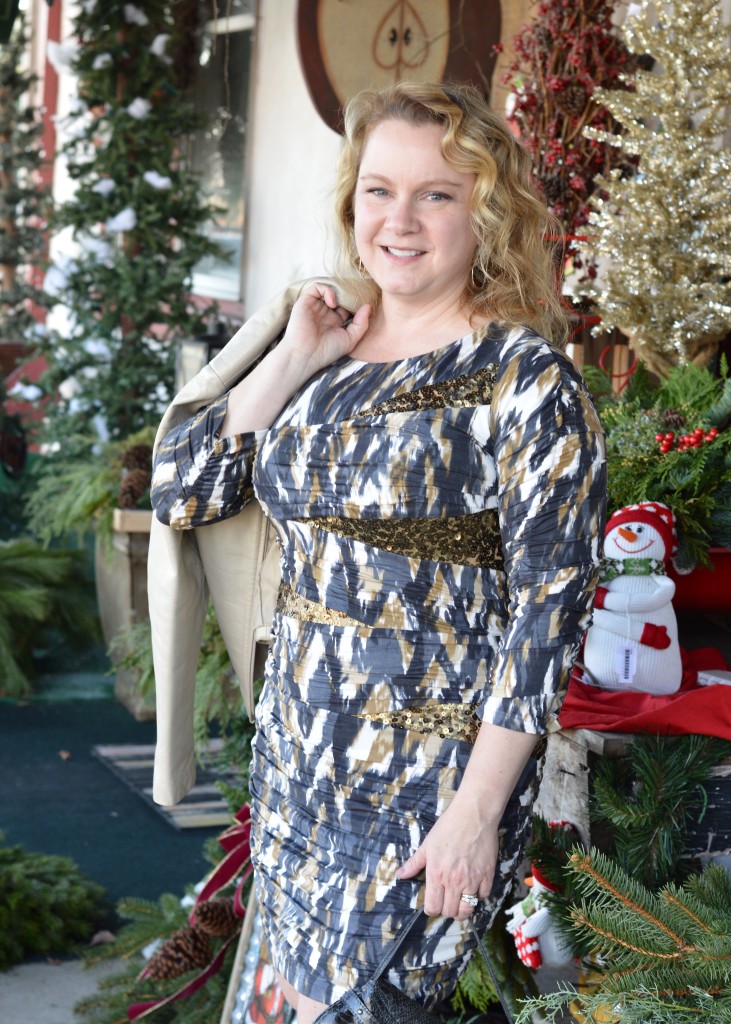 I hadn't heard of this brand, but upon researching the label I was amazed to find that celebrities such as Carrie Underwood, Vanessa Hudgens and Mary J. Blige have all worn Alberto Makali on the red carpet! I have new-found respect for this gold sequined and patterned ruched dress I picked up for $5.50. When new, this dress sold for around $295!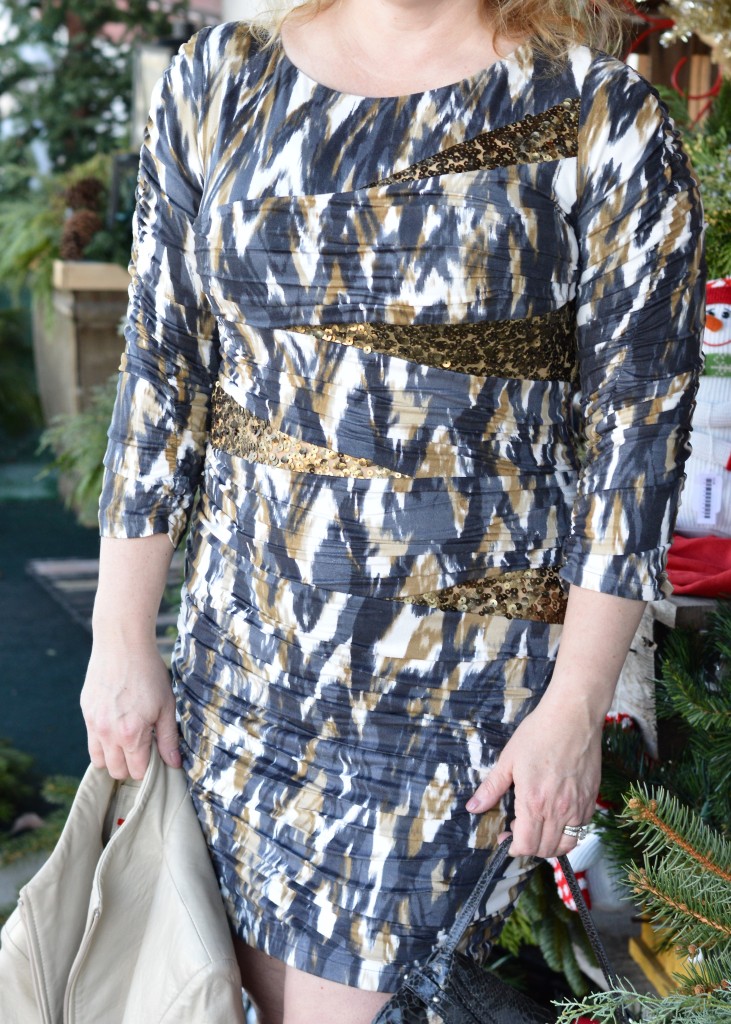 I added a champagne-colored butter-soft leather jacket from Brandon Thomas.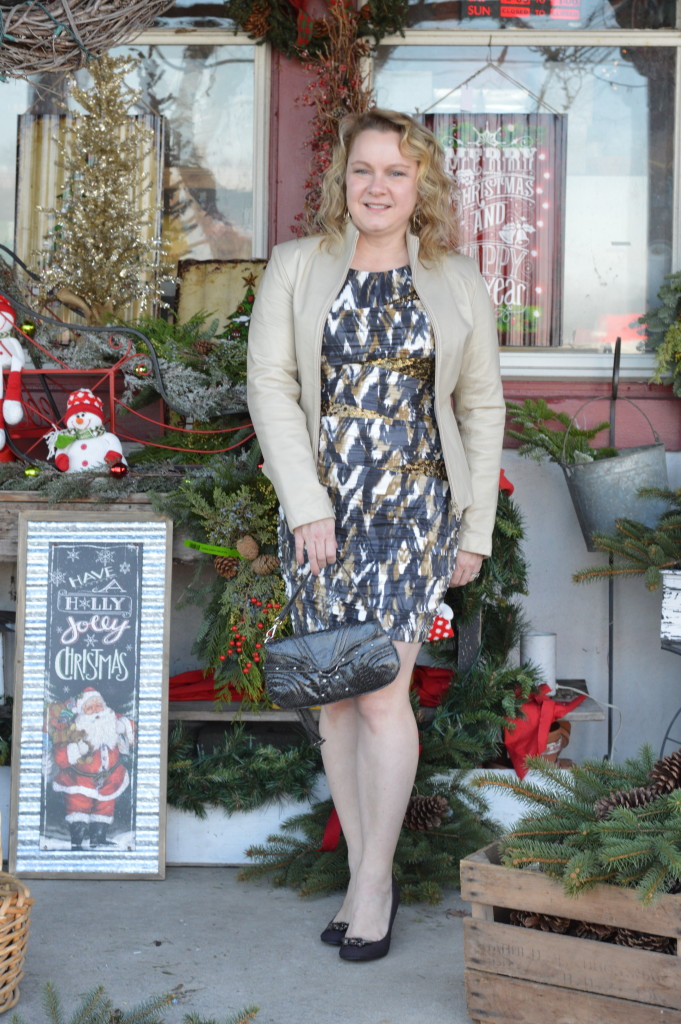 This brand is sold at stores such as Neiman Marcus. I would have never paid $199 for this jacket, but at $10 I didn't mind splurging. A grey faux-leather clutch from Botkier for Target, and bejeweled heels from Rampage round out the look.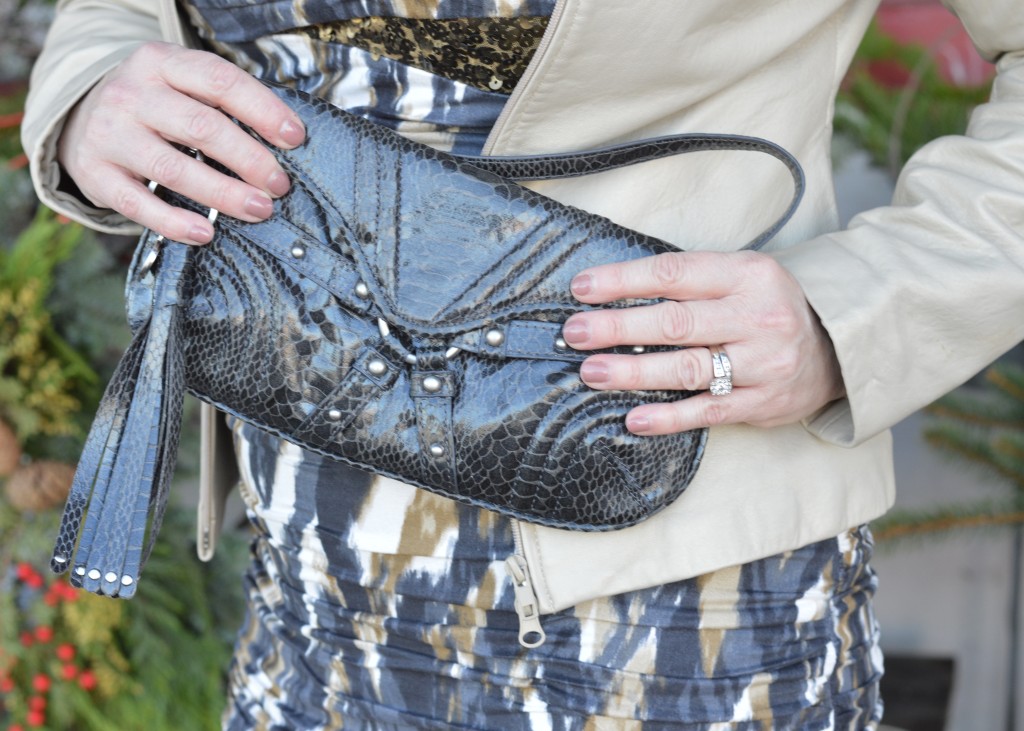 As this year draws to a close and we look forward to 2018, here are a few fashion resolutions I hope you consider following:
– Dress for the body you have, not the body you want.
– Embrace trends that you like and pass over ones you don't. (There are no real fashion police!)
– Take a few fashion risks, but play it safe when you so choose.
– Try adding a new color to your wardrobe this year.
– Have fun with fashion!Be kind to yourself and others.
– Shop at Goodwill. You might see me there!
OK, that last one wasn't really a resolution, but just a suggestion!
Happy New Year from the Thrifty Fashionista!
Jacket: $10.00
Dress: $5.50
Clutch: $6.97
Shoes: $9.97
Total: $32.44
Retail estimate: $600+
From my closet to yours,
Kirsten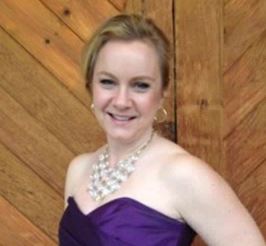 About The Blogger
Kirsten is a 40-something mom, wife and marketing professional. She loves all things crafty, tasty and fashionable, especially while being frugal. She enjoys hunting for treasures at her local Goodwill Keystone Area stores to decorate her home and wardrobe. Meet up with her at one of Goodwill's shopping events! Check the event pages for details.