We're still "enjoying" a cool and cloudy spring, so injecting some bright colors and playful floral patterns into my wardrobe is just what I need right now. April and May's showers are still providing us with beautiful greenery, so I wanted a pop of contrasting color for this outfit.
The fuchsia cotton and nylon iridescent jacket by Chico's kicks off this vibrant look.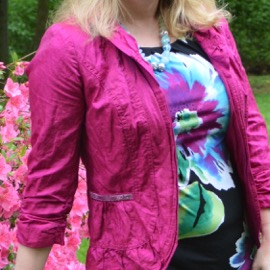 The ruched sleeves and metallic details on the pockets elevate this from just being outerwear. I'd throw it on over jeans and a tank top for a more casual look. The bold floral pattern on the simple black knit shift dress by London Times definitely makes a statement. I enjoy color and pattern so I was attracted to this unique print.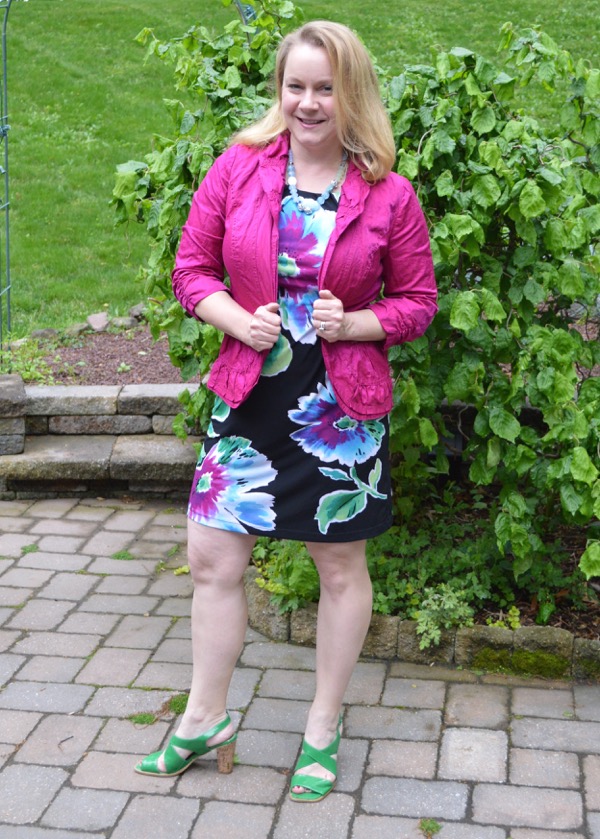 Finishing the look is a multi-faceted beaded necklace from New York & Company in cool tones and kelly green sandals from Rampage. Chunky heels – a style from the 90s – are having a resurgence.
So, if you still have a pair, dig them out of the back of the closet. If not, you can find plenty of styles at your local Goodwill store.
Kirsten
Goodwill in Phoenixville, PA:
Necklace: $4.97
Goodwill in Morgantown, PA:
Dress: $5.50
Jacket: $6.50
Heels: $6.97
Total: $23.94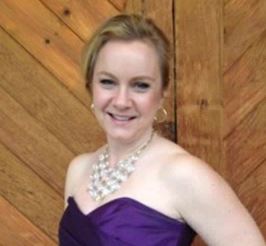 About The Blogger
Kirsten is a 40-something mom, wife and marketing professional. She loves all things crafty, tasty and fashionable, especially while being frugal. She enjoys hunting for treasures at her local Goodwill stores to decorate her home and wardrobe. She is a stylist and volunteer for the fundraiser the Goodwill Runway Show, which is held every spring in Reading, PA.