REMINDER: Take a Thrift Trip with Thrifty Fashionista Kirsten Saturday, September 9, click here for details! 
It's July, so it's hot. Whether you are spending time by the pool, on the beach or on a boat, looking cool is easy with a few summery pieces from Goodwill Keystone Area Stores in shades that are as cool as the water they are inspired by.
A tunic is the perfect wardrobe necessity for this time of year. They are typically light and gauzy and ideal for slipping on over a bathing suit or for a casual night out.
This beautiful turquoise and aqua cotton tunic with neckline detail was a major find at the Goodwill Outlet in Reading.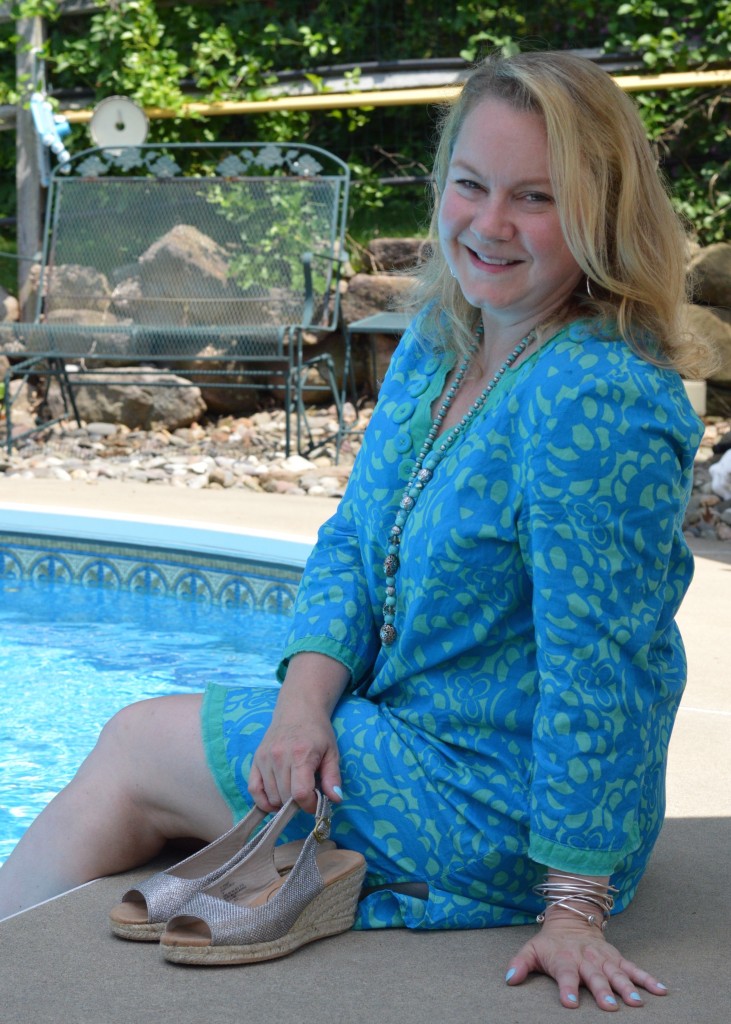 At the outlet, you pay by the pound for clothing, accessories and home goods, so I walked away with this $110 Boden tunic for about $1.
Boden is a British clothing retailer selling primarily online and by mail order and catalog. It was founded by Johnnie Boden in 1991 as a mail-order business. The company sells in several countries, with websites for the United Kingdom, the United States, Germany, and Australia.
I paired it with some sparkling silver accessories. The Kate Spade tote I have featured before, but it has become one of my most favorite Goodwill finds.
It is perfect for all my poolside accessories. The silver White Mountain sling backs are as comfortable as they are pretty! I've worn them with skinny jeans and a light blouse and silver jewelry. Last, the silver and turquoise beaded necklace adds a final touch and completes the outfit.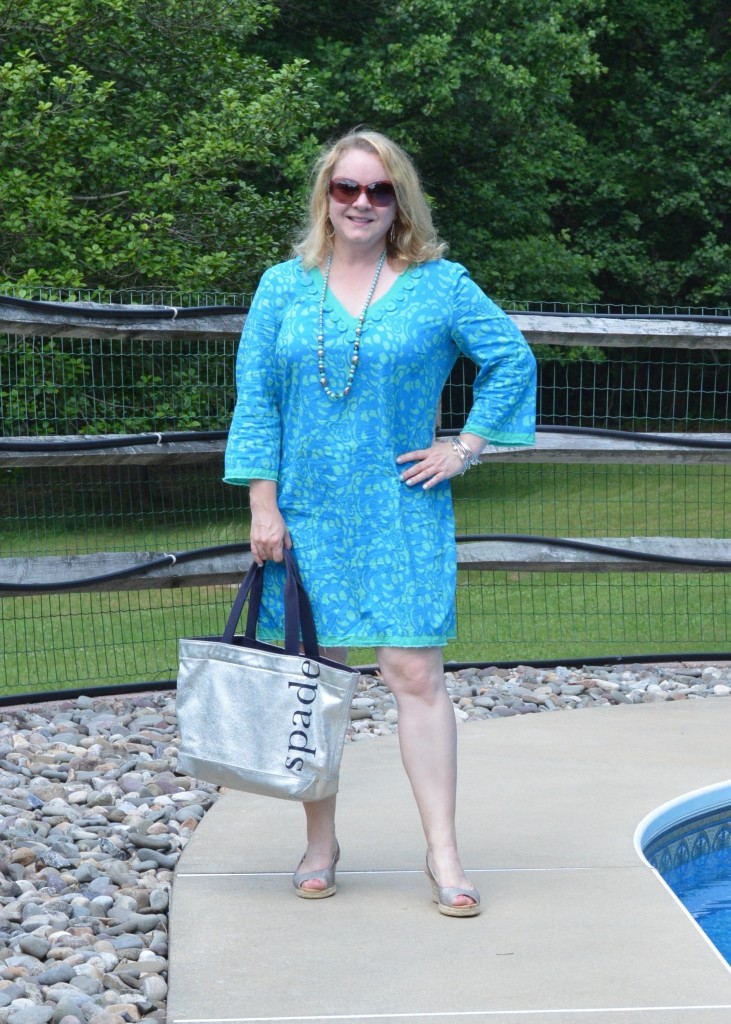 Let your surroundings inspire you! The sparkling water of the pool is reflected in my dress and accessories. Keeping cool and dressing well is easy when you shop for lounge wear at Goodwill Keystone Area.
Dress: $1.00 (approximate)
Shoes: $6.97
Bag: $4.97
Necklace: $6.97
Total: $19.91
From my closet to yours,
Kirsten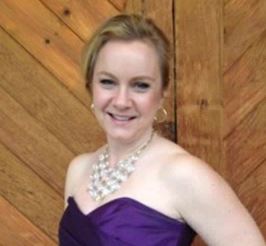 About The Blogger
Kirsten is a 40-something mom, wife and marketing professional. She loves all things crafty, tasty and fashionable, especially while being frugal. She enjoys hunting for treasures at her local Goodwill Keystone Area stores to decorate her home and wardrobe. Meet up with her at one of Goodwill's shopping events! Check the event pages for details.