Memorial Day weekend is finally here and it's the unofficial start to the summer season! With parades, picnics and plenty of holiday events you need a look that is as cool as an ice cream sundae, yet more stylish than a t-shirt with stars on it and shorts. And the best part is that with pieces from Goodwill Keystone Area stores, this outfit is around $10!
Off the shoulder looks have been all over the runway for several seasons now. Cutouts of all kinds in clothing are popular on celebrities and red carpets, but just baring your shoulders in this patriotic-colored rayon blouse from New York & Company is perfect for any event. It has a fun, flirty vibe with the banded waist and tied neckline.
And while the old fashioned rules say you can only wear white from Memorial Day to Labor Day, I wear white all year round. These capris from Lucky brand are perfect for warm days when you want something different than plain old blue denim. White is fresh, clean and cool and these can be rolled up or down depending on the look you are going for. Pair them with flip flops and your favorite tank top for a more casual look.
Finishing our retro look (which was conveniently shot on location in an old fashioned ice cream parlor!) are these outstanding pin-up style navy and white polka dotted platform heels.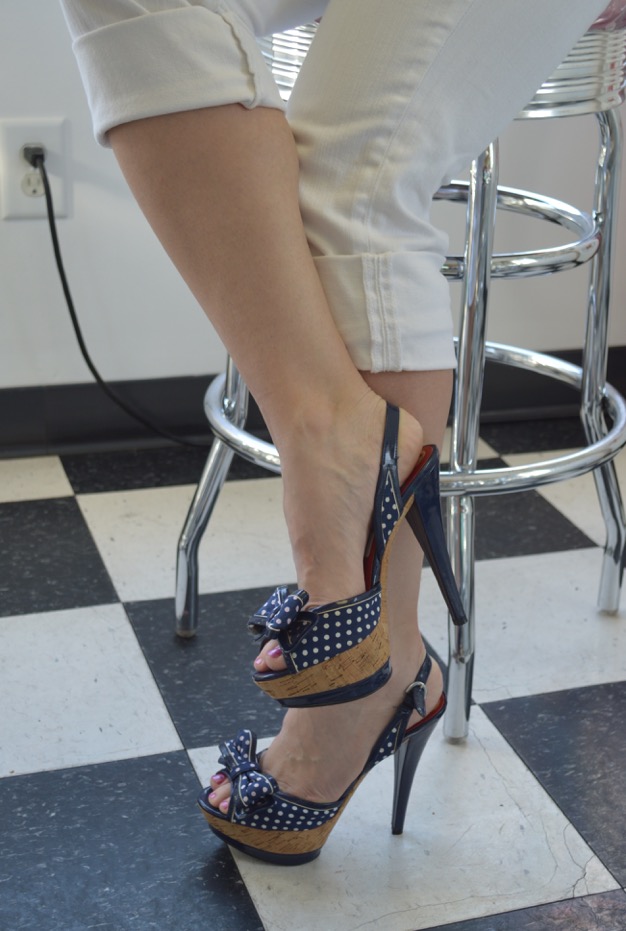 While this is not an everyday look, it certainly is a fun accessory for this summer outfit.
Summer style doesn't always have to mean tank tops, shorts and flip flops. Up your fashion game with an outfit that will stand out from the crowd, whether it is at the ballpark, backyard picnic or shopping for your summer wardrobe at Goodwill!
Kirsten
Goodwill in Shillington, PA:
Blouse: $3.95
Jeans: $4.25
Goodwill Outlet in Reading, PA:
Shoes: $2.25
Total: $10.45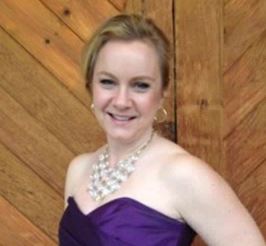 About The Blogger
Kirsten is a 40-something mom, wife and marketing professional. She loves all things crafty, tasty and fashionable, especially while being frugal. She enjoys hunting for treasures at her local Goodwill stores to decorate her home and wardrobe. She is a stylist and volunteer for the fundraiser the Goodwill Runway Show, which is held every spring in Reading, PA.