2014 - Make Good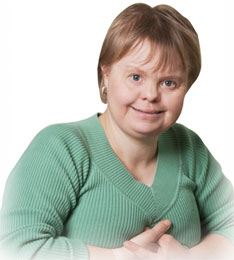 You can change a life and give a person with a disability or disadvantage the hope they need to live a full life. At Goodwill, we define people by their strengths and abilities. We believe that everyone should have the opportunity to live a full, happy, productive life, and work is part of it. Work provides us with connections, self-esteem and a paycheck.
Many people who have a disability or disadvantage depend on Goodwill to learn basic job skills to earn that first paycheck. Through our job training programs and services, Lauren, Lonnie and many other individuals became empowered through work.
Remember your donation is a hand-up and not a hand-out. We teach valuable work and social skills that enable people to become independent and successful in the workplace and in their community.
100% of your donation directly funds programs and services that prepare and place individuals with disabilities into jobs throughout the community.
Today, you can make an immediate impact in someone's life by making a tax-deductible donation of $30, $50, or more. Your generosity will give a person with a disability the hope they need to live a full life.
Thank you for your Goodwill,
Ron Kratofil
President and CEO
Goodwill Campaign Sponsor: