Goodwill Boy Scouts Donation Drive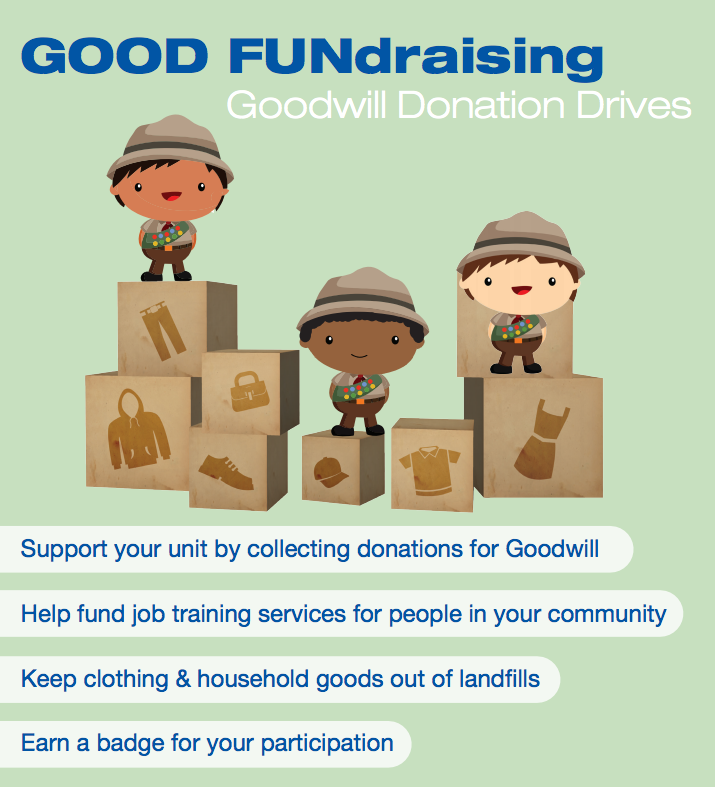 The Goodwill Scouts Donation Drive is an opportunity to support your unit by collecting donations and helping Goodwill's mission, all the while earning a badge. It is through the helping hands of our community that we are able to fulfill our mission in serving those with barriers and disabilities in life.
Goodwill's Mission 
Our mission is to support persons with disabilities and other barriers to independence in achieving their fullest potential as workers and as members of the broader community.
Goodwill helps persons with disabilities as well as people who are at an economic disadvantage, or may lack education or work experience. Additionally, we provide job skill training to youth and seniors.
The Process
Our donation drives are pretty simple. Each scout must collect 4 bags (13 gallon size) of donations to earn a badge. We also have the option of fundraising for your unit. If you choose to participate in the fundraiser, you will receive $25 for every set of 25 13-gallon-size bags of donations your entire unit collects. To participate in the fundraiser, you must elect to do so at registration.
• Each unit member must collect four bags (13 gallons) of donations to earn a badge.
• The unit sets the dates. It can be for a week or two or a month. The unit decides the amount of time to spend collecting donations and the day they wish to donate.
• The unit is paired with a Goodwill Donation Center. All unit members must donate to that location on the designated date, either as a unit or individually. 
•  When the unit brings the donations to the Goodwill Donation center, each Scout must ask for a green scouts donation receipt.
• The unit leader collects receipts and keeps tally of bags collected for each unit member.
• Unit leader sends Goodwill a tally sheet once the drive is over. If unit is raising funds, the unit leader must also mail or scan and email scouting receipt. 
If you have any questions, please email Email or call 1.877.585.0135.
Please Note: Goodwill must have a minimum 4 week notice for any donation drives and donation pick-ups.
In order to register your unit please fill out this form: