On Friday, Nov. 9, the Goodwill Store in Thorndale at 3231 East Lincoln Highway held a grand re-opening to celebrate its growth from 9,842 square feet to 17,000 square feet.  This is 42% more floor space for this Goodwill Keystone Area retail operation.  The store now has more showroom floor to display furniture, wares and clothing, wider aisles and better lighting, as well as more area for employees to process donations, which can be dropped of at a donor door in the back of the building.
Donated fawns, a reindeer and a moose helped decorate the store on Nov. 9 and fascinated customers of all ages. Two of the fawns found new homes during the grand re-opening.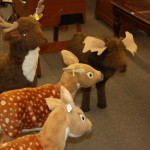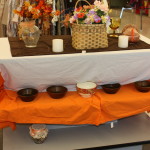 Goodwill Keystone Area operates more than 30 stores in 22 counties. Proceeds from the stores support people with disabilities and other barriers to independence, enablin gthem to achieve their fullest potential.
The event featured a prize wheel, $10 gift card raffle and free prizes for the first 50 customers. Good Dog also made an appearance.