This week is Thanksgiving and I have a lot to be grateful for this year. One of the things I am thankful for is this blog. I love being your Goodwill Keystone Area blogger and I enjoy sharing my fashion finds and the mission of Goodwill with you, my readers.
This weekend while shopping with a new friend at Goodwill in Shillington, I found the perfect blanket scarf.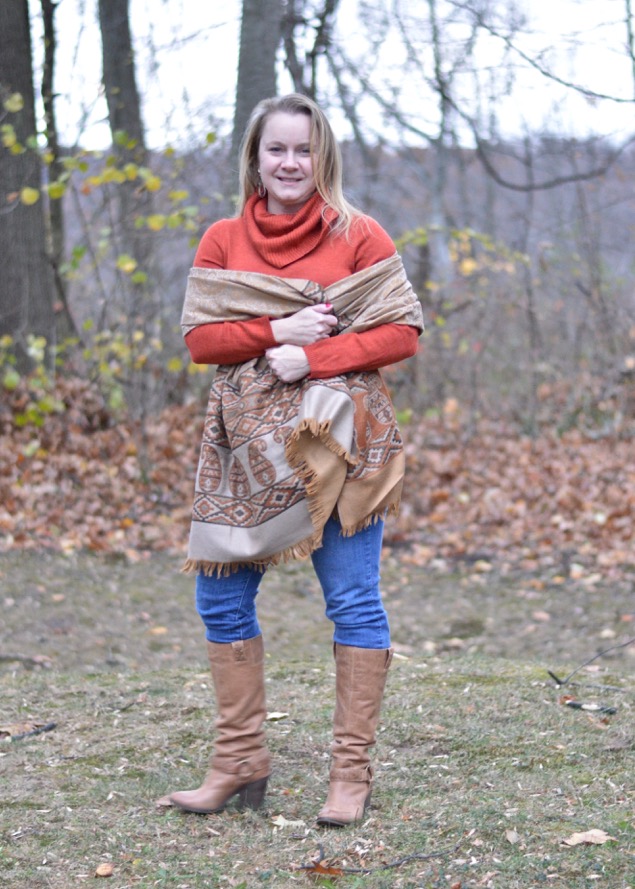 It's huge and has a unique pattern which is excellent for fall. Wrapping it around me is like giving myself a hug. I could style it several different ways such as wearing it as a shawl, a vest or around my shoulders or neck.
I paired it with a coordinating orange cowl-neck sweater by Willi Smith (a brand usually sold at T.J. Maxx stores),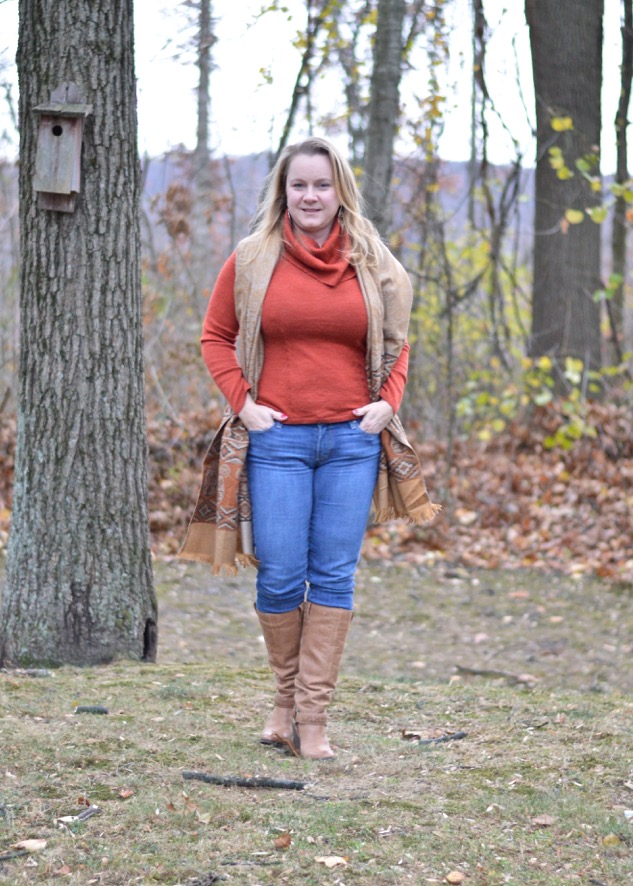 Paige skinny jeans and my one of my favorite pairs of boots. These were purchased at the store in Phoenixville before I started blogging. I paid approximately $30 at Goodwill for these Lucky Brand distressed leather boots, but I knew they were worth it (value $200+) and they are in regular rotation in my wardrobe with anything from jeans to dresses.
No matter how you spend Thanksgiving or who you spend it with, take a moment to say "thanks" for whatever makes you happy. I am grateful for Goodwill Keystone Area for giving me the opportunity to write this blog and to you all for reading it and supporting me for almost a year now. Happy Thanksgiving from Goodwill Keystone Area and my family to yours!
Kirsten
Sweater: $4.25
Scarf: $1.00
Jeans: $6.50
About The Blogger
Kirsten is a 40-something mom, wife and marketing professional. She loves all things crafty, tasty and fashionable, especially while being frugal. She enjoys hunting for treasures at her local Goodwill stores to decorate her home and wardrobe. She is a stylist and volunteer for the fundraiser the Goodwill Runway Show, which is held every spring in Reading, PA.