On a recent afternoon after work, I decided to head to the Goodwill Keystone Area outlet in Reading. It was around the time I was tie-dyeing, and I was looking for some clothing victims to bleach or dye. I didn't have an agenda, but I did have a timeline – about 45 minutes.
Goodwill Keystone Outlet stores are very different than their regular retail stores. First of all, the Reading location is huge! Clothing, accessories, and housewares are sold by the pound (which varies as to the class of item). Shoes are a flat rate of $2.75. Merchandise is rotated regularly, and there's always a rush to get the new bins to discover treasures that were missed from other stores.
Items I typically look for at the outlet include: premium denim (I have found Paige, Hudson, 7 for All Mankind, and more as well as the Citizens of Humanity pair (see below), vintage t-shirts, collegiate sweatshirts for my daughter, and items I can alter without guilt if I mess them up. You can find Christmas items in July and shorts in winter – it's never the same place twice.
I spent about $8 that day, and this is what I got:
Citizens of Humanity Arielle mid-rise slim jeans (Retail: $170)
2015 Vintage Fall Out Boy t-shirt (Retail: $30)
Loft beige and pink polka dot blouse (Retail $59)
Chico's Premium Denim shorts (Retail: $65)
Turkey Hill Experience t-shirt (Retail: $15)
Gap cropped boot cut denim (Retail: 69)
Maeve (Anthropologie brand) velvet tunic (Retail: $138)
Talbots white denim jacket (Retail: $99)
Retail on all these items when new was about $650! I saved over 98%, helped support my local community and fostered sustainability. Wearing used clothes is a choice I have been making for over 30 years. It makes sense for the environment, and I feel good that my purchases support Goodwill Keystone Area's mission.
Shopping at outlet stores may be a little more challenging than a typical Goodwill Keystone Area retail store, but the rewards are much bigger I have found some of my best treasures in the bins. Keep digging – you never know what you may find!
From my closet to yours,
Kirsten
Goodwill cost: $8
Retail value: $650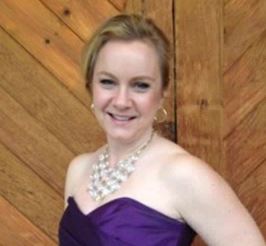 About The Blogger
Kirsten is a 40-something mom, wife and marketing professional. She loves all things crafty, tasty and fashionable, especially while being frugal. She enjoys hunting for treasures at her local Goodwill Keystone Area stores to decorate her home and wardrobe.