It may be a little chilly for regular fishing right now, but I caught myself this perfect, oversized fisherman's sweater – a wardrobe staple that can adapt to many different occasions. Below are a few highlights from the history of this unique sweater, but you can read the complete history here.
The fisherman sweater, previously known as an Aran jumper, served both Irish fishermen and farmers starting in the late 1800s or early 1900s. The sweaters take their name from the Aran Islands off the Irish coast. The cold seas and gloomy, rainy weather on land required a weather-repellent outer layer to these workers warm.
Enter the fisherman sweaters. The wives of the fisherman and farmers knitted cream-colored sweaters with intricate cable and Celtic knot-like stitching. The women had to be extremely skilled because each sweater can take up to two months to complete and have 100,000 stitches. The patterns on the sweaters symbolize various meanings. The cable stitch depicts a fisherman's ropes and a wish to catch many fish. Originally, these sweaters were made with lamb's wool, which naturally repelled water.
An actress and princess made the fisherman's sweater famous and fashionable: When VOGUE magazine featured a photo of Grace Kelly wearing a fisherman's sweater while sailing, demand from the public took off. They later included a pattern in the magazine, and the sweater was recreated in new colors and patterns by home knitters and mass retailers, other than the original cream version.
I hooked this classic sweater during a visit to the Muhlenberg Goodwill Keystone Area store.
I had found the floral Chico's pants (Goodwill: $4.95; Retail: $79) (realistically, they are comfortable, more professionally-styled leggings) on my first sweep through the store. If I find one unique piece, I try and find something to coordinate with it, so I don't have to search and match a color or pattern later. I headed to the sweater racks and eventually settled on the Old Navy cotton fisherman's sweater. (Goodwill: $5.75; Retail: $39)
It will be great to pair with jeans or a midi skirt and sneakers for a modern take. For this look, I did a French tuck with the sweater over the black and floral pants.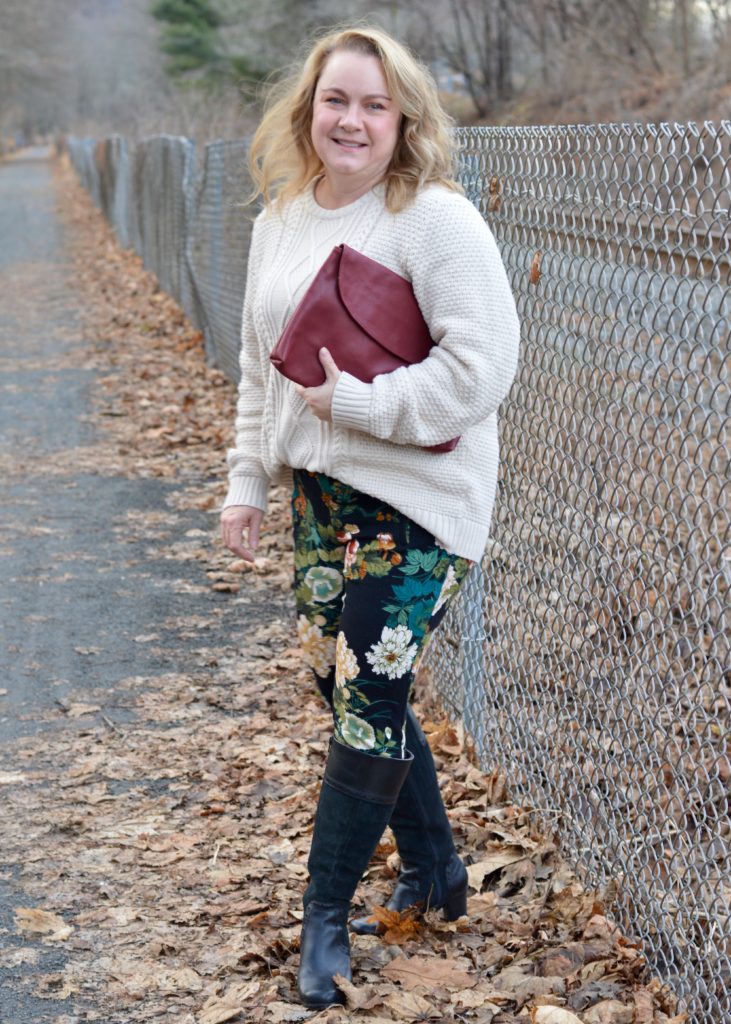 There are many colors in the pattern so I can wear it with a variety of shades.
I chose comfortable Clark's tall boots (Goodwill: $7.47; Retail: $200+) and a vintage, oversized clutch in rich oxblood leather. (Goodwill: $3.99; Retail: $40)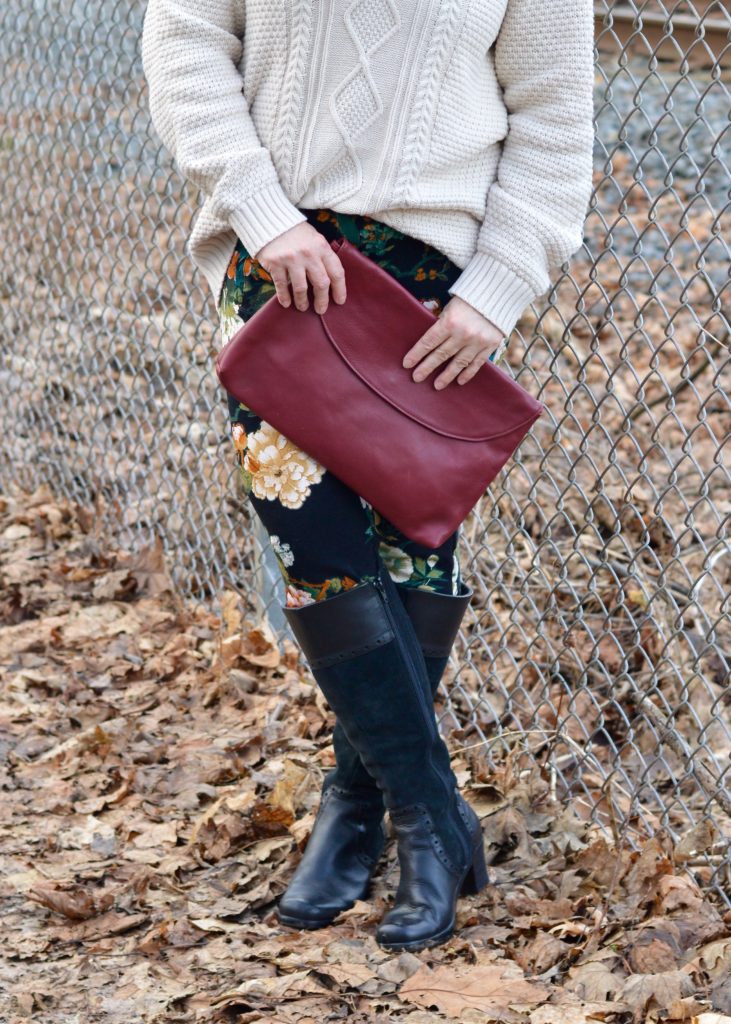 2021 is my year to embrace colorful and comfortable clothing. This outfit checks all those boxes as well as being sustainable and stylish. I just read this quote "The magic of shopping secondhand is that you don't find the right clothes. The right clothes find you." I whole-heartedly believe that and hope you all give thrift shopping a try in 2021. Shopping at Goodwill Keystone Area isn't just good for your wallet; it can warm your heart as well.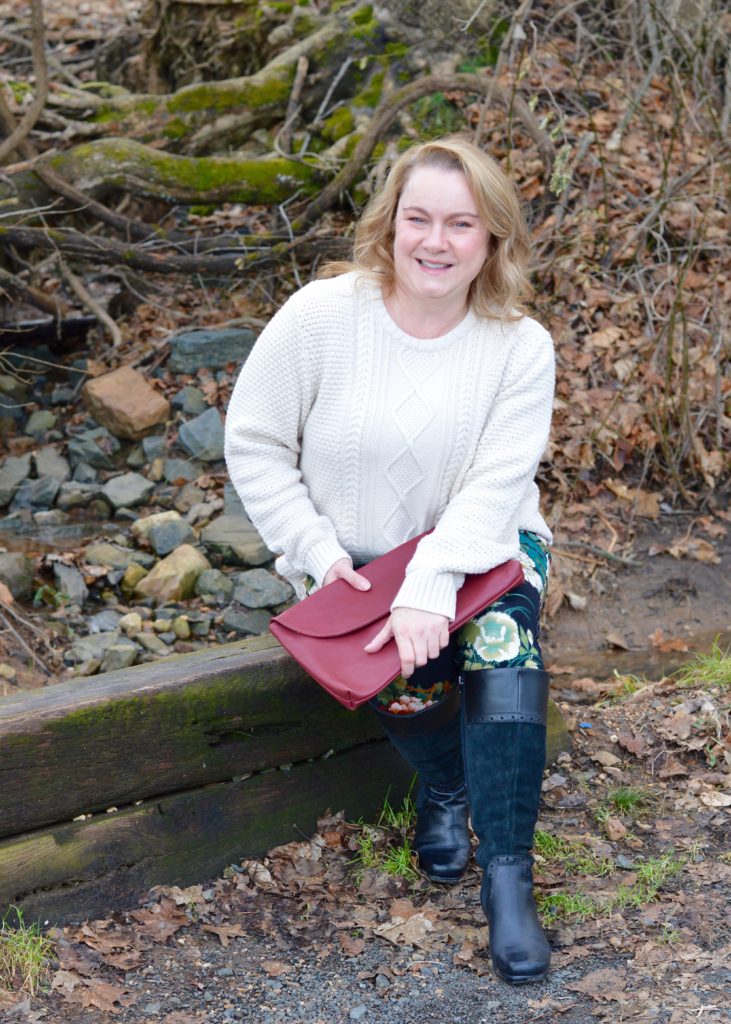 From my closet to yours,
Kirsten
Sweater: $5.75
Pants: $4.95
Boots: $7.47
Bag: $3.99
Total: $22.16
Retail: $350+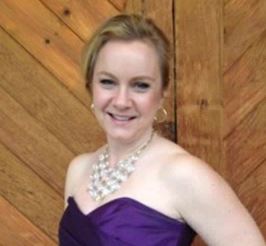 About The Blogger
Kirsten is a 40-something mom, wife and marketing professional. She loves all things crafty, tasty and fashionable, especially while being frugal. She enjoys hunting for treasures at her local Goodwill Keystone Area stores to decorate her home and wardrobe.