By Goodwill Keystone Area blogger Tony D.
At Goodwill, our slogan is "More Than Just a Store." Goodwill is many things to many people including affordable quality clothing, job training for community members with disabilities, local donation spot for clothing and household items to a non-profit making a positive difference in the local community.
Recently we were happy to learn that, for Pennsylvania artist Kathie Lister, Goodwill is a source of inspiration and her go-to spot for great deals on supplies for her creative art designs.
1. How did you get started in sculpture and why do you shop at Goodwill.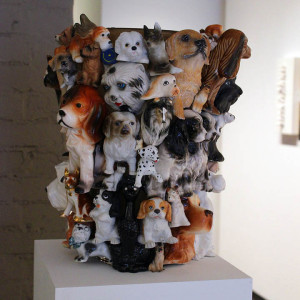 I was a business executive for 30 years but my undergraduate degree is in fine art. (I was a fashion design major and I too occasionally buy clothes at GW and redesign them). I always wanted to do "art" so when I retired I thought about what I really liked. My best friend dragged me to a GW in Virginia when I visited her and I was hooked. We spent hours looking and laughing. I found a ceramic poodle from the 50s that was so funny and kitschy that I bought it… 99 cents. I began seeing other ceramic dogs and an idea was hatched. My belief is that if you have enough of anything you can make something out of it. I went on to collect lots of dogs, old salt and pepper shakers, and generally anything that looked whimsical. Mind you, this is stuff I would never have looked at before. DUST collectors. I make elaborate centerpieces to hold flowers and candles but best of all are fun to look at. I shop at Goodwills because I buy this stuff in volume and frankly the prices and the surprises are terrific. It never ceases to amaze me what has been made into a ceramic object. One of my favorite ceramic planters is the back half of a horse. Too funny.
2. What Goodwill locations do you shop at and what items do you typically look for when considering a sculpture piece?
Too numerous to list. Mostly southern NJ and PA locations but I have been to stores in Virginia, Florida, Maine and Colorado where I have a second home. I look for pieces that are slightly older( doesn't have to be vintage) and strike my fancy. It can be anything!!! Truly. My new great pleasure is going to the Goodwill outlet and buying big boxes of stuff for pennies.
3. What style of artwork do you prefer?
The pieces that I make have to have a utilitarian purpose. I cannot do Art for Art sake. That seems too pretentious for me. I admire those that can produce that way but it is not for me. I create mirrors, lamps, vases, sconces, candle holders etcetera as long as they are a bit whimsical. I have made tissue box holders completely covered in cut up ceramics just to work on technique. There is a fair amount of labor and technique involved in what do as well as toxic coatings. Plenty of power tools are used too.
4. Have you ever displayed your work in any exhibits?
I have exhibited at Brigitte Mayer Gallery in Philadelphia, Moore College of Art and a juried art show to benefit the William Penn Charter School. I have been at this for almost two years since I retired.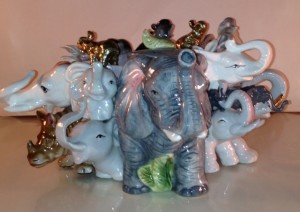 5. What advice do you have for aspiring artists?
Don't worry what other people think! Do what you love. I did not pursue this with the intention of making money. When I do sell something however it provides validation of what I am doing. Had I started when I was was just out of art school I would have been too concerned with others' opinions. Sometimes when I start a piece I will ask my husband what he thinks. I can see the wheels turning as he tries to come up with a tactful answer since he is rather conventional when it comes to "art" and heaven knows, with the work that I'd do there is a fine line between "wow that's cool" and "what was she thinking?"
Special thanks to artist Kathie Lister for sharing her story. If you enjoy Goodwill re-design projects, be sure to check out the finalists for our Goodwill Runway Show Re-Design Contest finalists and vote for your favorite by clicking LIKE on your favorite in our Facebook photo album – CLICK HERE.