Distressed denim (and I don't mean just holes, tears or wear marks) has definitely become a major trend that is hanging around and seen on models and celebrities alike. About two years ago I first saw the style of cutting and fraying of jean hems. I embraced this since I am a little vertically challenged and this was a trend I could enjoy!
Around the same time I also saw high-low hems – cut shorter in the front and longer in the back (on some websites I have seen this referred to as a mullet cut!). I wasn't sure if I liked this and I'm still not completely positive it is a look for me. I would never pay $200 for this designer denim trend, but for $5.50 at my local Goodwill Keystone Area store, I thought I'd give it a chance!
For a recent trip to Maryland, I paired the Mossimo jeans with a long-sleeved, striped BCBGMaxAzria t-shirt.
I liked the contrasting edge of narrow stripes on the hem. When new this would have retailed for about $98, but my cost was $3.95.
Since there was still a chill to the air I threw on an olive green Blank NYC vegan-leather sleeved moto jacket.
I was not familiar with this company until I did some research. This brand is sold through online retailers such as Zappos. MSRP was $98, but I found it for just $6.25.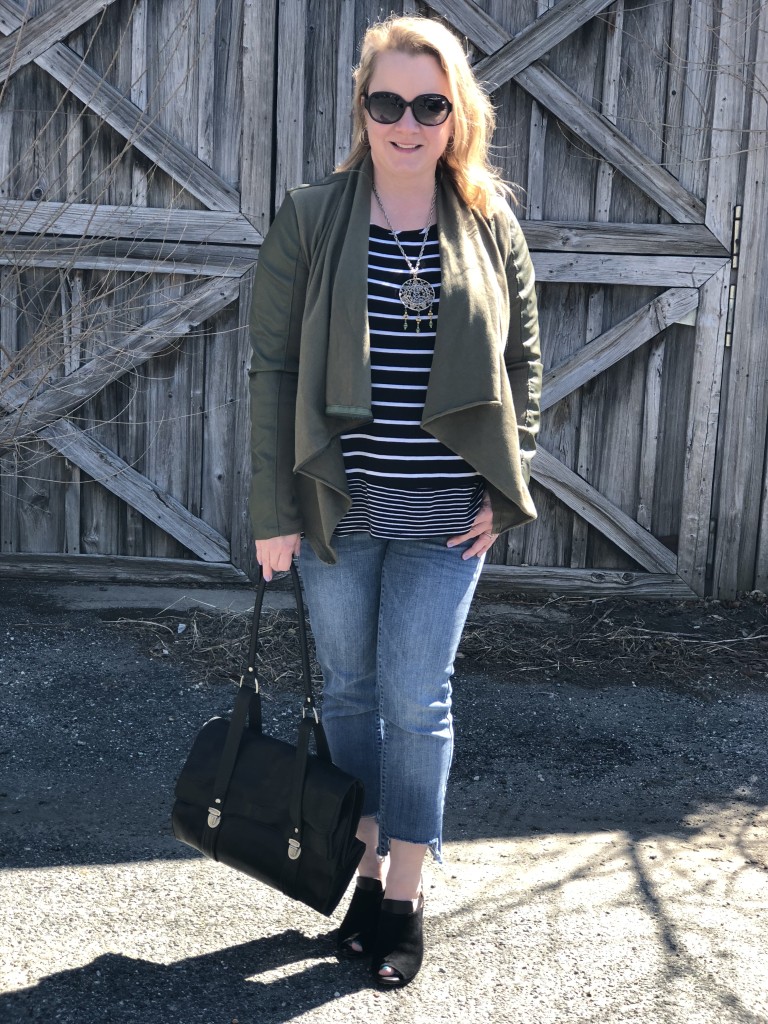 I picked up the unique black leather convertible tote bag for $6.97.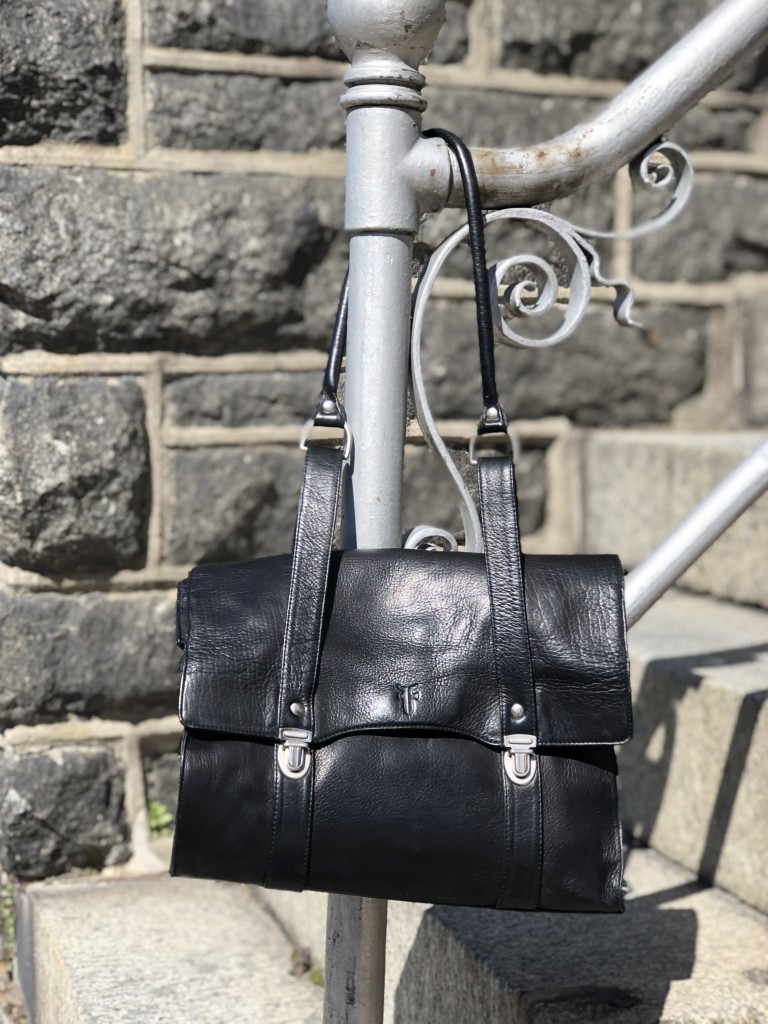 A little digging revealed this was designed by the Frye brand (which makes popular and expensive boots). I estimate that the retail value would be $200+.
I feel that the cut of this denim looks better with a high heel, so these black suede open-toed booties from Ann Taylor provided the look I wanted.
My cost was $9.97; new would have been about $129.
Lastly, a unique vintage pendant with green glass beads for $4.97 punched up the outfit a notch.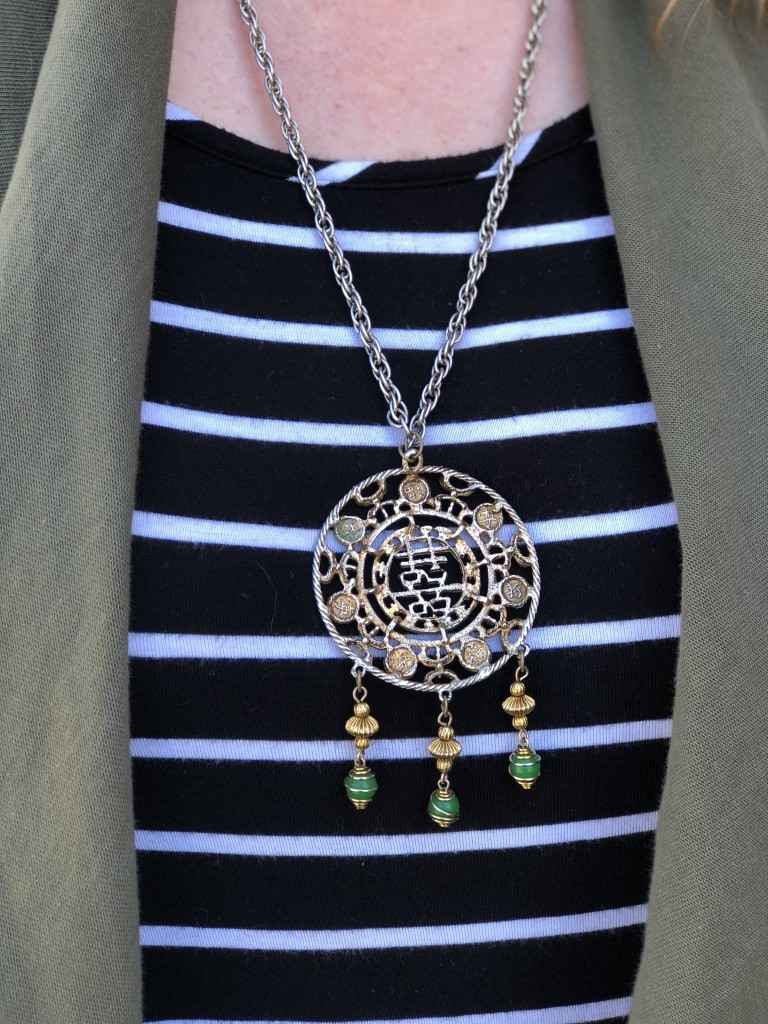 While I'm still not completely sure about this denim trend, I didn't break the bank by giving it a try with jeans from Goodwill Keystone Area. If I still don't love them, I can trim them up since frayed hems are still in style, and might be for at least a little while longer!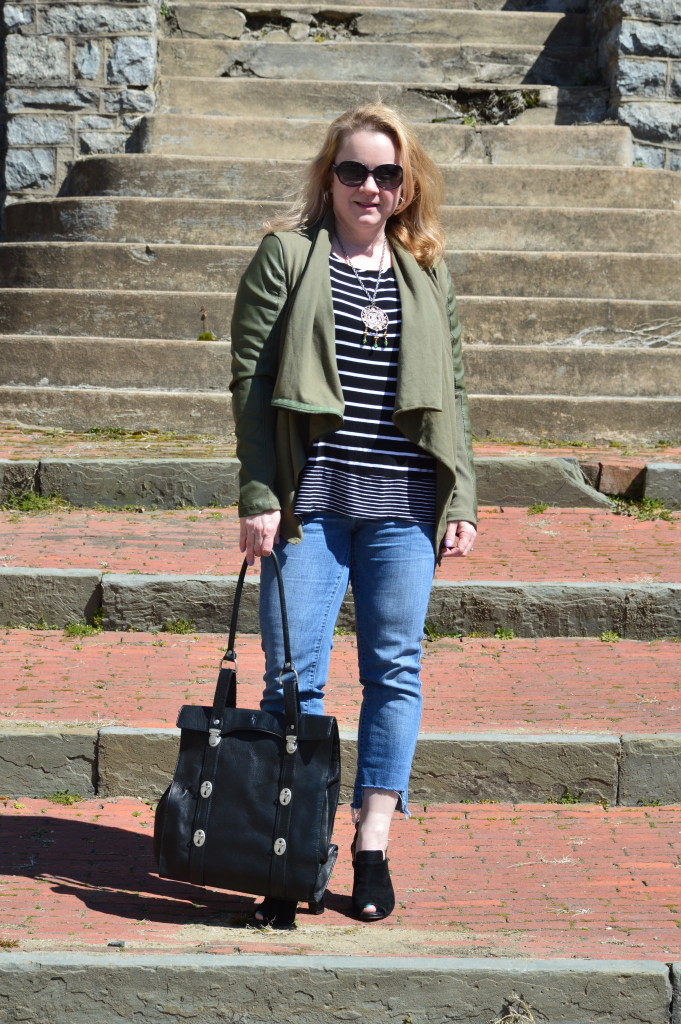 Jeans: $5.50
T-Shirt: $3.95
Jacket: $6.25
Bag: $6.97
Shoes: $9.97
Necklace: $4.97
Total: $37.61
Retail: $585
From my closet to yours,
Kirsten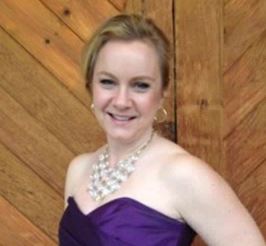 About The Blogger
Kirsten is a 40-something mom, wife and marketing professional. She loves all things crafty, tasty and fashionable, especially while being frugal. She enjoys hunting for treasures at her local Goodwill Keystone Area stores to decorate her home and wardrobe. Meet up with her at one of Goodwill's shopping events! Check the event pages for details.