By stylist and blogger, Annette K.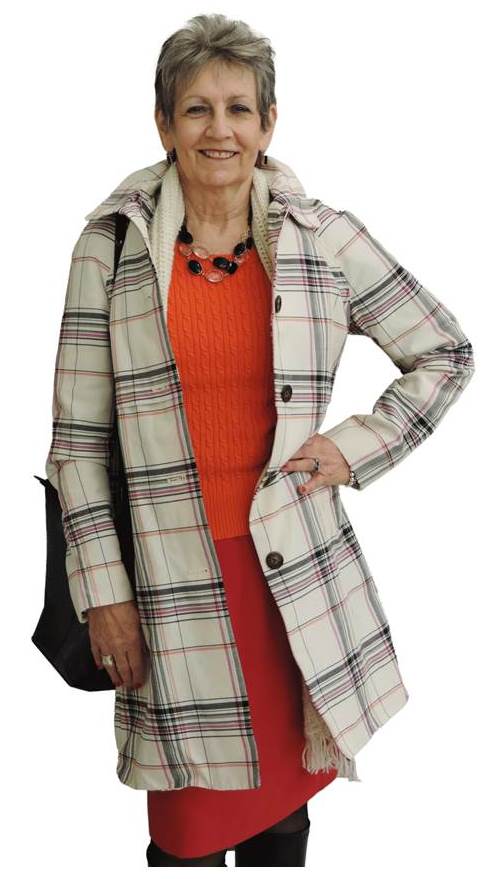 It's winter. It's cold and it's snowy. Frigid temperatures stop us in our tracks. Days are short and skies are dismal. We wear our staple clothes – the blacks, browns and grays. It's easy to become complacent. We're bored.
Add some color, prints and textures to your wardrobe. Don't give in to the blacks, browns, and grays. It will help brighten your appearance, transform your mood and warm your spirits.
Carolyn Ross, 72-year-old resident of Cumberland County, knows all too well the battles of keeping her spirits up. And during these winter months, it's especially challenging.
Carolyn is a two-time breast cancer survivor, had double bypass heart surgery, and received a bone marrow transplant for treatment of Non-Hodgkins Lymphoma at John Hopkins two years ago. She said, "All those times that I was getting treatments, I always dressed in bright colors."
When I met up with Carolyn at the Goodwill in Mechanicsburg (Hampden Township) last week, she just came from the gym (yeah, you read that right…the gym). She had on leggings and a cute red sweatshirt.
"I like to wear color," she said. "It makes me feel young and active."
Tremendous research has been done on the psychology of color and its effect on mood and energy level. The color red, for example, evokes energy and confidence, while pink suggests femininity and grace. Purple conjures up creativity and green a sense of calm.
Don't let the winter blues get you down. And Valentine's Day is right around the corner and offers us a reason to celebrate! And while preparing to celebrate, stop by your local Goodwill store for a quick winter wardrobe update and huge selection of colors and styles.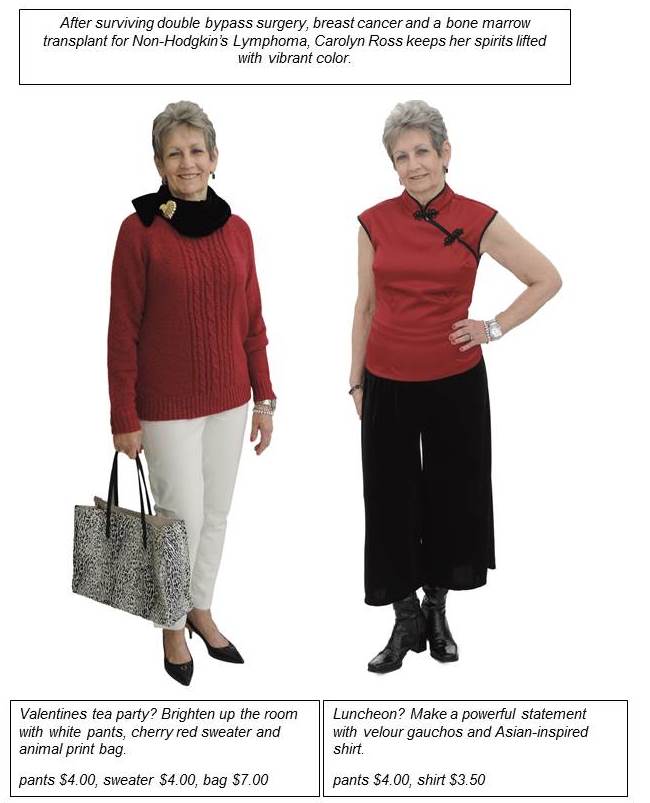 Special thanks to Store Manager Barry Hackman and Sales Associates Cynthia Diodato and Leslie Oneglia from the Goodwill store in Mechanicsburg, PA  and to Carolyn Ross for sharing her story.
Are you an aspiring fashion designer?  Enter the Goodwill Re-Design Contest. The Re-Design Contest offers aspiring fashion designers, students, fashionistas and hobbyists the opportunity to show their creativity by repurposing items purchased at Goodwill. Finalists will have the opportunity to display their work at the Goodwill Runway Show on April 24, 2014 at the Body Zone, Wyomissing, PA. Doors open at 4:30pm, the show begins at 6:30pm. The show is Goodwill's largest fundraiser in Berks County. For more information about the Goodwill Runway Show, go to www.yourgoodwill.org/