This weekend I did something I haven't done in almost 10 weeks: visit a Goodwill Keystone Area store! I was invited to come and see and experience the new safety precautions in one of the stores that are part of the phased reopening this past weekend. I visited the Goodwill Store & Donation Center at 981 Loucks Rd in York at about 10:15 on Saturday morning.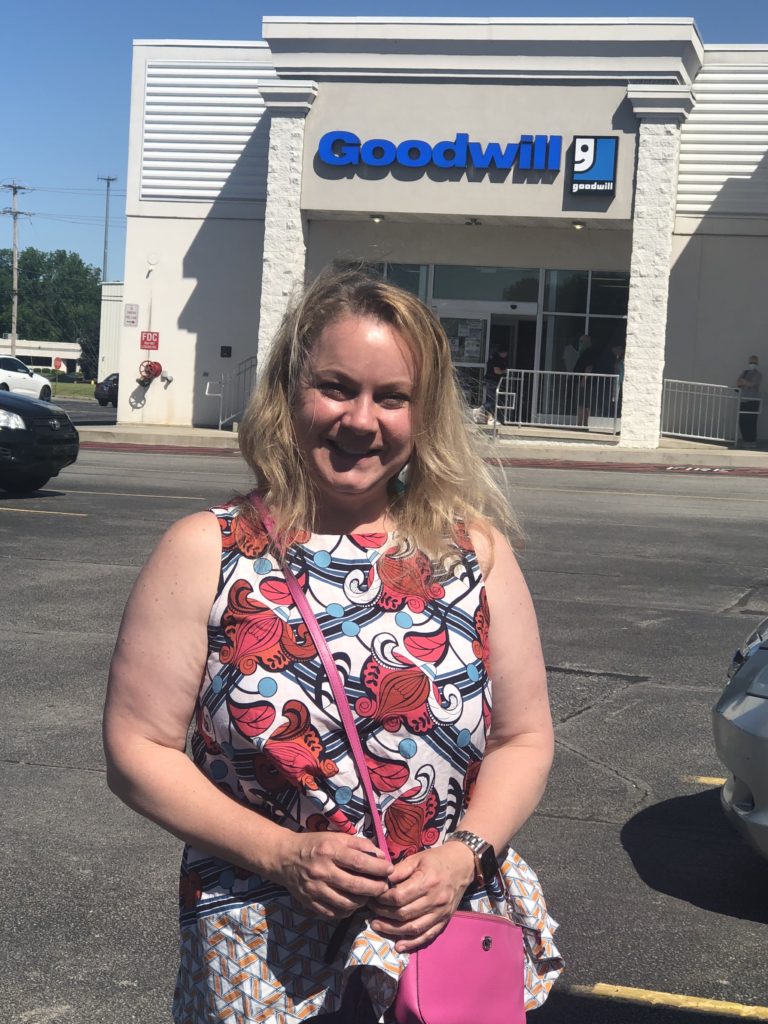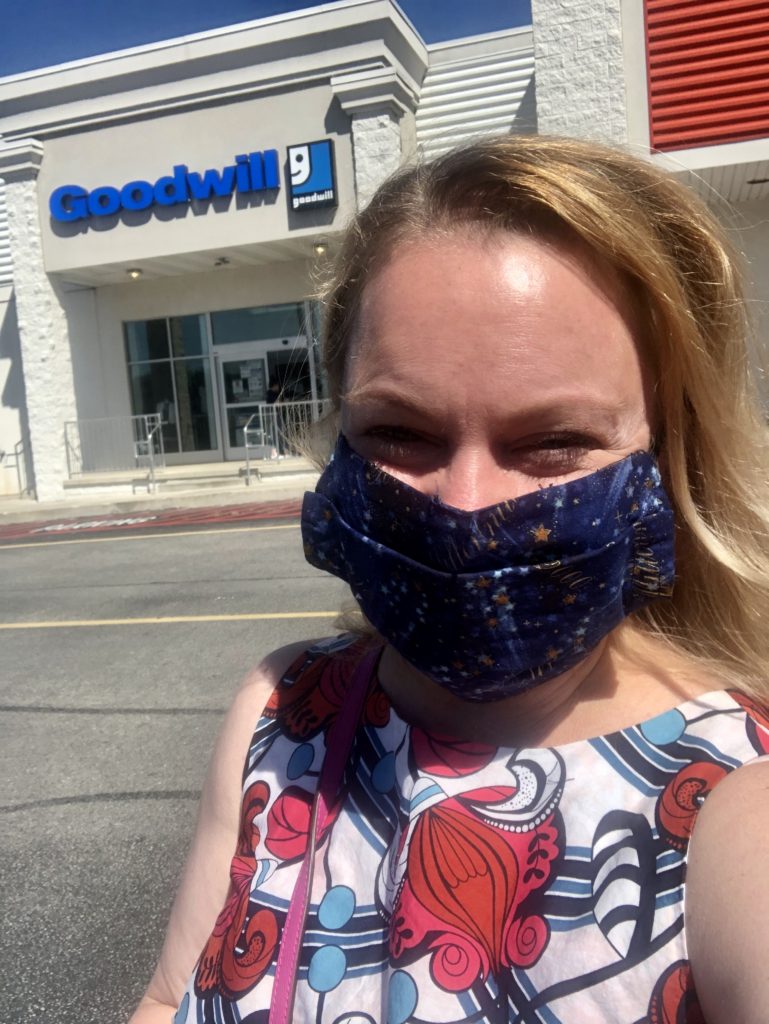 NOTE: this chart indicates Goodwill Store locations currently open as of Saturday, June 13, visit yourgoodwill.org for updates on additional store openings coming soon!
There was a small line as I walked up to the entrance. A masked Goodwill employee (pictured) was carefully counting and admitting shoppers. (Note: every employee I saw had a mask and gloves on) and I only had to wait a few moments until I was able to enter the store where I was offered a freshly sanitized cart.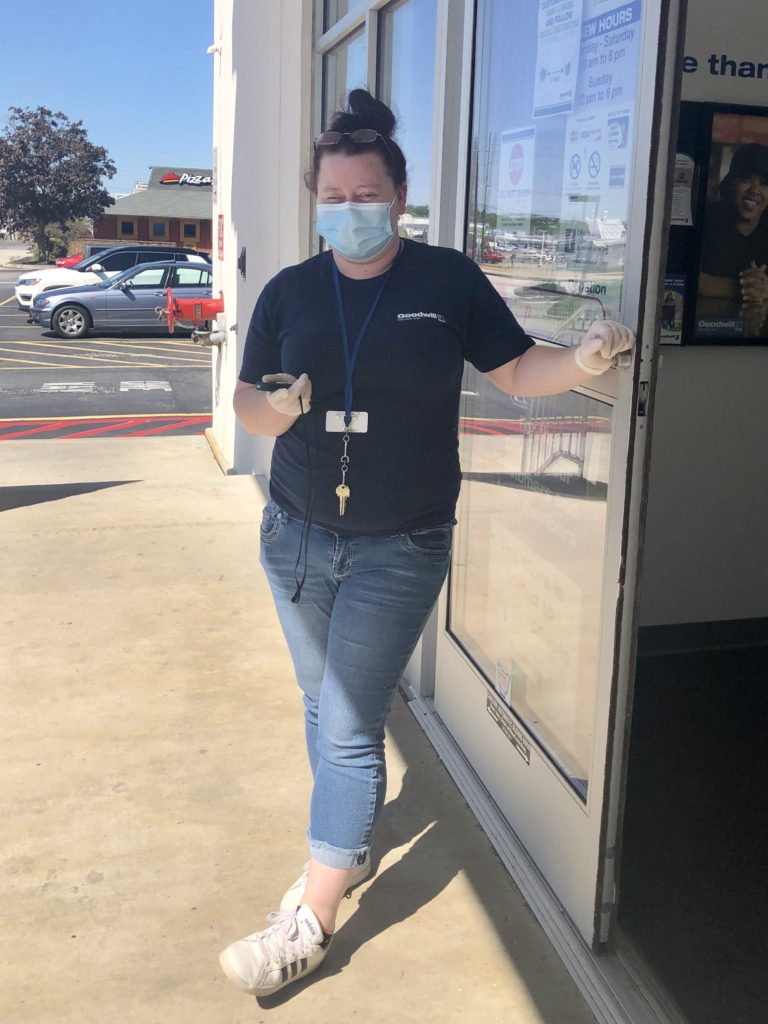 The store was not crowded, due to the limiting of shoppers, which was nice. I had time to look at the racks of clothing (which were full – no lack of merchandise here!)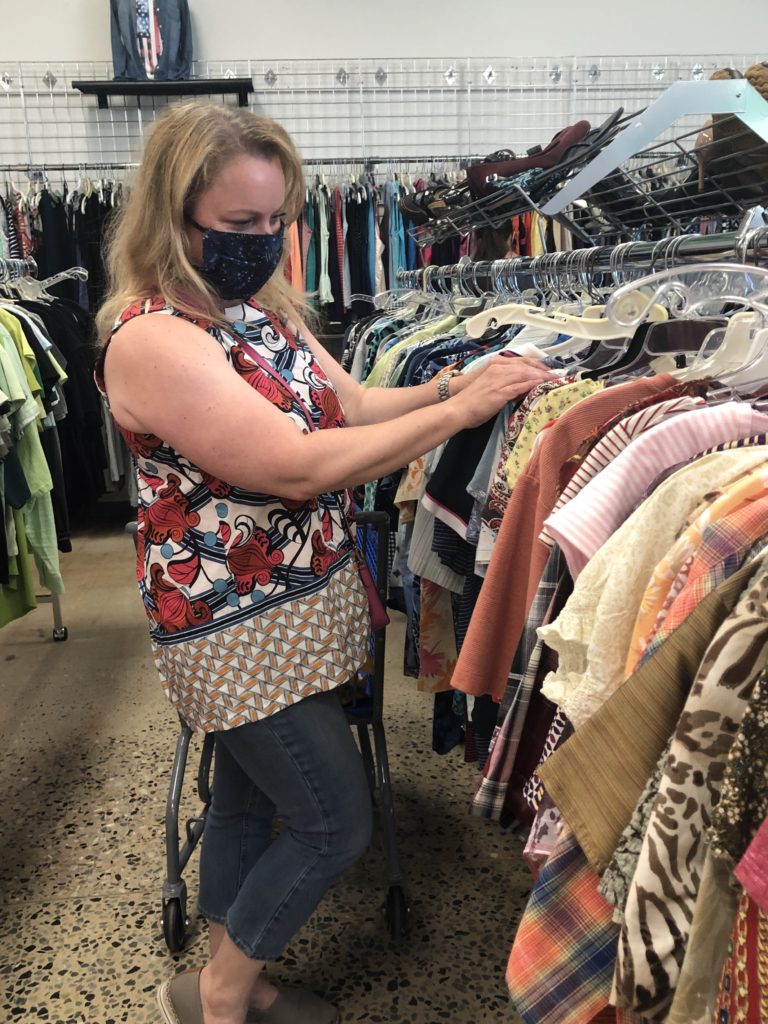 Arrows were placed on the floor to direct the flow of traffic and I easily adhered to the program as I made my way through the store.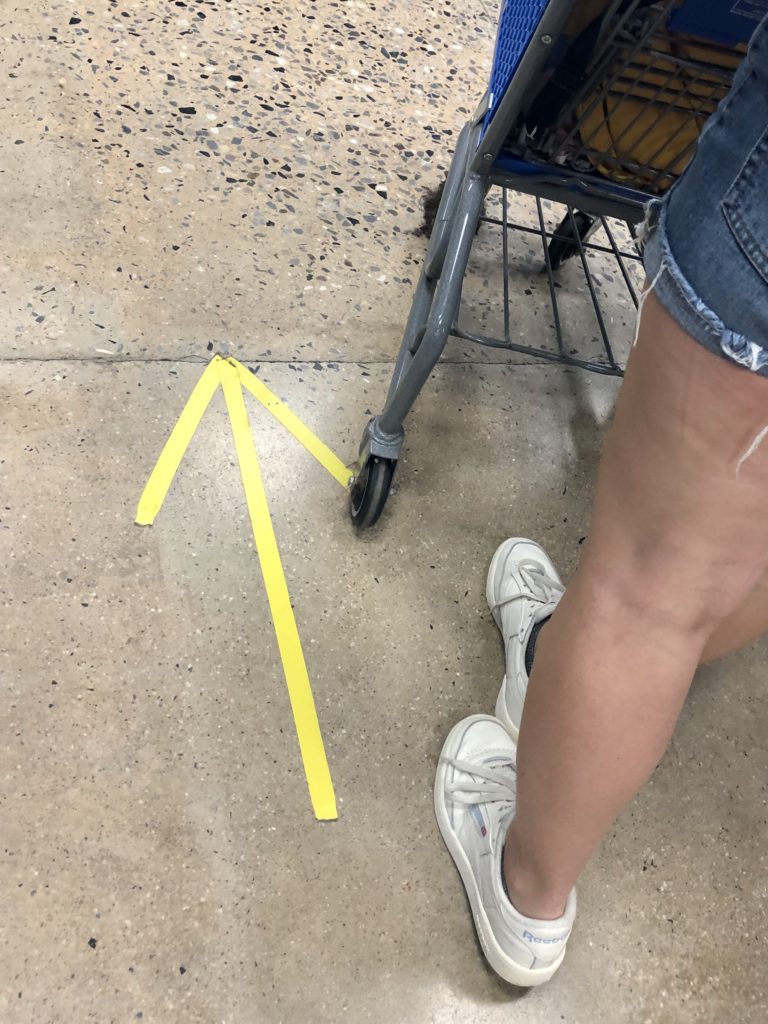 Other shoppers were polite and we respectfully kept our distance. I think we were all glad to be back! From shoes to clothing to home goods, it seemed like a normal day at Goodwill.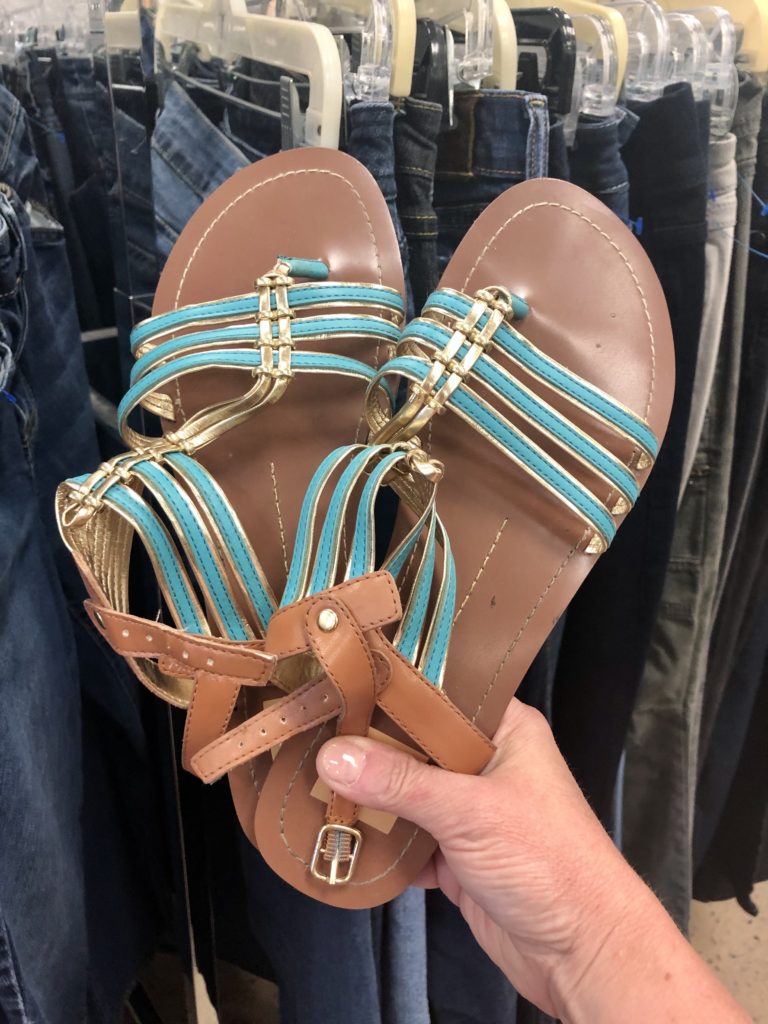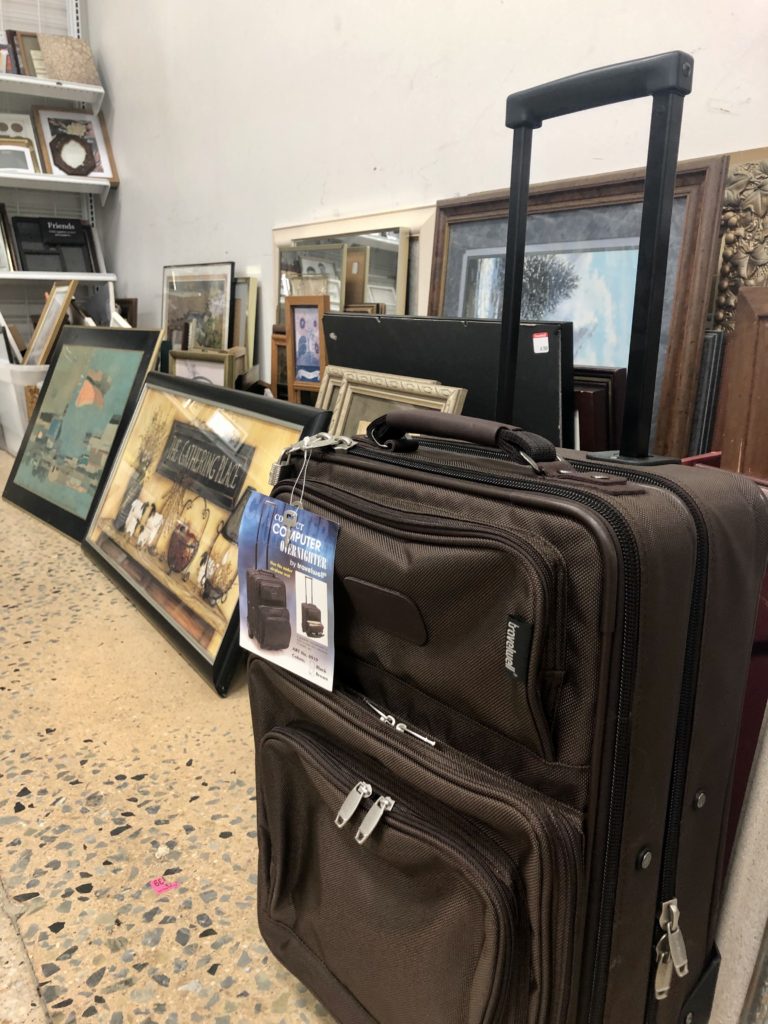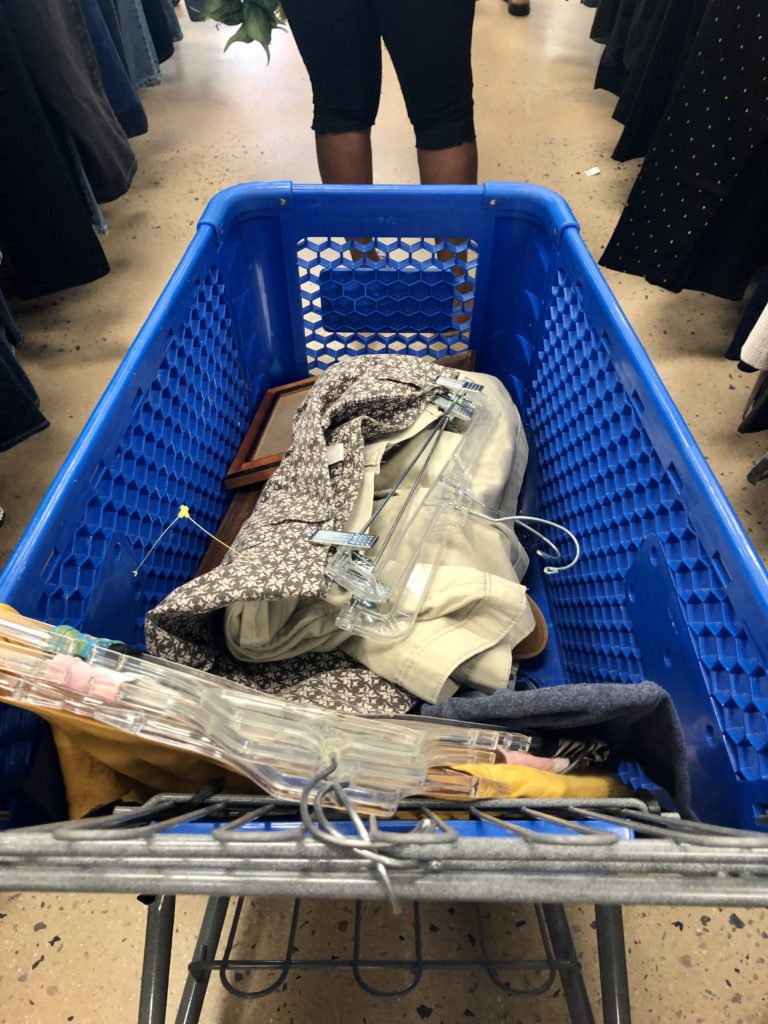 A few things to take note if you plan to visit:
If you are ill, you will not be permitted to shop.
Dressing rooms are not open, so I was judicious in my shopping because I already knew that.
All sales are final so be selective in your choices!
Bathrooms are also not accessible right now.
Reward Card sales are not currently being offered.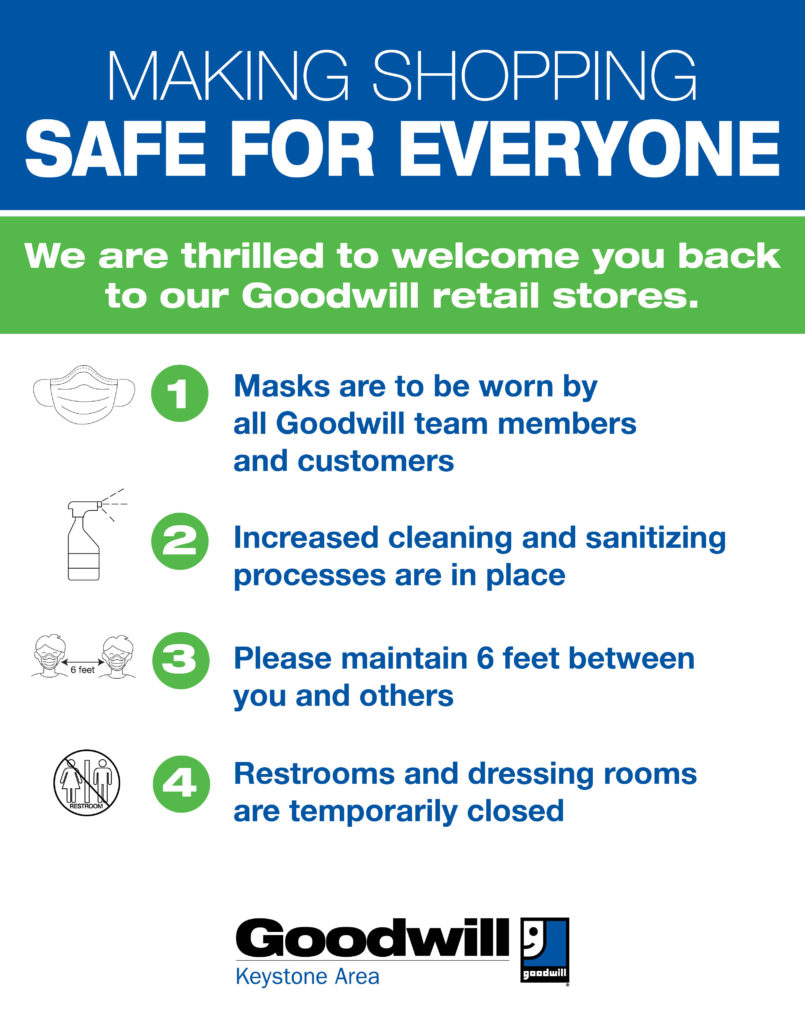 After about 45 minutes of checking the aisles and racks I had found a few pieces of clothing, some picture frames and a flowerpot (redecorating my home and gardening have become some of my new hobbies since I work at home and unless I'm on a Zoom meeting, I rarely dress up. I hope that changes soon! I miss my Goodwill fashions!
I waited in line and upon approaching the register I saw that Plexiglass panels had been placed strategically to protect not only me but the employees as well. I paid, got my bag of treasures, and triumphantly headed home after a great experience shopping.
Like many other people, I have been cleaning out while at home and I had a trunk full of donations to deliver to a Goodwill Keystone Area donation center. On Sunday afternoon, my husband and I loaded up and headed to the Morgantown Donation Center. All Donation Centers are currently open for self-service "no contact" donations of clothing and housewares Mon-Sat 10 am-6 pm and Sunday 12 pm-6 pm (Exception: East Earl & Newport which are closed on Sundays). One thing to note is Goodwill is not accepting furniture donations at this time and some donation centers close periodically when they reach capacity in their donation center so it is best to search your local Goodwill on Facebook to connect for the latest updates and check your local Goodwill page at yourgoodwill.org for updates.
We pulled up and were met with two clearly marked blue donation bins – one for home goods and one for clothing. Although no staff was visibly present, we read the signs, deposited our donations, and made a note of downloading a donation receipt, which you can find here: yourgoodwill.org/receipt No fuss, no muss and now I have more space in my garage again!
If you have items you've been waiting to donate, I recommend you box them up and visit your local Goodwill donation center. If you're lucky enough to have one of the stores has reopened, you can also feel confident visiting
My weekend of Goodwill – shopping and donating – was a pleasant change of pace in this time that we are calling the "new normal". Take precautions, but be confident that Goodwill Keystone Area is looking out for you and your safety as they welcome you back into the stores.
From my closet to yours,
Kirsten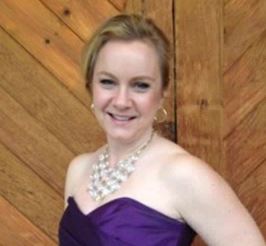 About The Blogger
Kirsten is a 40-something mom, wife and marketing professional. She loves all things crafty, tasty and fashionable, especially while being frugal. She enjoys hunting for treasures at her local Goodwill Keystone Area stores to decorate her home and wardrobe.