Lately I've been talking about finding festive options other than little black dresses or red and green sweaters. I'm calling this look my "LGD" or "Little Green Dress". I had my friend and model, Vanessa, "Go Green" for this look for New Year's Eve.
By shopping at Goodwill Keystone Area stores you are helping the environment as well as members of your community. Production of new fashion is one of the largest pollutants and sadly, one of the dirtiest industries in the world. From growing and producing the fibers, to dyes to underpaid laborers in foreign countries, creating the clothing we wear is not good for the environment or humanity.
But, by buying previously enjoyed clothing and household goods, you are taking a step toward sustainability. Recycling our clothing as well as other items in our modern lives is one small step, but it can have an impact. Donating your clothing and usable household items to Goodwill also reduces the amount of trash sent to landfills.
While I can't change the world, I can change the opinions of those around me about shopping at Goodwill. I've converted many people and shown them how they can have a fabulous wardrobe and save money by buying thrifted items (thusly, helping to reduce their carbon footprint).
Vanessa's stunning olive green midi dress is from Neiman Marcus.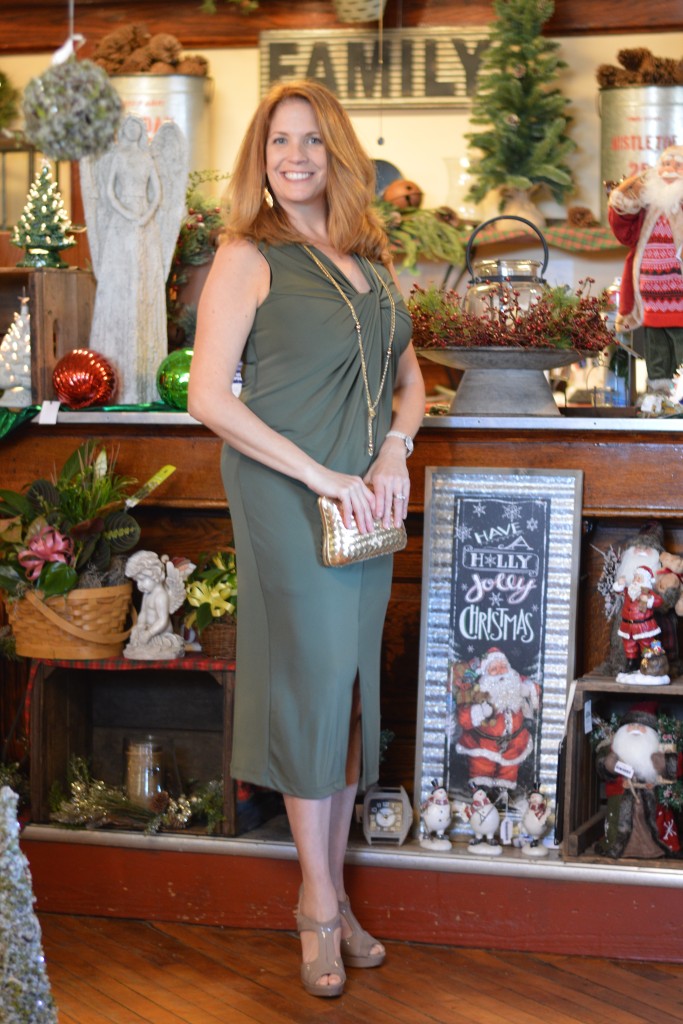 It skims her figure beautifully and has a flattering knotted front. Neiman Marcus not only sells well-known designer items, but produces it's own branded line of clothing. This dress probably retailed for upwards of $150.
To keep the rest of the look simple and neutral, I added a long gold beaded chain, which I knotted in the front for some interest.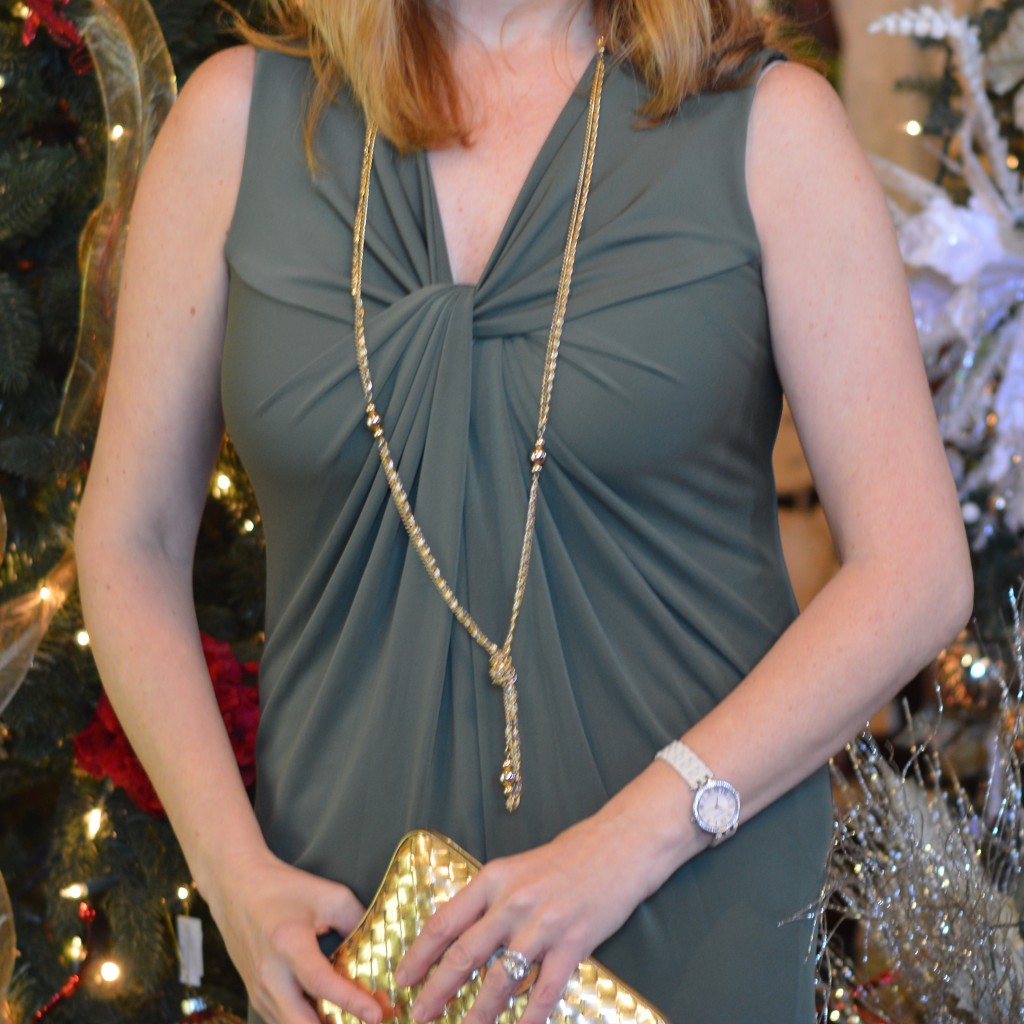 Taupe platform sandals elongate the leg.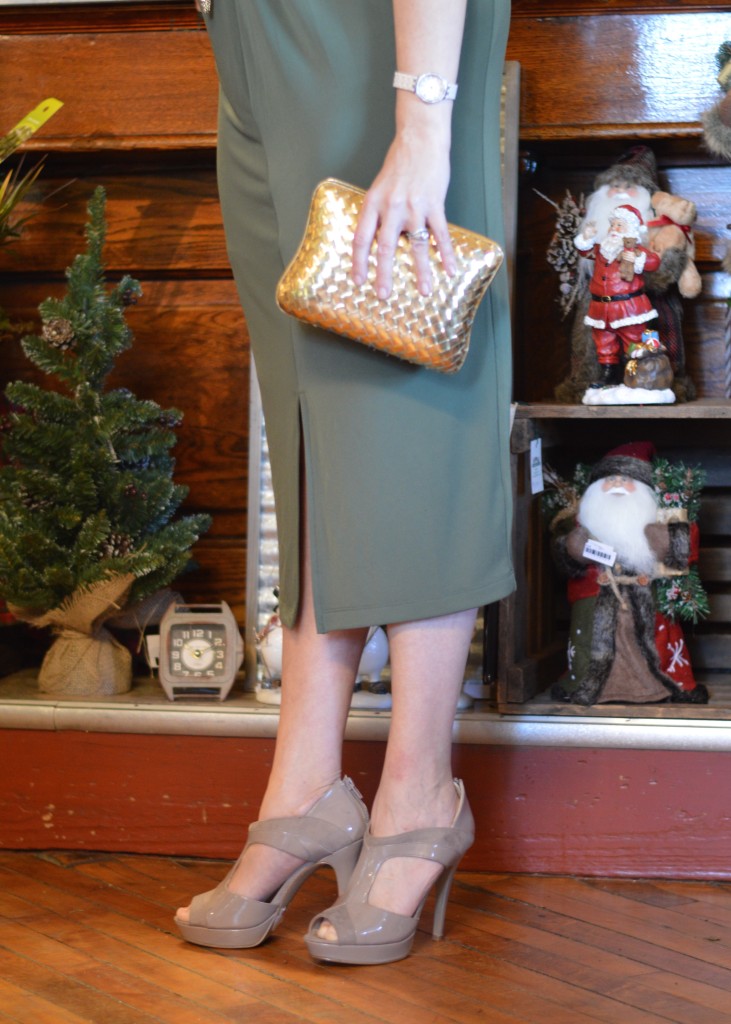 These Nine West beauties were just $6.97, but were probably about $79 at the mall. Lastly, for a bit of bling, the vintage gold clutch adds a beautiful finishing touch.
In 2018, see how you can be a little more environmentally responsible. Shopping at Goodwill Keystone Area stores is one way to start "Going Green"!
Dress: $5.50
Necklace: $3.97
Shoes: $6.97
Clutch: $1.00 (Estimate from Goodwill Outlet)
Total: $17.44
Retail estimate: $325+
From my closet to yours,
Kirsten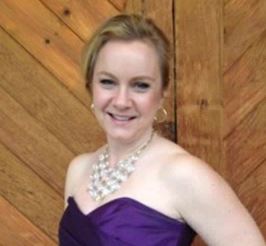 About The Blogger
Kirsten is a 40-something mom, wife and marketing professional. She loves all things crafty, tasty and fashionable, especially while being frugal. She enjoys hunting for treasures at her local Goodwill Keystone Area stores to decorate her home and wardrobe. Meet up with her at one of Goodwill's shopping events! Check the event pages for details.